Mackenzie dishes out all the tips you need to know when it comes to beefing up your professional wardrobe. She needs no introduction to most Mountaineers, as she is a well-known face at West Virginia University. As a student, she was active as a Student Ambassador for both her college and the university, as well as an RA for freshman housing.
I bumped into her at the popular Evandale Crossings after she returned from a business trip to Chicago. Pairing her navy romper with a grey blazer, Mackenzie also adds small, impactful jewelry that allows her to go from morning collaborations to catching an evening flight without blinking an eye (or changing her footwear).
Whether you are in need of a new summer outfit or workplace wardrobe inspiration, Mackenzie's versatile ensemble will deliver!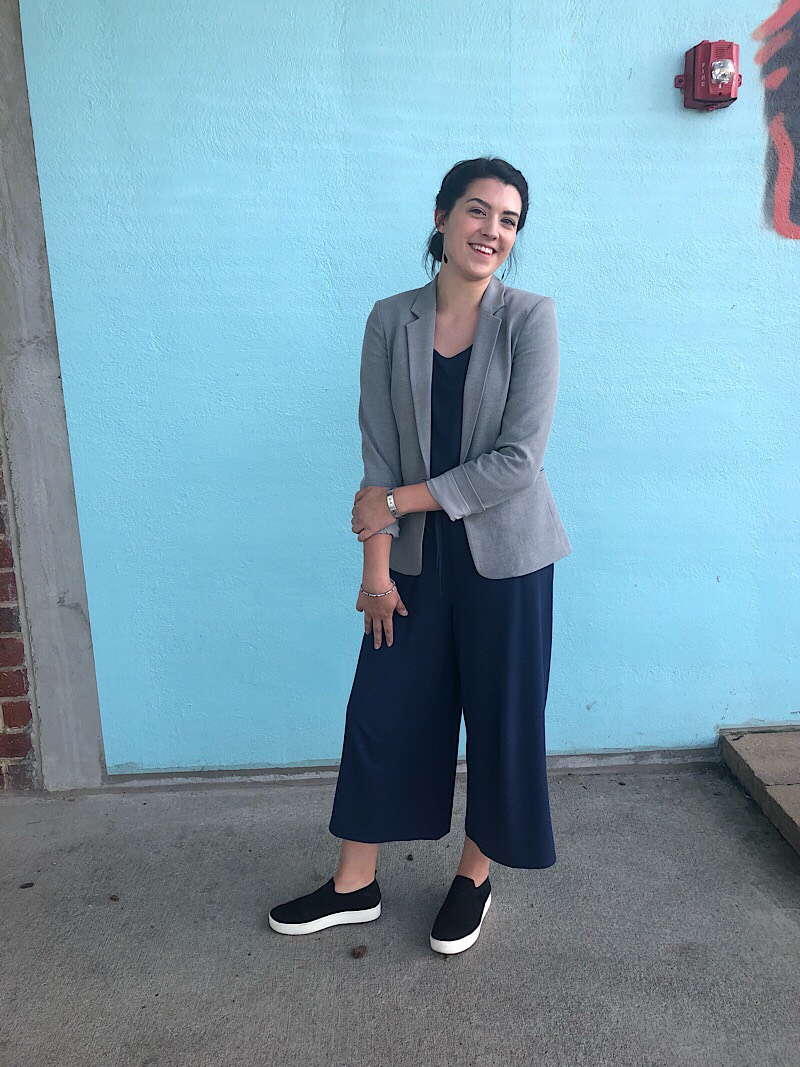 Mackenzie 101
Name: Mackenzie
School: West Virginia University
Year: 2019 Graduate
Major: Interior Design
Hometown: Meyersdale, PA
Let's Talk Fashion
Who or what inspires your style? "My style is really motivated by comfort and balance. I need realistic clothing that can make it through the day while still reflecting my personality. I mostly seek pieces that blend into my wardrobe but occasionally treat myself to something that stands alone."
Looking back, how have your college years impacted your style? "College impacted my choice of fabrics — easy to wash and easy to wear is the priority — and college also encouraged me to thrift more often. Similar to furniture, sometimes your favorite items are found along the way in the least expected places."
Where do you like to shop? "While I prefer to thrift almost anywhere, I've recently had to beef up the professional side of my wardrobe and Express has been a great place to start. Quality and versatility are key when I'm shopping. I try to visualize at least five outfits that I can complete with the item in question before I commit to buying it. I participate in trends just like anyone else, but I'm trying to be better about considering the long term life of the style and the long term impact of the physical item."
How would you describe your sense of style? "It really depends on the demands of the day. The majority of the time my style could be considered eclectic. I enjoy layers and texture. Scarves and jewelry are the components that make up that final layer of interest with any outfit, casual or professional."
Why did you choose this particular outfit? "Today I had to choose wisely. Our design team at Omega Commercial Interiors wrapped up our final hours at NeoCon in Chicago and headed to the airport to take a quick flight back to West Virginia. I knew that I would need a solid business casual look with an emphasis on comfort."
Is this a go-to style when traveling for conferences? "While I usually opt for a lot of components, I try to streamline my layers when I travel and have to be a little more strategic. I intentionally paired my romper with a lightweight blazer to provide some structure to an otherwise loose item. This romper traveled perfectly and it did not require any ironing this morning. The blazer always needs a little attention after being unpacked but holds up nicely through morning meetings and evening drinks. [As for] the results of my outfit: the romper kept me comfortable, the blazer kept me professional for meetings (and warm on my flight), the shoes saved my feet a great deal of pain, and in my opinion, they looked pretty sharp while doing so."
Can you give more insight on your chosen accessories? "For that final layer of interest I mentioned, I added a cuff made from an actual ruler, an enamel bangle, and my lightest earrings. The ruler cuff is a nod to my role as an interior designer and was a thoughtful gift from my boyfriend Zach. Unfortunately, I can't remember the name of the artist but he is located in Hot Springs, VA and most of his work is focused on continuing the life of items from the past."
What fashion advice would you give to other students looking to improve their style? "Don't worry about it too much but do your best to build an adaptable wardrobe. Lock in your practical looks and your professional looks and then sprinkle in some specialty items. Opportunities and adventures will come and go so if you have those few default looks, you will always have one less thing to worry about. When you have the time, dig around in the secondhand stores or initiate a clothing swap with friends. Those are some of the cheapest and most responsible approaches to try new things and quickly add depth and interest to your style foundation."
As a recent college graduate, what's your best advice for the class of 2020? "One: don't take anything or anyone too seriously — it's just not good for you. Yes, this includes yourself, and yes, I'm still working on this! Two: there is no perfect formula for prioritizing. Everyone has different priorities and they will not remain the same. Three: balance is crucial in everything you do — physical, social, emotional, or otherwise, you get it — everything."
What are your favorite trends right now? "Jewel tones, layering patterns, tassels, and jumpsuits to name a few. I also follow the #moreismoredecor trend and always keep an eye on Pantone."
Do you have any favorite fashion designers? If so, who? "I'm not great at keeping up with specific fashion designers so I'm really a blank slate and I tend to digest fashion without the initial knowledge or background of the designer or brand's intentions. I appreciate first, research second once it has my attention, and buy last."
What do you do for fun – do you have any unique hobbies or interests? "In my free time I enjoy learning, exploring, and crying over dog videos on Twitter."
What's your next big thing? "In this case, more learning! Omega Commercial Interiors is my new home in Morgantown and our recent trip to NeoCon brought plenty of new ideas and technologies to incorporate into future projects."
If you could raid anyone's closet, who would it be and why? "Although this particular outfit has no pattern, I'd love to raid Iris Apfel's closet because it is straight up fun!"
Elements of Mackenzie's Outfit
1. Loose-Fitting Jumpsuit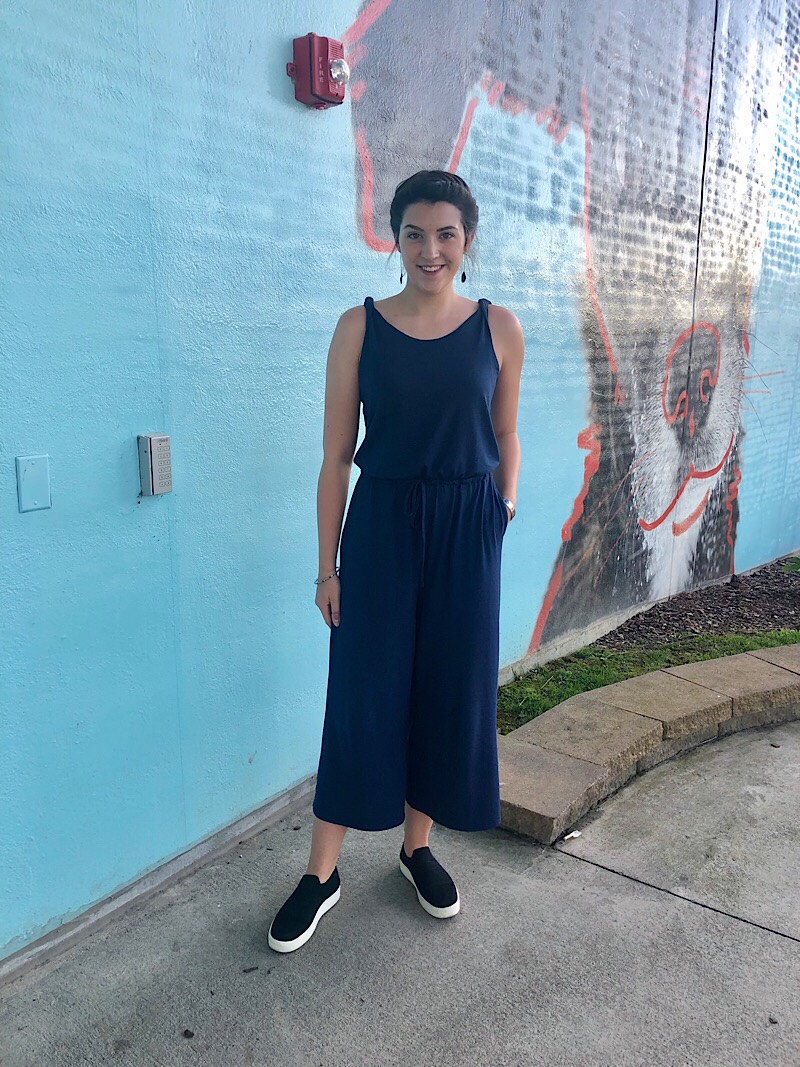 Remember when I said this outfit was incredibly versatile? When Mackenzie removes her grey blazer, the navy jumpsuit is a great piece to wear alone or dressed up with some statement jewelry.
I would be remiss if I didn't mention the best feature of this jumpsuit: the pockets! Mackenzie informed me that when it comes to traveling, "I stick to the basics. If I know I am going to be able to leave the majority of my stuff at a hotel, I will take enough that I can fit in the front of my two front pockets. I rarely ever carry a purse."
2. Jewelry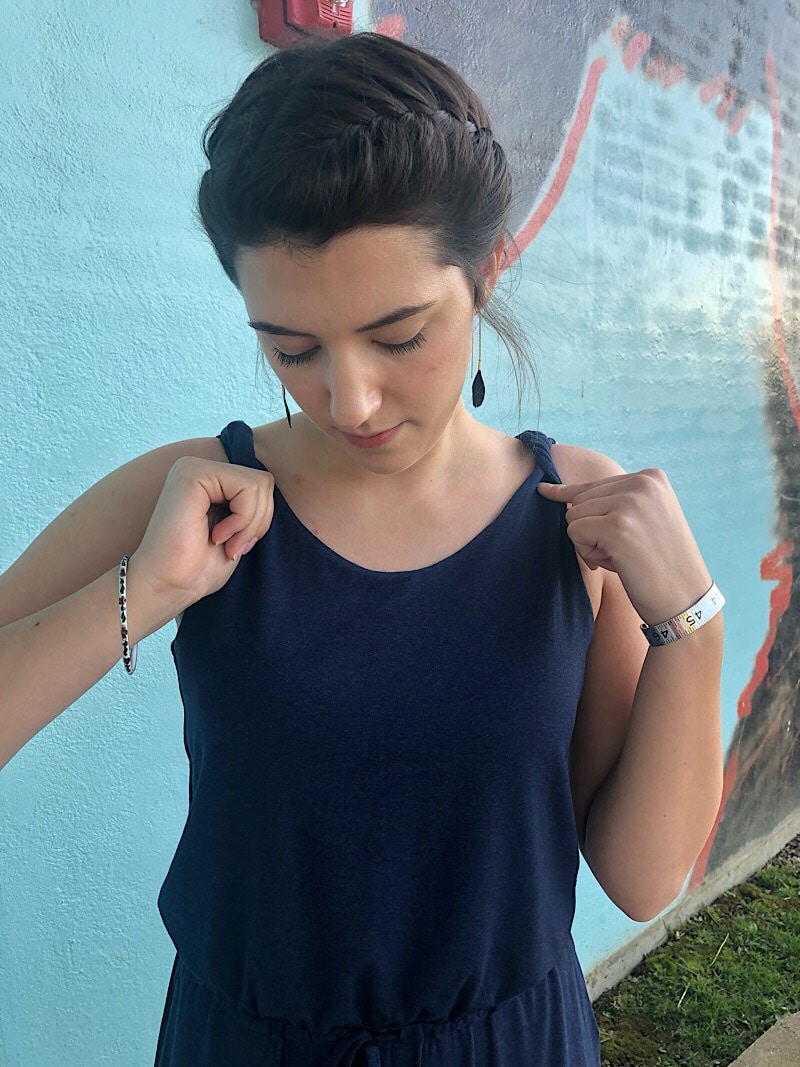 Take a good look at Mackenzie's cuff. As she explained, it was repurposed from a ruler. Not only is it a fun statement piece, the cuff bracelet is a sustainable, up-cycled gem. An industrial, styled accessory like her bracelet is bound to complement any of her workplace attire while providing an easy conversation opportunity when networking in her industry.
Mackenzie pairs her cuff with a white enamel bracelet which features a red and black design, as well as a pair of simple feather earrings from H&M.
What do you think of Mackenzie's business style?
Would you wear her navy jumpsuit? Are you as obsessed with her ruler cuff as we are? Comment below and let us know!