It's the midst of January, and winter is in full force here in Minnesota. Many of my friends came home over winter break to celebrate the holidays with friends and family, including Julia.
Because Julia and I have known each other since middle school, I've had the pleasure of watching her style transform over the years. These days, she rocks bright, sophisticated, and well put-together looks on the daily… even when it is below zero degrees. She's truly an inspiration for all of us stuck in frigid temperatures to dress up more often.
Julia 101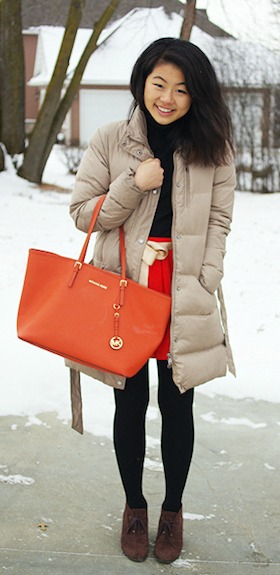 Name: Julia
Year: Sophomore
Major: Psychology
Hometown: Rochester, MN
School: Wellesley College
Let's Talk Fashion
Who or what inspires your style? "I get inspired when I read blogs; I admire Emily Schuman of Cupcakes and Cashmere. I love her elegant and sophisticated style. I also get a lot of inspiration from InStyle Magazine."
Where do you like to shop? "I like to shop at J. Crew and Gap for everyday apparel. For more formal dresses, I like to shop at Ann Taylor LOFT."
How would you describe your sense of style? "I would say classic, clean, colorful, and with a touch of bows! I think my looks look well put-together, but they are also comfortable."
Why did you choose this particular outfit? "Because it is still around the holidays, my outfit reminds me of a present! I think it is wintery and it looks ready to take on the New Year."
What fashion advice would you give to other students looking to improve their style? "I would say thinking about fashion as a way to express yourself; I think it will encourage people to step out of their comfort zones a little bit more. People in college tend to focus on comfort and that's it. Think about how you present yourself. You can be comfortable and stylish!"
What are your favorite trends right now? "I'm currently really into statement coats and jackets. Also, wine red lips and chunky winter accessories, [like] knit scarves and beanies. Anything knit!"
Do you have any favorite fashion designers? If so, who? "I love Kate Spade, Michael Kors for bags and watches, and Elie Saab for gowns."
What do you do for fun – do you have any unique hobbies or interests? "I work for my school's fashion magazine and I love it. I also love to read, bake and blog."
If you could raid anyone's closet, who would it be and why? "As I have mentioned before, I love Emily Schuman's style, so I would love to raid her closet. I also love Lauren Conrad and Chriselle Lim's styles and I am inspired by them as well."
Elements of Julia's Outfit
1. Ladylike Skirt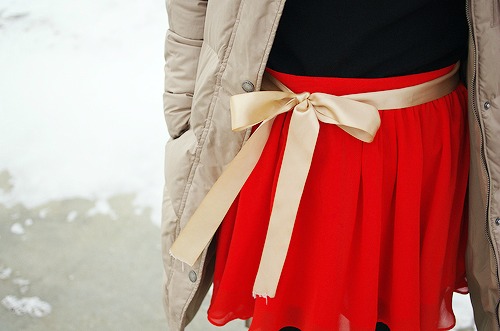 Julia adorned a flowy red skirt from Forever 21 with a bow from a present she received! Unique little details like this make an outfit stand out from the crowd. Not only is it a chic and resourceful idea, but it is also an incredibly easy way to turn a simple skirt into a darling statement piece.
2. Bold Tote Bag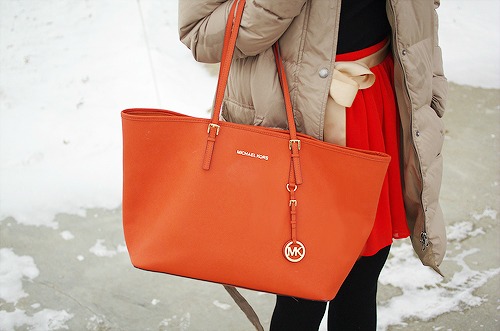 This bright Michael Kors tote keeps Julia's style looking cheery. While it's easy to slip into a sea of gray and black when the temperatures are low, it's much more fun to have a bold pop of color. Julia also inspires us to mix colors. Here, she paired orange with red and it couldn't be any cooler.
3. Brown Booties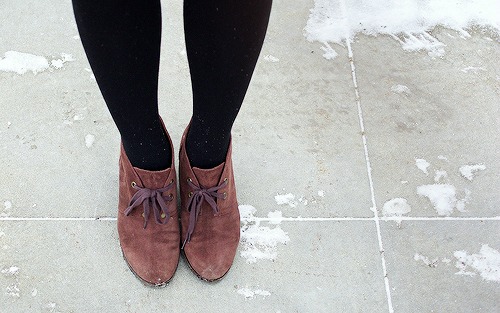 Julia ties the look together with a pair of brown wedge booties by 7 For All Mankind. Her outfit is fundamentally classic, but these booties are a trendy addition. Again, Julia played with her colors by mixing brown and black, which makes for an unexpectedly chic combination.
4. Warm Coat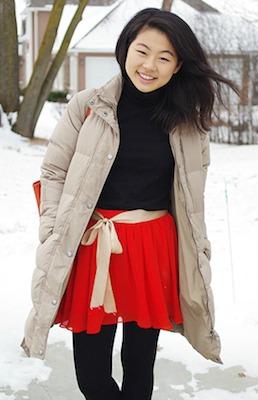 Julia keeps warm in a neutral puffer coat as well as an on-trend black turtleneck. A long coat is key to staying warm when the wind is chilly, and Julia's Ralph Lauren outerwear is not only practical, but also tremendously stylish.
How do you dress in cold weather?
Is it hard for you to stay stylish when temperatures are below freezing? Do you love Julia's ribbon belt? Is Julia's classic style similar to yours? Let us know by leaving us a comment below!