I met Bijou while I was waiting for my friend to get out of class at Washington University. I found her while she was studying in the student center. As a neuroscience major, Bijou is crazy busy, but she still looked effortlessly put-together in her fall attire. She's proof that it doesn't take tons of time to look stylish.
I'm thrilled the cold weather is returning and fall fashion will be back with it. I think booties, leggings, sweaters, scarves, and layers make up the best styles. Seeing Bijou made me excited to dress cozier in the upcoming months!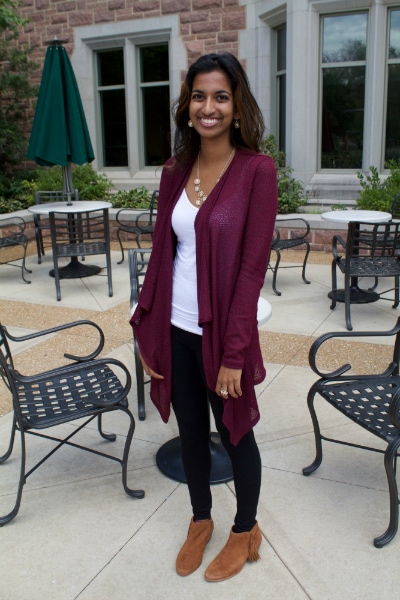 Bijou 101
Name: Bijou
School: Washington University
Major: Neuroscience and Statistics
Year: Sophomore
Let's Talk Fashion
Who inspires your style? "Pinterest."
Where do you like to shop? "I can't live without Charming Charlie. I also love department stores because I can mix and match."
How would you describe your sense of style? "Cute and comfortable."
Why did you choose this particular outfit? "It finally got cold enough to break out the leggings and sweaters."
What advice would you give to other students looking to improve their sense of style? "Just go on Pinterest and pin everything you like. Look for similarities in things you pinned for inspiration."
What are your favorite trends right now? "Maxi skirts are adorable."
What do you do for fun? Do you have any unique hobbies or interests? "I'm a portrait artist, mainly watercolor."
If you could raid anyone's closet, who would it be and why? "My best friend, Yuang! She has the best clothes of anyone I know."
Elements of Bijou's Outfit
1. Brown Fringe Booties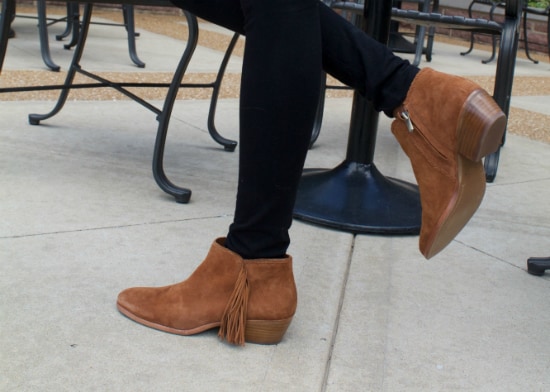 Booties are so much fun to wear and fall is the perfect time to put them on heavy rotation. Bijou's booties feature fringe on the outside which gives them some motion when she moves. The neutral color also helps bring her basic pieces together.
2. Naturally Pretty Hair and Makeup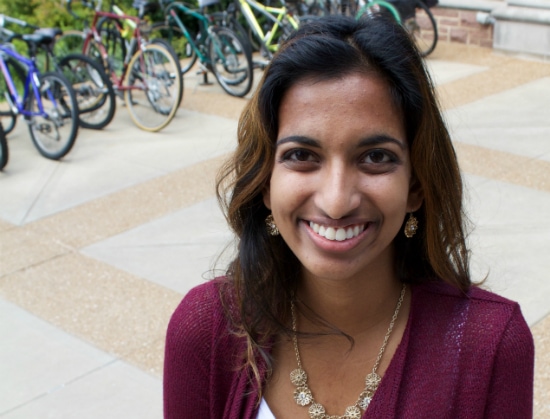 Bijou's gorgeous face and hair should inspire you to try going au naturale sometime! She looked flawless, even without makeup. "I didn't even look at my hair this morning," Bijou says. And now we are officially jealous of her.
Now we want to know what you think!
Do you ever go makeup-free? Are you excited for layering fall pieces? Comment below and let us know what you think!