As summer draws near and the weather heats up, UNLV students are starting to rock comfy and casual looks that are nice and cool, but are not necessarily the most fashionable. So as soon as I spotted Noelle, I was immediately drawn to her sophisticated, feminine ensemble.
Noelle's chic, seasonal outfit combines elements of casual summer style (like gold sandals!) with classic, structured pieces, creating a look that is both warm-weather- and academia-appropriate.
Noelle 101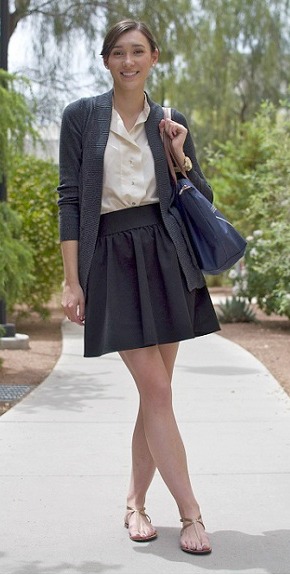 Name: Noelle
School: UNLV
Year: Senior
Major: Political Science
Let's Talk Fashion
Who or what inspires your style? "Audrey Hepburn is definitely my style inspiration, as is Jackie O. with her classic American style. I really admire Jackie's little tailored jackets. The J. Crew catalog is like my fashion Bible."
Where do you like to shop? "I love shopping at J. Crew. Madewell is another store that I like for summer. And then there's Nordstrom. I used to work there and they have everything from cosmetics to accessories and shoes."
How would you describe your sense of style? "Definitely very classic. I like to wear clothing that could look professional in the workplace, but is also still casual enough to wear to school. Some people probably look at me like I'm way overdressed. I love a quote by Oscar Wilde that says, 'You can never be overdressed or overeducated.' I like to apply that."
Why did you choose this outfit? "Honestly, I just threw it on this morning! But most of my clothing is like this… and like I said, I can take [these pieces] from a workplace to school and I feel like I look fine."
Do you have any fashion advice for other students? "There's nothing worse than when you look back at a picture from a few years ago and you're like, 'What was I wearing?' so I like to try and dress in pieces that are pretty classic so I don't feel as embarrassed when I look back at pictures."
What are your favorite trends right now? "I'm really loving tailored pants that go to your ankle, like flood pants or trousers, and I love stripes, especially nautical stripes on blouses and cardigans. I also love pops of color."
Do you have a favorite fashion designer, and if so, who? "For high end, I would love to own pieces by Carolina Herrera one day, or even Ralph Lauren Black Label. Lower, designer end… Kate Spade."
What do you do for fun? Do you have any hobbies or interests that contribute to your style? "Shopping is huge! I love shopping, I always have. But I love finding a good deal. I love to look on the Internet when I get emails like, '30% Off Sale Items.' That's when I really like to do my shopping."
Whose closet would you raid and why? "Olivia Palermo. I just think everything she puts on looks amazing. She finds a way to make anything look feminine. She can wear a two-piece pantsuit and can accessorize and layer in a way that looks very classic, but still very feminine."
How did studying abroad in Paris influence your style? "I'm really tall, so I've always shield away from wearing heels, but in Paris all the women wear heels all the time. You'll hear at 4 o'clock in the morning someone walking outside, clicking their heels, or even at 3 o'clock in the afternoon. They're always in them. It definitely made me branch out and wear them more often, but I don't wear them to school."
Elements of Noelle's Outfit
1. Defined Shapes and Neutral Colors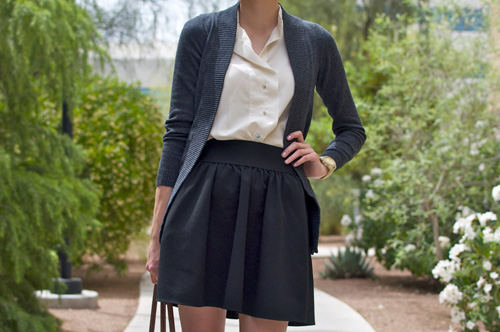 The defined lines of Noelle's J. Crew knit cardigan provide structure against her loose, cream-colored blouse, which is also from J. Crew. Tucking her shirt into her pleated skirt from Express gives Noelle the ability to control the shape of her outfit, creating a feminine silhouette. The grey, cream, and black pieces work together to create a sophisticated, uniform appearance.
2. Classic Watch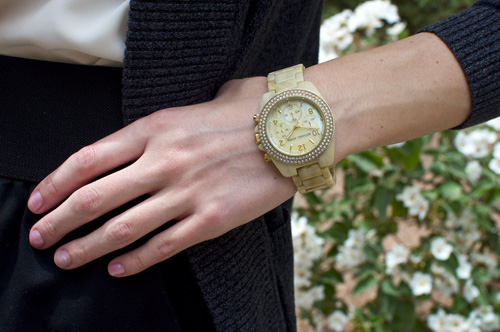 Noelle's Michael Kors watch adds a subtle pop of color to her neutrally-hued outfit, bringing in an element of summer style that Noelle appreciates. She explained that as it gets warmer, she likes to incorporate subtle hints of color into her outfits.
3. Metallic Sandals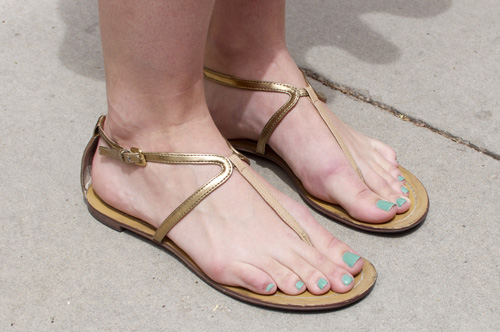 Noelle's gold Boutique 9 sandals are an ideal complement to her outfit. Not only do the sandals match her watch, but they also bring in a casual summer vibe to help dress down the look.
4. Longchamp Bag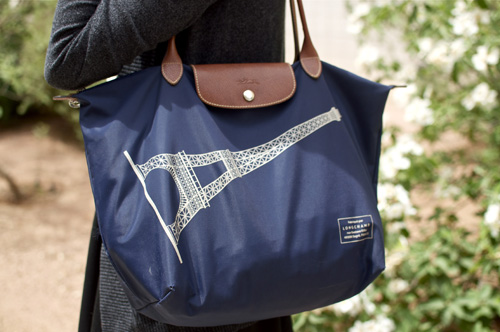 Noelle purchased her leather and nylon Longchamp bag in Paris, where she studied abroad. These popular bags are also available in the United States in stores such as Nordstrom and Bloomingdale's.
What do you think?
What do you think of Noelle's outfit? What are your favorite classic pieces? How do you transition outfits from school to work? Has travelling influenced your style like Noelle? Leave a comment, and let us know!