Las Vegas has officially hit triple-digit temperatures and students are dressing accordingly! Summer school is now in session, and although there are fewer students on the UNLV campus than in the spring or fall semesters, there's no lack of style.
Katie proved this when she walked into our shared Media Ethics class. Her dreamy ankle-length dress paired with sparkly sandals and jewelry is a cool and elegant way to survive the sun in style.
Katie 101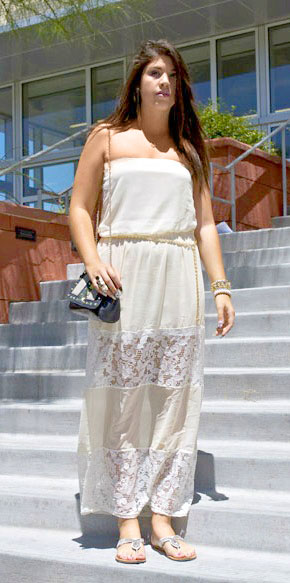 Name: Katie
School: UNLV
Year: Senior
Major: Broadcast Journalism
Let's Talk Fashion
Who or what inspires your style? "I like the bohemian, earthy look, I guess! I love gold jewelry and pretty lace pieces."
Where do you like to shop? "I like to shop everywhere. I don't really like name brand stuff, or expensive stuff – except shoes. I like junk jewelry and big clunky stuff. I have tons of clothes, so if I lose a dress or something somewhere in my house, I wouldn't feel bad as if I had lost a $400 dress."
Why did you choose this outfit in particular? "It's an easy dress to put on and it's hot outside! It's a chiffon material that's not heavy. I always wear these bracelets, like a combination of gold bracelets, I just grab a bunch and just throw them on."
Where do you find most of your jewelry? "Charlotte Russe. They have the best jewelry selection."
Do you have any fashion advice for other students? "If you want to go and try to wear something, first make sure it fits you. You don't want to wear something that's too tight or whatever, just wear something you're comfortable in. If you're looking to get something out of the box, do it. Life's too short to not do whatever you want to do. My fashion has changed dramatically. I used to wear, when I was younger, all neon and bright colors. I realized, 'Why am I dressing like this? 'Cause everyone else is.' Now I'm more earthy."
What spurred your transition from bright and colorful to earthy and bohemian? "I'm very practical, I love people, I love diversity, I love cultures. I like feeling at one with my surroundings or heritage, I guess. I like that feel and I like to express it in myself to other people."
How does your heritage tie into your style? "I'm Puerto Rican and Irish, but I like lots of clunky jewelry because I've always worn junk jewelry. My aunts have always passed it down to me and that was always a fun thing. And I like the earthy feel because I like going to the woods, and Ireland's really big and green and I like that sense and feel."
Elements of Katie's Outfit
1. Metallic Beaded Bracelets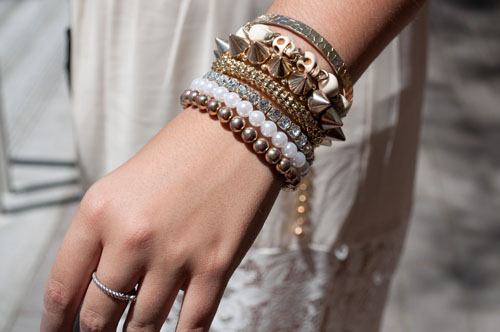 Katie mixes pearl, rhinestone, spiked, and skull bracelets from Charlotte Russe to create an eclectic mix that sparkles and helps add to her dreamy, bohemian look. The combination of edgy spikes and skulls with elegant pearls and rhinestones helps diversify the collection with varying shapes of beads and decorations.
2. Studded Leather Purse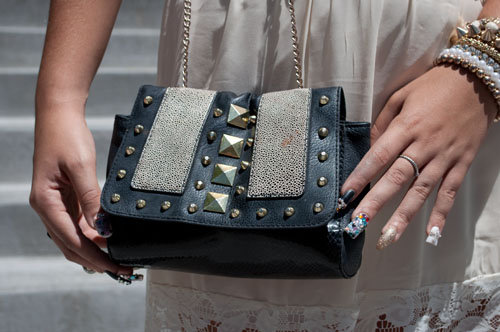 The gold studs and chain on Katie's H&M bag are consistent with her gold bracelets while contrasting with the dreamy elegance of her dress. The black leather helps break up the color of her ankle-length gown from Rhapsodielle and draws the eye to the lace panel of her dress.
3. Rhinestone Leather Sandals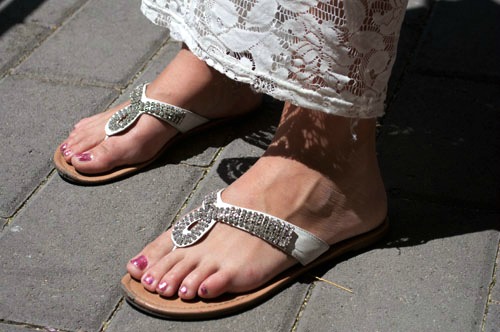 Katie's white Hottie sandals are gorgeous for summer and have a glamorous element that other leather sandals don't: silver rhinestones! The rhinestones help dress up the shoes and also hint back to the sparkling bracelets on her wrist.
What do you think?
What do you think of Katie's outfit? How does your culture and heritage affect your fashion choices? Where do you buy your jewelry? Leave a comment, and let us know!