What I really love about fashion are the subtle details of an outfit that often go unnoticed at first glance. In Ana's case, I was immediately struck by the sophistication of her flowy H&M blouse and high-waisted Tory Burch pants. It wasn't until I reviewed my photographs that I really understood how connected and purposeful every accessory really was to her ensemble.
The next time you see someone walk by wearing an interesting outfit, be sure and take a closer look! Ana's style perfectly demonstrates how the little unexpected details can really make a look special.
Ana 101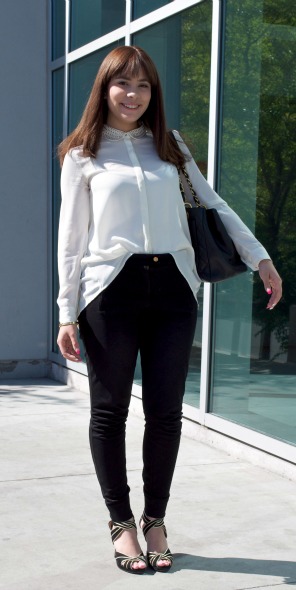 Name: Ana
School: UNLV
Year: Freshman
Major: English
Let's Talk Fashion
How would you describe your sense of style? "I'm not sure, I try to be as un-casual as possible. I try to stand out!"
Tell me about this outfit in particular. What made you choose it and bring these pieces together? "I'm really into black and white and I've had this shirt for a while. Today I actually tried to be more casual, and I usually don't really wear heels but these are Jimmy Choo and they were on sale so I could not pass them up."
Do you have any fashion advice for other students? "Don't do anything that you're not comfortable with. Don't care about what other people think, just dress in whatever you want to."
What are your favorite trends right now? "Right now… really bright colors for spring. I know that pastel colors are really spring-ish, but really bright colors call my attention."
Do you have a favorite fashion designer, and if so, who? "Probably Balenciaga. I think that it's very modern. Other designers try to be more conservative, but Balenciaga is more out there."
What do you do for fun? Do you have any hobbies or interests that have contributed to your fashion philosophy? "I'm definitely online a lot, so I check out a lot of fashion stuff. I usually check Tumblr for inspiration. I love when blogs post pictures from right off the runway."
If you could raid anyone's closet, who would it be? "Blair Waldorf's! It's very preppy. I don't feel like I'm like that, but I would like at some point in my life to try it out. If anything I'd like to try to mix our styles up and find a balance to make it classy, yet modern."
Elements of Ana's Outfit
1. Studded Collar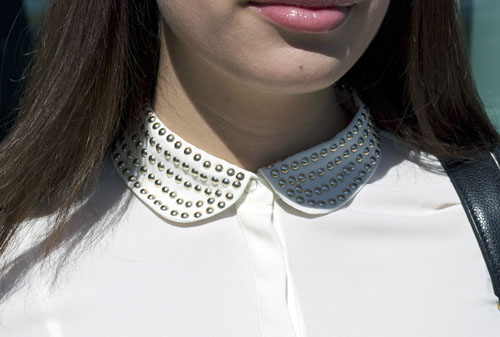 Ana's flowy H&M blouse is soft and feminine with a surprise: a silver-studded Peter Pan collar! The studs add a contrasting texture to the shirt and contribute brightness and visual interest. The sparkling silver studs eliminate the need for a necklace or earrings because they capture the light and draw attention on their own.
2. Mixed Metal Jewelry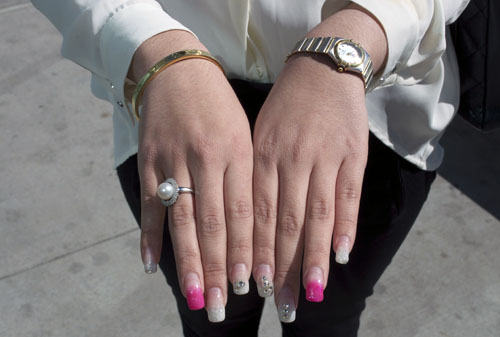 By mixing metals in her watch, bracelet and ring, Ana is able to tie in the gold detailing of her shoes and purse chain with the silver studs of her shirt. She shared that most of her jewelry is either given to her as a gift or is a family heirloom from her grandmother.
3. Elegant Sandals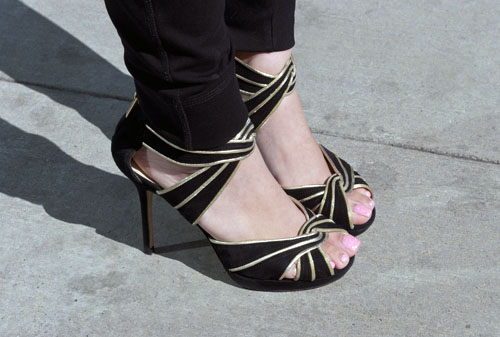 Ana couldn't pass up these Jimmy Choo sandals when she spotted them on sale at Saks. (We are totally jealous!) The interlaced black and gold straps give the shoes an elegant, art-deco appearance.
4. Chanel Purse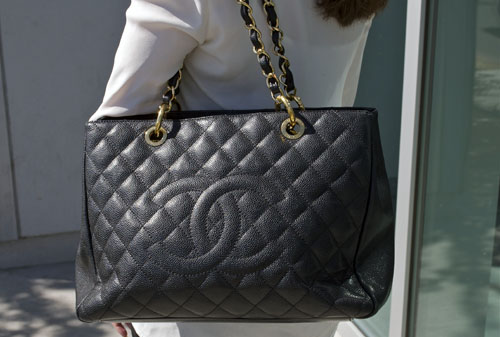 Like her sandals, Ana's Chanel purse combines black and gold detailing in the straps. The gold chain is threaded with a black ribbon, giving the straps contrast using colors and textures. The quilted pattern of the black leather also adds textural interest. It's obviously rare to see Chanel on a college campus, so we're totally obsessed with (and jealous of!) Ana's drool-worthy tote.
What do you think?
Do you like Ana's outfit? What do you think of the black and white contrast she's playing with? Do you love her Peter Pan collar as much as we do? Let us know in the comments below!