I met Marissa in our Human Computer Interaction course and immediately fell in love with her style. She pulled off her cool style so effortlessly and I envy anyone with that fashion ability. After talking for a bit, I find out Marissa loves experimenting with her hair and she swears by eyeliner to make her eyes pop.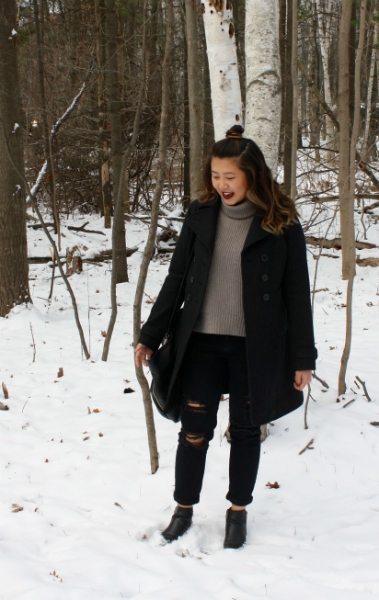 Marissa 101
Name: Marissa
Year: Second Year
Program: Digital Enterprise Management
School: University of Toronto
Let's Talk Fashion
Who or what inspires your style? "Instagram because it helps you piece items together, explore more looks, and keeps you updated on what's trending."
Where do you like to shop? "Aritiza, Zara, Urban Outfitters, and Topshop."
How would you describe your sense of style? "Pretty basic. I like to keep it simple and comfortable."
Why did you choose this particular outfit? "My go-to colors in the winter are usually pretty dark but I'm also really into this taupe-beige hybrid right now. I love my Chelsea boots because they're comfortable and go with any outfit. You can never go wrong by finishing off your look with a dark lip."
What fashion advice would you give to other students looking to improve their style? "Black is always flattering and ripped jeans are the way to go with any outfit. If you pair it with leather boots, you instantly give any outfit a little edge."
What are your favorite trends right now? "Right now I am loving the Chelsea boot, turtlenecks, ripped jeans, and a dark lip."
Do you have any favorite fashion designers? If so, who? "No, not at the moment. I [get] my inspiration more from social media."
What do you do for fun – do you have any unique hobbies or interests? "I'd like to say I do more than sleep and eat. I guess I like to binge watch Netflix. The 100, Scandal, How to Get Away with Murder, Greys Anatomy; my list of favorites could go on and on."
If you could raid anyone's closet, who would it be and why? "We are ToThe9s! They're Canadian Youtubers based in Vancouver and I find their style very edgy yet simple."
Elements of Marissa's Outfit
1. Hat + Sweater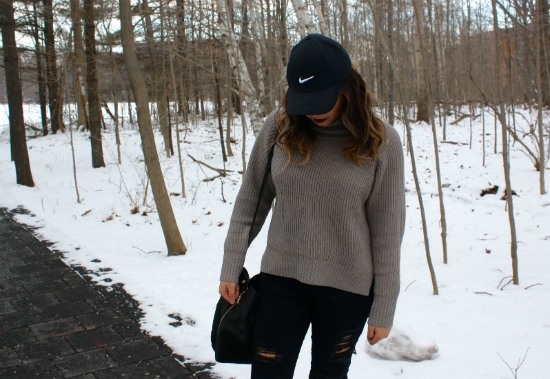 Marissa's sweater screams comfort and style with its high neck, one of this season's hot trends. By layering the peacoat over top, the outfit looks sophisticated and put together yet offers protection against the harsh Canadian winters. Marissa was also rocking a baseball cap to keep her hair from blowing about in the crazy winds.
2. Bag + Ripped Jeans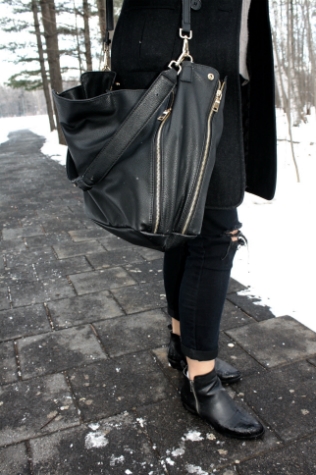 Ripped jeans are a staple in Marissa's wardrobe. The rip gives the flexibility and edgy style that a regular straight leg stiff jean doesn't; great for running across campus between classes.
3. Burgundy Matte Lipstick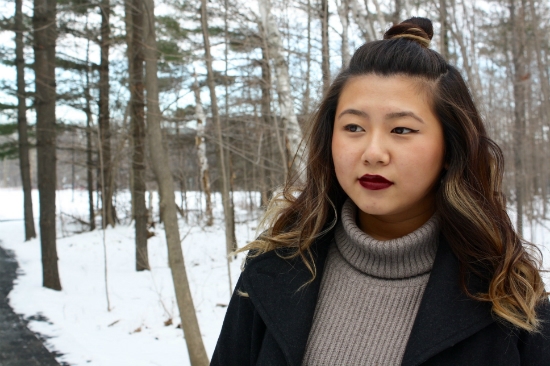 Marissa swears by Colour Pop's Ultra Matte Lip in LAX. These super cheap, vibrant colors can only be bought online and are a great bargain that lasts you through a full day of classes!
Do you love her dark lip and baseball cap?
Would you wear her outfit? Comment below and let us know what you think of her look!