In Southern California, it is always summer. Floral prints, adorable booties, and crop tops are perfect for sunny days on the coast, and Ali's look is the embodiment of SoCal style. Plus, her feminine fashion sense matches her sunny personality to a T!
Ali has been busy lately; she recently graduated from the University of the Pacific and is searching for PR jobs in Los Angeles. We think this outfit is very versatile, since the pieces can be mixed around to create other looks once she lands her first "big girl job."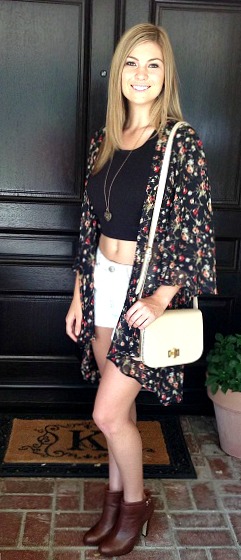 Ali 101
Name: Ali
College: University of the Pacific
Year: Recent Grad
Hometown: Thousand Oaks, CA
Major: Communication
Age: 22
Hobbies/Interests: Running, hiking, event planning, and traveling
Let's Talk Fashion
Who or what inspires your style? "Living in my sorority house for the last three years has definitely inspired my style. I would also say that being from Southern California has always been something that inspires the way that I dress."
Where do you like to shop? "My favorite store of all time is LF. I can only really afford to shop during the 75% off sale though, which only happens twice per season."
How would you describe your sense of style? "I tend to dress in a very feminine way; lots of lace and flowery prints."
Why did you choose this particular outfit? "I guess I chose this outfit because it's the way that I normally dress. Comfortable and simple with a few statement pieces."
What fashion advice would you give other college students? "Don't pay too much attention to what everyone else is wearing. Wear what makes you happy."
What are your favorite trends? "Well, at the moment I obviously love kimonos!"
Who are your favorite fashion designers? "I love Free People, Nasty Gal, and Topshop."
What do you do for fun? "Recently, it feels like what I do for fun is look for a job! I just graduated, so with all the time I've been spending job searching, I haven't had much time for fun. Being employed full-time will be fun though."
Elements of Ali's Outfit
1. Floral Kimono and Cream Purse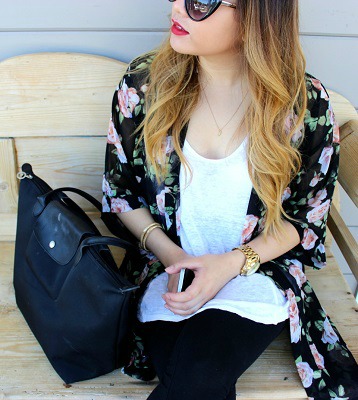 Kimonos are absolutely worth being obsessed over this summer, and this floral print one looks darling paired with a cream-colored bag. Ali mentioned that she also uses her kimono as a cover-up when she heads to the beach. Form meets function meets fabulous!
2. Dark Brown Booties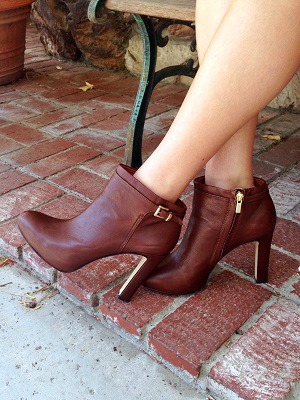 When I first saw Ali's dark brown Banana Republic booties, I fell in love. Finding wallet-friendly booties in this rich brown color is tricky!
Ali told me she found these little babies on sale after Christmas, and has been rocking them ever since. She says they are extremely comfortable, too – perfect for when she is running around at a future PR job.
Are you a fan of crop tops and kimonos?
What do you think of Ali's SoCal style? Do you love her booties? What are you wearing this summer? Leave a comment below and let us know what you think.