Macy's bright pants and heart-shaped sunglasses grabbed my eye as soon as I saw her! I loved her outfit because it's both summery and fun while still being perfect to add jackets and warmer elements to – it is perfect for transitioning into fall or for wearing when it cools off at night.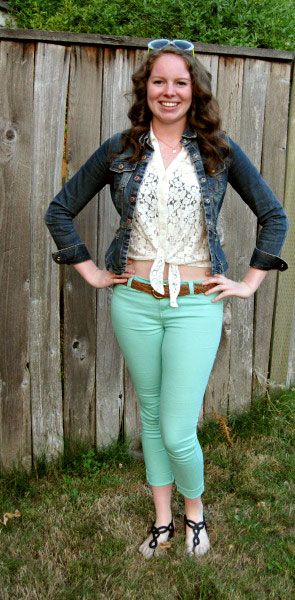 Macy 101
Name: Macy
School: University of Oregon
Major: Psychology
Year: Junior
Hometown: Eugene, OR
Let's Talk Fashion
Where do you like to shop? "I usually shop at places like Nordstrom Rack, H&M, Target, and TJMaxx. I love finding good deals on trendy clothes!"
How would you describe your sense of style? "I like wearing classic pieces while still having fun with my outfits. And I always love adding lace to my outfits."
What fashion advice would you give to other students looking to improve their style? "Find things that you like and work for you and go with it!"
What are your favorite trends right now? "As you can tell from my outfit, I love colored and patterned pants with simple tops. I also love fall boots and lace."
What do you do for fun – do you have any unique hobbies or interests? "I've been a dancer forever and I absolutely love it."
If you could raid anyone's closet, who would it be and why? "Probably Lauren Conrad, because her look is feminine and classy – she always looks put-together, which I love!"
Elements of Macy's Outfit:
1. Collared Lace Shirt and Seafoam Pants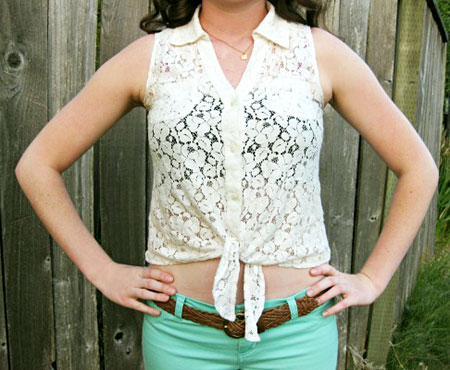 Macy's shirt, from Nordstrom Rack, is both summery and classy. By choosing a cropped top made of lace, Macy achieved a look that was both classic and trendy. In addition, she could easily make the top more conservative by wearing a white tank underneath and tucking it into a high-waisted skirt.
Macy's braided leather belt, from H&M, drew my attention because it is such a great staple that can really go with any outfit. This belt goes really well with Macy's lace top and makes it look just a little bit country – perfect for summer! Her seafoam green pants, from Forever 21, are eye-catching and great for summer, but still subdued enough to wear in the fall.
2. Heart Sunglasses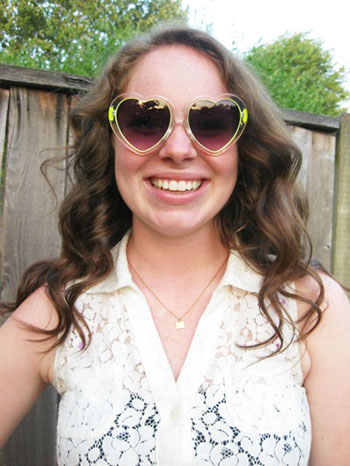 I absolutely adore Macy's heart-shaped sunglasses from Target. Because they aren't red, like most heart-shaped sunglasses are, they don't draw your attention quite as much, which makes it all that much more fun when you notice them! They add a fun, flirty vibe to Macy's outfit.
3. Gold Oregon Necklace
Macy got this necklace as a gift – it's originally from a boutique in New York. As an Oregon native, I was immediately obsessed with this piece. The necklace really goes with her outfit – the yellow gold matches Macy's belt buckle, while the delicate shape works well with her top's neckline.
Your Thoughts?
Are you loving Macy's look as much as we are? Have you been rocking crop tops this summer? What about the colored jeans trend? Leave a comment and let us know.