The leaves on campus have officially fallen, a monster storm has passed, and everyone is seeking refuge from the weather in coffee shops across campus. That can only mean one thing: winter has hit us here in New Mexico. While that does bring an unfortunate onslaught of colds and sniffles, winter also ushers in a fantastic wave of boots, coats, tights, and cable knits to the University of New Mexico.
This week, while wandering around the Interdisciplinary Film & Digital Media (IFDM) facilities trying to get my work done, I ran into fellow classmate, Shaandiin. Since we share the same major, I've had plenty of time to envy her minimalist tomboy-inspired style, and this time decided to take the opportunity to pin her down and chat about it.
Shaandiin 101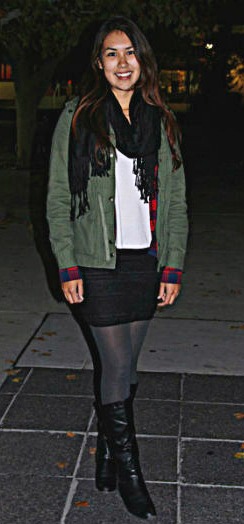 Name: Shaandiin
Year: Junior
Major: Interdisciplinary Film & Digital Media
Hobbies: Watching movies, drinking tea, hanging out with friends.
Let's Talk Fashion
Who or what inspires your style? "The people around me. I don't really draw inspiration from any specific person or specific people. I just kind of take and see what I like. Pinterest is great for that!"
Where do you like to shop? "I like Forever 21, [but] it's dependent on what I see. [I shop] mostly online, because I feel like you can get a better variety."
How would you describe your sense of style? "My sense of style… growing up I wore a lot of my brother's clothes. So, I guess I carried that over and I wear clothes that are more tomboy-ish."
Why did you choose this particular outfit? "I chose it because it was cold outside and I could take the opportunity to layer. I'm not used to the cold!"
What fashion advice would you give to other students looking to improve their style? "I would say look at other people around you. Even though sometimes it feels like a college campus isn't really a place for fashion, because a lot of people are dressed down. But look outside of your sphere, look online, check out blogs."
What are your favorite trends right now? "I like the animal trend right now. Not just animal prints like leopard print, but also the shirts with lions on them."
Do you have any favorite fashion designers? If so, who? "I don't really have any favorite fashion designers, but I like fashion photographers. I really like Peter Lindbergh's shoots specifically – he shot for Vogue. I like a lot of the photography in Vogue."
If you could raid anyone's closet who would it be and why? "Well I raided my mom's closet for this scarf I'm wearing! But I honestly I'd just rather raid a store because there're things I wouldn't normally purchase – because I'm unsure about how to style them – but it'd be cool to try out!"
Elements of Shaandiin's Outfit
1. Lace Skirt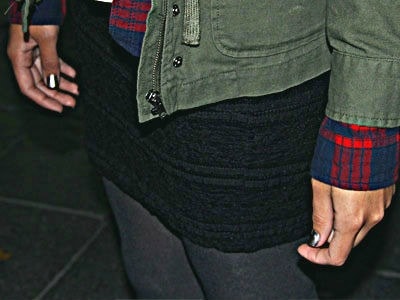 Shaandiin's style is all about mixing her tomboy influence with feminine elements. Here, her lace mini skirt plays well against the plaid shirt and army green parka, which have a more structured, menswear-inspired vibe.
2. Minimalist Matching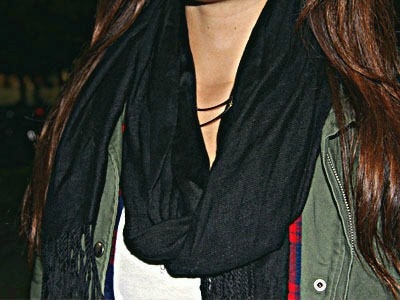 The key to Shaandiin's minimalist outfit seems to be something I always forget when making outfit decisions – keep it simple! She definitely sticks to that mindset by opting for a black scarf, which not only matches her skirt perfectly, but also adds a refined touch to the rest of her look.
3. Boots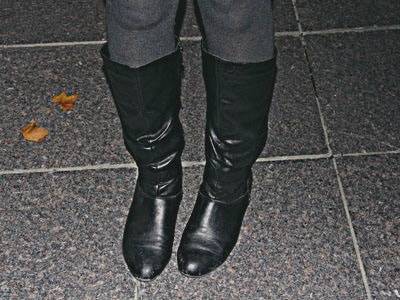 Shaandiin wasn't kidding: the weather outside was really cold! Thankfully she had these fantastic boots on to keep her toes warm. Their low heel makes them ideal for walking across campus, even in inclement weather.
What do you think of Shaandiin's cold-weather outfit?
Are you a fan of her menswear-meets-lace look? Do you have a great pair of black boots? Have you been wearing scarves this season? Let us know by leaving a comment below!