One of the best places to admire on the University of New Mexico campus is the architecture building. While most of our campus is pueblo-style, the bold design of this building definitely stands out from the crowd.
Like every good building, the true value is in the details, which is why I knew I had to talk to Samantha as soon as I ran into her. While her outfit seemed brilliantly simple, the details she had chosen brought everything together. Personally, I'm not big on accessorizing, so I took this opportunity to take some notes.
Samantha 101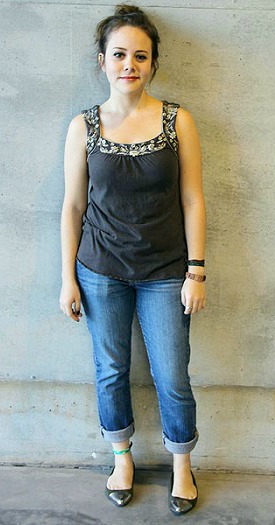 Name: Samantha
Year: Junior
Major: Architecture
School: University of New Mexico
Let's Talk Fashion
Who or what inspires your style? "I keep my eyes open. There's not a lot of fashion on campus, so I browse the internet and see great fashion on TV shows. Tumblr is a fantastic place for that."
Where do you like to shop? "I tend to shop places where the prices are low but the looks are trendy. I stick with stores like Forever 21, even though the quality isn't that great. You just have to be choosey!"
How would you describe your sense of style? "I'm lazy. I have a few pieces that really stand out, but everything else is pretty basic."
Why did you choose this particular outfit? "I always select my shoes before my outfit, and today I felt like wearing my green cap-toe flats. From there, I mixed my outfit accordingly. These boyfriend jeans are my go-to pants. I hear boyfriend jeans are really trendy right now, and I love to wear them cuffed."
What fashion advice would you give to other students looking to improve their style? "Don't try so hard. Buy great staples that are easy to wear. You can look very put-together with a simple outfit that requires little to no effort."
What are your favorite trends right now? "Big sweaters and boots are such a great pairing! I also love the whole boho-vibe trend."
Do you have any favorite fashion designers? If so, who? "Classic Chanel is gorgeous, but also I love Alexander McQueen for completely different reasons. It all depends on the day."
What do you do for fun – do you have any unique hobbies or interests? "I wish I had more time for painting and crafts, but with my hectic work and school schedule, I feel like I only have time to hang out with friends!"
If you could raid anyone's closet, who would it be and why? "Lauren Conrad has amazing style. I really admire her and I always read her various blogs. I look to her for fashion advice, so I would really love to raid her closet."
Elements of Samantha's Outfit
1. Hair and Makeup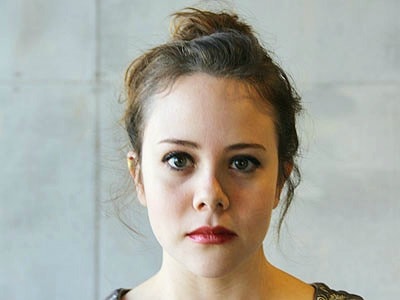 Although Samantha kept her outfit low-key, her polished makeup, bold red lip, and hairstyle made things interesting. Messy buns are a college girl staple, since they look complicated but take two seconds flat to make. I also love Samantha's beauty look because her makeup is just dark enough to transition from a day full of classes to a night out on the town – perfect for a college student on the go!
2. Gold Ear Cuff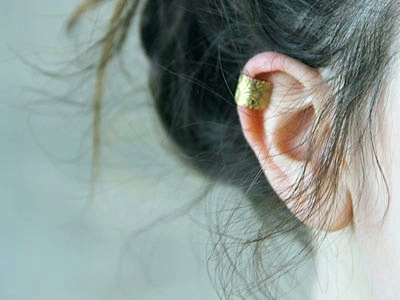 I always struggle with finding cute and unique earrings, so I have a bit of admiration for those who choose to incorporate them into their outfits. Samantha's on-trend ear cuff is simple enough to not be too daunting yet bold enough to add an unexpected and rebellious detail to her ensemble.
3. Cap-Toe Flats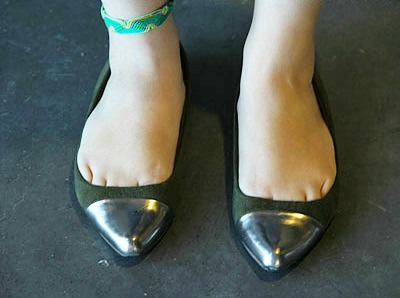 Samantha confessed she chooses her shoes first when putting together her outfit. Although I haven't tried that strategy, it seems like a fantastic way to put an outfit together. These American Eaglecap-toe flats are the star of the show – and my new obsession to hunt down the next time I go shopping!
Now we want to know your thoughts!
Do you love Samantha's casual on-campus look? How do you feel about her ear cuff, and do you have one? What are your best makeup tips for transitioning from day to night? Let us know by dropping us a line in the comments section below!