With a chill starting to reach New Mexico and the leaves beginning to change colors, it's officially become fall on campus. While I was wandering around between classes admiring the change in seasons, I ran into Jazmyn. Her bold style stood out on an otherwise sweatpant-clad campus.
It's no wonder why her ensemble caught my attention: Jazmyn's outfit is made up entirely of hand-me-downs and thrifted elements! I'm so glad I stopped to talk to her about her unique pieces and get the inside info on how she puts together such cool looks.
Jazmyn 101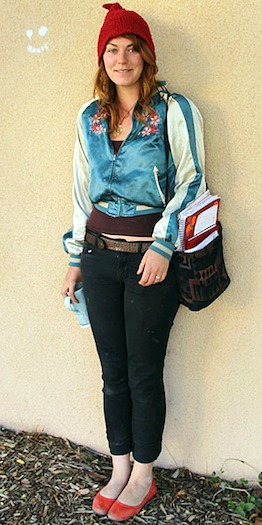 Name: Jazmyn
Year: 5th Year
Major: Visual Arts
School: University of New Mexico
Let's Talk Fashion
Who or what inspires your style? "Glam rock inspires my style – think David Bowie. I am totally inspired by this book Fruits, about Japanese street style. The 1990's punk-grunge movement is also something I look to when I'm feeling lackluster with my closet!"
Where do you like to shop? "I can't stand the whole process of shopping; it's my least favorite thing to do. I usually get my clothes as hand-me-downs and they usually have holes because I hate going to the store so much! Otherwise I find things in thrift stores and vintage shops."
How would you describe your sense of style? "Today it's kind of just a layer of random things that I put together with pops of color. I'd describe my style as a little mismatched. It's just who I am!"
Why did you choose this outfit? "I chose this jacket and hat because it was cold enough to wear it today. They are both bright pieces that add a little flair to my outfit."
What fashion advice would you give to other students looking to improve their style? "Wear what makes you feel happy, not what you think everyone else says is cool."
What are your favorite trends right now? "I like to dress like what I feel instead of in a trend-centric way. What's more exciting to me is if something is a good color for me or different from the rest."
What do you like to do for fun? "I'm an artist, so I spend a lot of time painting. I am also a singer/songwriter and I love to take photographs."
If you could raid anyone's closet who would it be and why? "It would probably be my friends. There's something that makes my own clothes seem refreshed when I wear them with my friends' clothes!"
Elements of Jazmyn's Outfit
1. Knit Beanie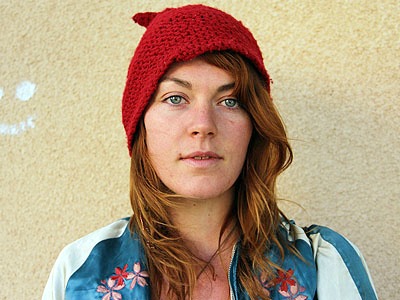 One of my favorite additions to any fall ensemble is a knit beanie. Jazmyn's outfit is cozier and more season-appropriate because of her hat, plus it reflects the changing colors outdoors. The beanie is also a great tie-in with her bright red flats.
2. Embroidered Bomber Jacket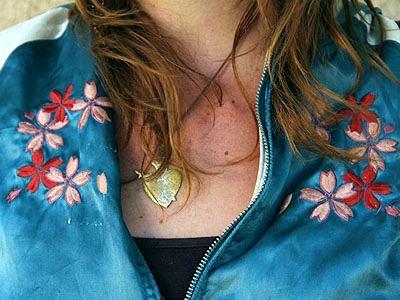 Bomber jackets are great way to elevate any outfit and the embroidery on Jazmyn's bomber takes it to the top of the cool scale. The floral pattern provides just the right amount of color and also adds a touch of femininity.
3. Personal Details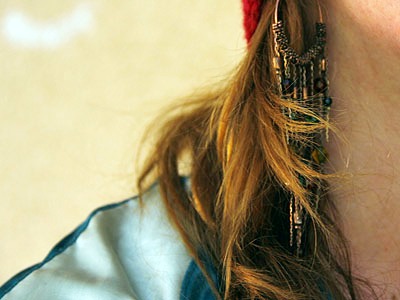 While I was interviewing Jazmyn, I noticed her one earring. Her choice to wear just one makes her really stand out! Whether or not it's something you would try out a home, her bold statement is something to be admired. This cool touch really lets her personality shine through, while also adding a funky flair to her outfit.
What do you think of Jazmyn's outfit?
Do you love thrift shopping and hand-me-downs? Would you wear just one earring? Are you wearing pops of bright, fall colors this season? Leave a comment below and let us know!