School is out (finally!) and the majority of the students have wandered back to their hometowns for the summer to recoup from a grueling school year. But, there are a few of us who stick around for the summer because of jobs, summer school, or just because we don't want to spend another summer in our hometown.
Lauren is one of the few students staying to take classes at the University of Kansas this summer. I ran into her before she left campus for a concert and was instantly inspired by her outfit.
Lauren 101
Name: Lauren
Major: Dental Hygiene
Hometown: Olathe, KS
School: University of Kansas
Let's Talk Fashion
Who or what inspires your style? "I enjoy watching girls on campus during the school year to see what everyone else likes to wear because everyone has such different styles. They all buy the same pair of shoes or the same top, but they all wear it so differently by the way they accessorize it and what they pair it with. So I like to get ideas/inspiration from that."
Where do you like to shop? "TJ Maxx, Marshall's, Target, and then there are some cute boutiques downtown that don't completely break my bank. Since I'm paying for tuition, housing, and groceries, I really try to buy pieces that aren't too expensive. And if they are, I want to make sure that they're things I'll wear a lot or for a long time."
How would you describe your sense of style? "Laid back. I try to be as comfortable as possible, but still look cute, so sometimes I have to choose between the comfortable flats or the really cute heels that match perfectly, but are not as comfortable."
Why did you choose this particular outfit? "It's comfortable, but I think it's still really cute to go out in. The shorts are my favorite part because they are so soft and comfortable, and they can worn be as high-waisted shorts – I can tuck my shirt in or can leave it untucked and it still looks cute!"
What fashion advice would you give to other students looking to improve their style? "You don't have to follow all the fashion trends to fit in. I love to see how people dress themselves because [fashion is] a way to make a statement about yourself without saying a word. You let the clothes do the talking."
What are your favorite trends right now? "I like high-waisted shorts for summer. Some of the denim high-waisted shorts can look a little like mom jeans, but I think if you find the right fit they look really cute with a crop top or a tucked-in t-shirt."
Do you have any favorite fashion designers? If so, who? "I can't afford designer names so it's not really something I pay attention to but I really enjoy watching Project Runway and seeing what the contestants create – they're so creative and it's inspiring to watch."
What do you do for fun? Do you have any unique hobbies or interests? "Right now, I really enjoy just laying by the pool with my friends. Since it's summertime my favorite thing to do is just relax before my summer class starts and I'm swamped with homework again. But, I also like to go to these country concerts they have downtown because it's not something we get to do all the time and it's free!"
If you could raid any person's closet, who would it be and why? "Hayden Panettiere. I watch the show she's in – Nashville – and love her wardrobe on the show. It's very cute and fun, but still flirty at the same time. I also like all the clothes she wears in the new Cotton commercial. I think I like her style because it's laid-back like my style, but sort of country at the same time."
Elements of Lauren's Outfit
1. Printed Fabric Shorts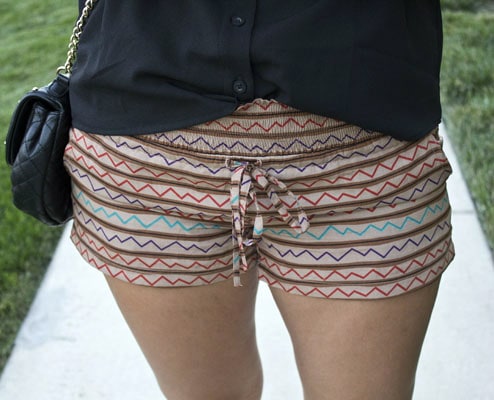 These shorts, from TJ Maxx, are a stylish alternative to your regular denim shorts. Lauren loves them because they are soft and comfortable but still stylish. These shorts are perfect for a hot summer night because you don't have to worry about denim making you too hot or rubbing your legs the wrong way! Plus, the colorful print adds an on-trend touch and lends interest to any look.
2. Black Chiffon Blouse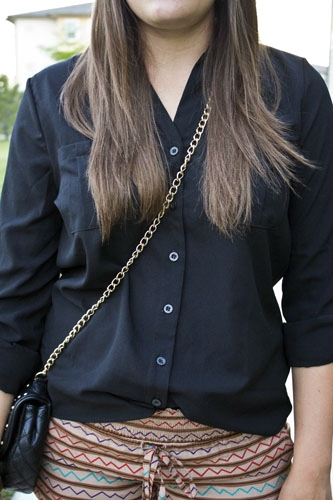 Lauren actually bought blouse and shorts together at TJ Maxx because they matched so perfectly. Her simple black blouse is a great piece for summer, since the fabric is light and airy – perfect for keeping cool in the humidity!
3. Black Over-the-Shoulder Purse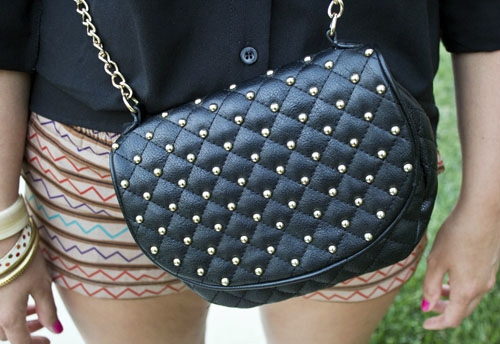 This Chanel-esque bag has a clean shape and matches almost any outfit because of its versatile color. (Black does go with everything!) It's just big enough to carry your keys, wallet, and a tube of lipgloss, making it the ideal size when going out. The purse won't get in your way when it's on your hip, but it's also big enough to carry the essentials.
4. Blank Sandals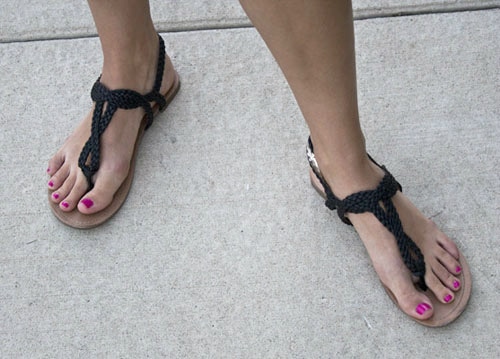 Lauren's sandals, much like her purse, are versatile summer staples and can go with pretty much any outfit. You can dress them up with a skirt and blouse or wear them casually, like Lauren did, with shorts and a top.
What do you think?
What do you think of Lauren's outfit? Do you like denim high-waisted shorts or do you prefer these soft fabric shorts like Lauren does? Which pieces of clothing do you like to wear in the summer to keep cool? Let us know in the comments!