While it is technically spring, the weather is saying something different on the University of Kansas campus. The sun has been paired with cold winds lately, making it colder than it should be during this time of year.
Given the chillier-than-usual weather, I was excited to see Erin going against the elements to put a cute outfit together, despite the many other girls on campus rocking sweatpants. Read on to learn more about Erin and her stylish ensemble:
Erin 101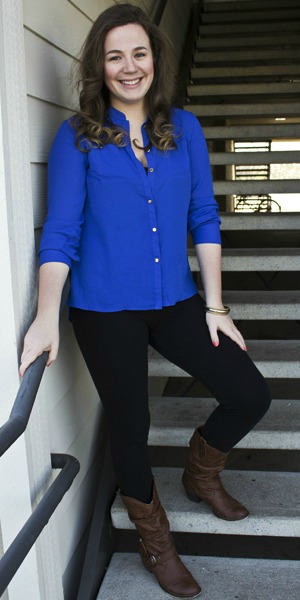 Name: Erin
College: University of Kansas
Major: Photojournalism
Hometown: Olathe, KS
Let's Talk Fashion
Who or what inspires your style? "I see a lot of clothes that I like or am inspired by from the 'Women's Fashion' section of Pinterest. That sounds lame but all the outfits on there are so cute!"
Where do you like to shop? "Boutiques, Target, TJ Maxx. Just about anywhere with clothes or accessories. Forever 21 is definitely one of my favorites because there's such a wide variety and it's so inexpensive that you can put together whole outfits in one store all while you're on a budget."
How could you describe your sense of style? "Pretty lazy most of the time. But it all depends on what I'm dressing for, too. If I'm going out, I like to wear heels or a cute blouse and more accessories to be a little girly. I guess I like to dress for the occasion."
Why did you choose this particular outfit? "I've had this top and these shoes for a really long time and I think I've worn them each about twice on different occasions. When I was going through my closet, I wanted to wear these shoes and this top just looked cute with them!"
What fashion advice would you give to other students looking to improve their style? "I think it's important to own basic pieces of clothing so it's easier to build an outfit; like black or brown boots, white camis, a black sweater, jeans that fit perfectly… pieces that could be worn in any outfit! I also really like to keep it simple because I think that too many accessories can clutter an outfit."
What are your favorite trends right now? "Maxi dresses, studded jewelry, bubble necklaces… I can't think of a trend that I don't like, just trends that I don't think I, personally, would pull off very well."
Do you have any favorite fashion designers? If so, who? "Michael Kors and Chanel, I mean who doesn't like Michael Kors and Chanel? But, then I really like Christian Siriano from Project Runway and Betsey Johnson because she has such fun, colorful pieces."
What do you do for fun? Do you have any unique hobbies or interests? "Photography is something I have a great interest in. I've recently become interested in interior decorating and fashion styling as well. I just really like to put outfits together for any occasion."
If you could raid any person's closet, who would it be and why? "Demi Lovato. I think that her style and clothes are really young and fresh but she also changes it up all the time. She can be a girly girl, a biker chick, or a hipster and pull it all off."
Elements of Erin's Outfit
1. Cobalt Top
Not only is cobalt a trendy color right now, but this pretty blouse is also perfect for any occasion. A sheer top like Erin's could be dressed up with a pair of heels and a bandeau to go out on the town or dressed down with a tank top and sandals for a day of shopping.
2. Basic Boots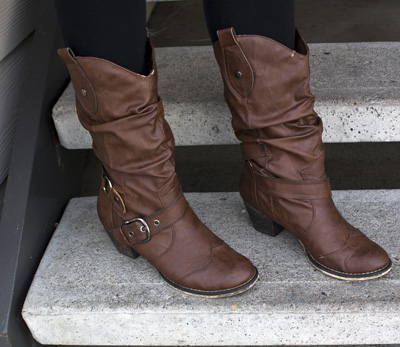 These heeled boots could be worn with a sundress for a date, with high-waisted shorts for a music festival, or just like Erin wore them — with a nice blouse for a casual, yet put-together look for class.
3. Neutral Handbag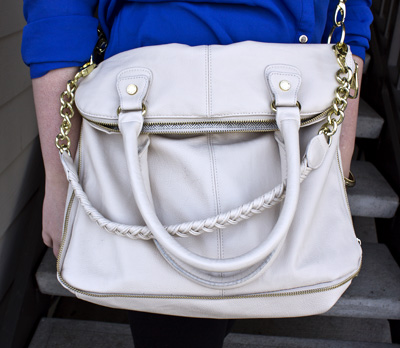 This bag is a great accessory because it's super-roomy, meaning it can hold all of your on-campus essentials. Plus, its neutral color means it can be paired with almost any outfit. This purse is the perfect accessory to finish off Erin's lovely outfit.
What do you think?
How do you like Erin's outfit? Do you have any accessories that you absolutely have to incorporate into your outfit? Would you pair cowgirl boots with a dressy top? Let us know in the comments below!