Rolling out of bed and finding a clean shirt for a 9AM class is hard enough, but looking perfectly put-together for said class is a whole other story. Reaching for yesterday's sweatshirt always seems like a good idea, but Susannah proves that making a fashion statement is a lot easier than it looks.
When I saw Susannah leaving our fashion class, I stopped and stared in awe (and snapped a couple of photos, obvi!). Susannah masters effortless chicness with her classic silhouettes and funky accessories, so clearly I had to ask for her trendy tips.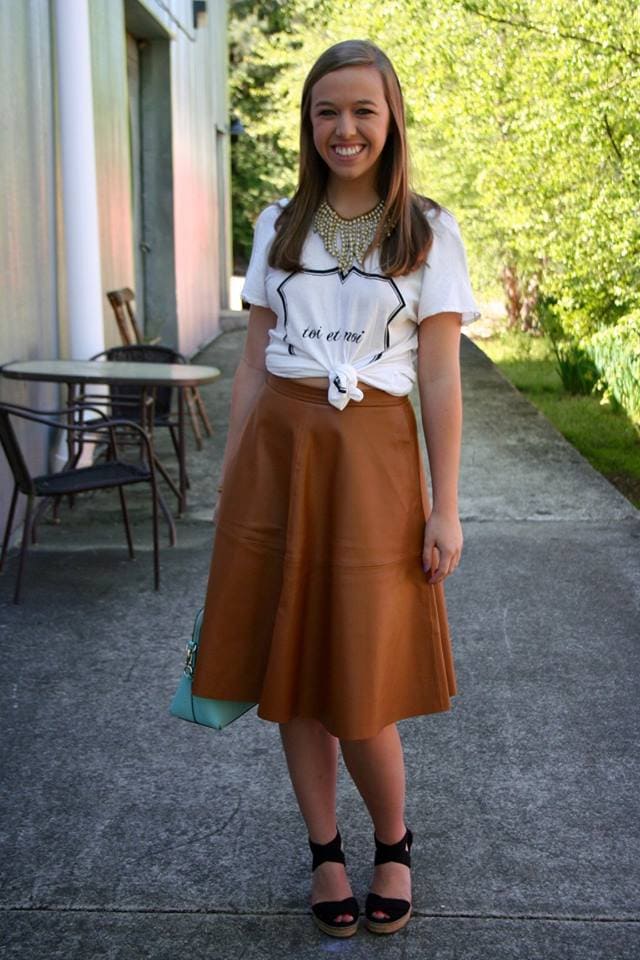 Susannah 101

Name: Susannah
School: University of Georgia
Year: Sophomore
Major: Fashion Merchandising and Communication Studies
Hometown: Dalton, Georgia
Let's Talk Fashion

Who or what inspires your style?
"My personal style is inspired by whatever I'm in the mood for at the moment, but it constantly stays very classic. I like a lot of staple pieces. I don't get too caught up in trends and fads."
Where do you like to shop? "I love to shop at Forever 21, ASOS, the Impeccable Pig, and Fringe Boutique in downtown Athens. I also love Bloomingdale's – it's my favorite department store!"
How would you describe your sense of style?
"My style is pretty classic and feminine. I love bold statement pieces… I'll buy anything with sequins! I'm currently super obsessed with midi dresses."
Why did you choose this particular outfit? "I chose this outfit because it combines everything I love right now! My collection of graphic tees is getting a little out of hand. I love this leather skirt; it's such a fun length. I feel like this look really describes me perfectly."
What fashion advice would you give to other students looking to improve their style?
"Don't change who you are. If you like something, you should wear it. Don't just wear something because everyone else is wearing it."
What are your favorite trends right now? "I'm really into chokers and platform sandals right now… also midi skirts, if you couldn't tell!"
Do you have any favorite designers or lines from this season?
"Some of my favorite designers are Rebecca Taylor, Parker New York, Lela Rose… I actually just did an internship with them during market week in New York. I love Marchesa and I'm obsessed with Wildfox."
If you could raid anyone's closet, whose and why?
"Olivia Palermo. She's very classy but always throws in a twist. I love Blake Lively and Taylor Swift, too."
What TV or movie character's style would you totally steal? "I love Blair Waldorf's style despite the headbands and super 'boarding school' look. I love that she always looks classy and put-together but very fashionable."
What do you do for fun? Do you have any unique hobbies or interests?
"I love online shopping and watching Netflix. Also hot yoga and going to concerts with my friends."
If you could travel anywhere for the shopping where would you go? "If I had unlimited money I'd go to Paris, but I love the shopping in Greece, too. I've been there before and it's all so eclectic and cool."
What's your favorite item in your closet, and where did you get it? "My favorite item in my closet is a tea length, strapless dress from ModCloth that's entirely made of tulle ruffles. I took a major fashion risk when I wore it to my freshman year prom."
Do you have any favorite fashion bloggers or Instagram accounts that you follow? "I love Man Repeller. I think she's hilarious and goes against the grain of what's ["in"] fashion. I read Fashionista.com every single day, too."
Elements of Susannah's Outfit
1. Graphic Tee + Statement Necklace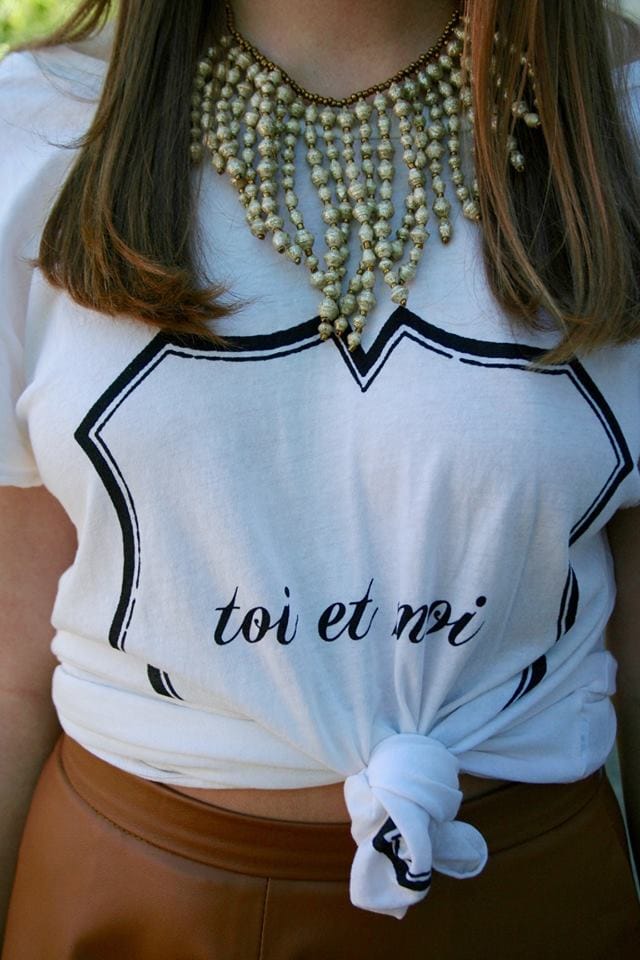 You may have thought you'd outgrown your graphic t-shirt phase circa 7th grade, but take a sec before you toss that tee! Slogan shirts like Susannah's (from Wildfox) are back in a big way! Tuck them into your favorite boyfriend jeans or add a major statement necklace to glam it up.
2. Leather Skirt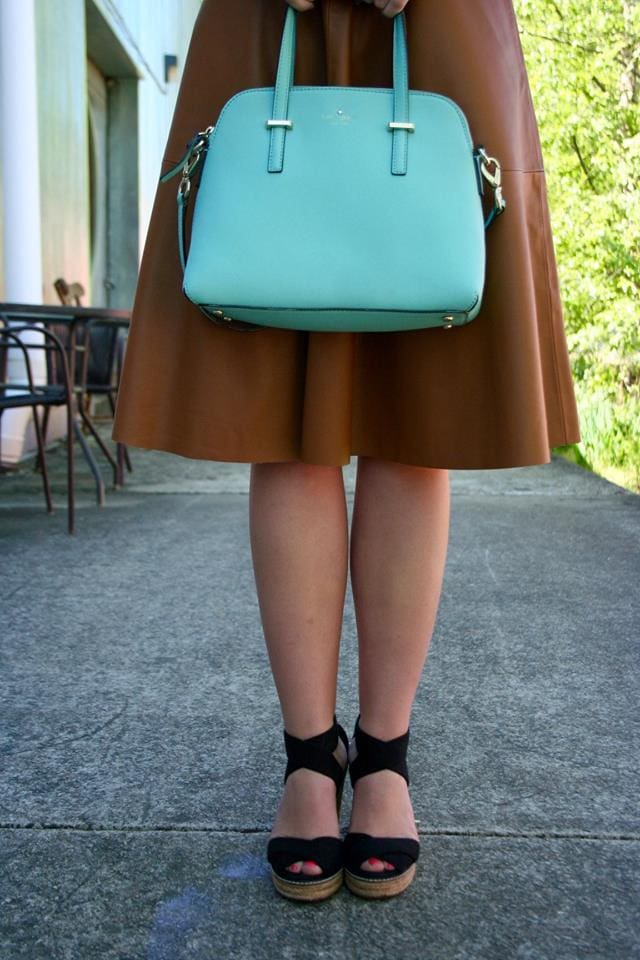 Forget seasonal dressing! Leather and suede are here to stay year round. Susannah's caramel pleather midi from Forever 21 is a great staple piece that can be dressed up or down.
3. Funky Jewelry + Colorful Bag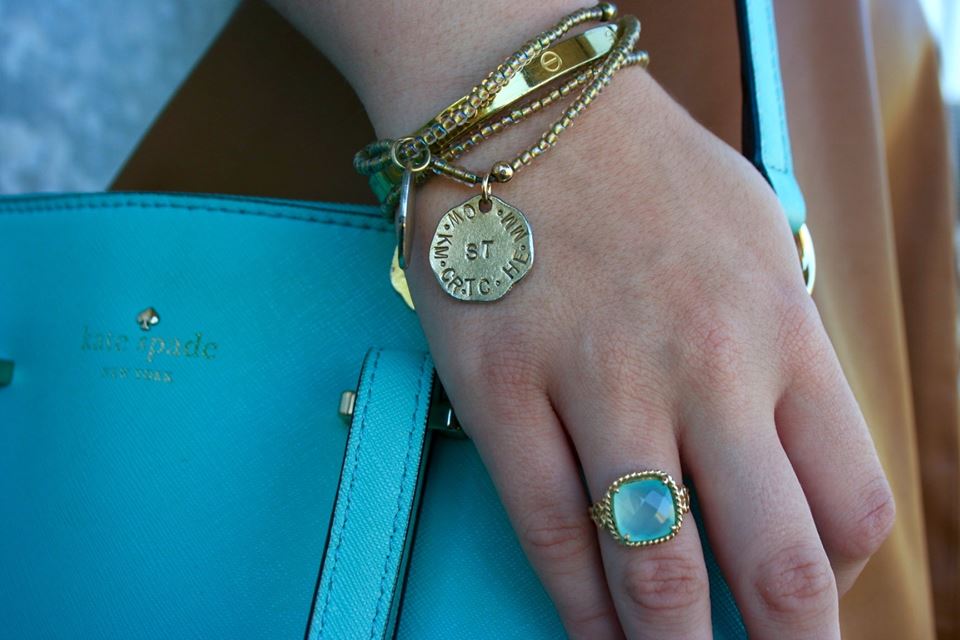 Spring has sprung, so don't shy away from those bright hues. Make your accessories pop with a bright bag like Susannah's (from Kate Spade) or dainty jewelry like her pretty bracelets.
What do you think of Susannah's look?
Do you love her polished outfit? Would you wear it? Comment below and let us know!