As we both hopped off of the trusty Milledge Avenue bus, Morgan's bold leggings and edgy accessories caught my attention – who was this girl deviating from the usual uniform of yoga pants and sneakers? Along with thrifty tips on how to find a killer deal at Free People, Morgan also granted me some inspiration on dressing for yourself and having confidence in your personal style.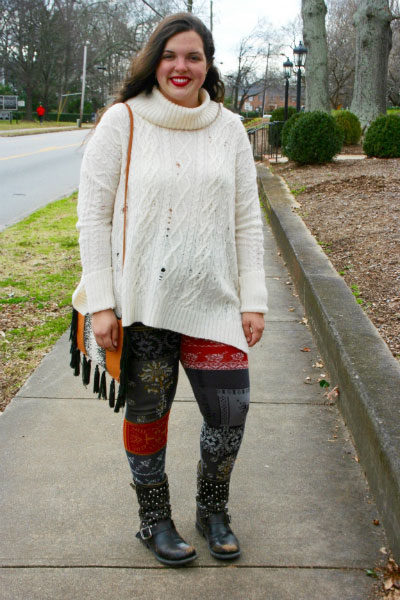 Morgan 101

Name: Morgan
School: University of Georgia
Year: Junior
Major: Public Relations and Fashion Merchandising
Let's Talk Fashion
Who or what inspires your style? "My Instagram feed! I find inspiration there on the daily. Whether it's from a fashion blogger or a picture of a beach, there's always something to get the creative juices flowing."
Where do you like to shop? "I am big on finding deals, so I love Nordstrom Rack and Saks Off Fifth."
How would you describe your sense of style? "Boho-chic that's kind of laid-back. I dunno, just a bunch of cliches!"
Why did you choose this particular outfit? "Sweaters or an oversized top with fun leggings is my go-to outfit for when I'm going to class and want to look cute but still be comfortable."
What fashion advice would you give to other students looking to improve their style? "Be true to yourself and don't be afraid to wear the fun, outrageous piece you have hidden in your closet! I bought a big furry jacket last year and at first I was nervous to wear it, but then I realized if I kept being too scared to wear it, I never would. When you have a special piece like that, you have to wear [it] when you want and where you want… who cares what other people think!"
What are your favorite trends right now? "I really like frayed denim for spring. I don't have anything like that yet, but I hope to get a great piece like a tunic or dress."
Do you have favorite fashion designers? "Mary Katrantzou is my favorite designer. Everything she does is so fresh and unique!"
What do you do for fun – do you have any unique hobbies or interests? "I love painting with watercolors, but on a more quirky note, I love Disney and I just started collecting tsum tsums which are these really cute stackable mini stuffed animals that Disney has. I'll be working at Disney and participating in the college program this summer and next fall."
If you could raid anyone's closet, who would it be and why? "Natalie and Dylana Suarez! These sisters have the coolest and most effortless style that I often pull inspiration from."
Elements of Morgan's Outfit
1. Edgy Earrings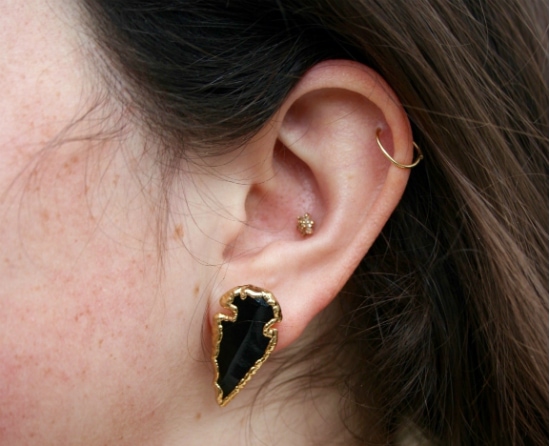 Morgan's cool ear candy adds a little edge to her look without appearing overdone. Keeping the rest of her jewelry to a minimum makes for a look that's laid-back for class but still trendy enough for shopping or lunch downtown.
2. Funky Bag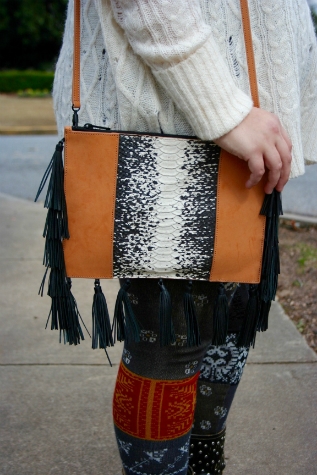 Sometimes carrying a boring backpack or tote just doesn't cut it! If you don't have a ton of books to lug around one day, why not bring out something more stylish? I'm all heart-eyes emoji for Morgan's fringe Loeffler Randall shoulder bag. With this bag, set against her cool patchwork leggings, Morgan proves that mixing patterns can look sleek and effortless.
3. Statement Leggings + Biker Boots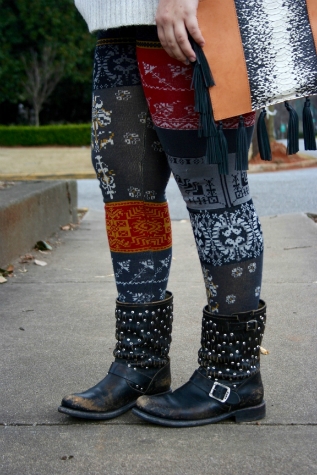 A big step up from the usual "leggings and oversized shirt for class" look, Morgan is slaying the game in boho-chic print leggings and a cozy distressed sweater. Paired with her studded Frye boots, Morgan could give Demi Lovato a run for her money in this edgy-eclectic look.
What do you think of Morgan's mixed prints?
Would you wear her bold leggings and purse with tassels? Give us a shout in the comments section below and let us know your thoughts!