When the temperature drops below 80 degrees in Florida this time of year, it's considered a cold front. Fortunately for us students at The University of Florida, we recently experienced one of these cold fronts. For a short while, fall trends were abundant on campus, but as soon as the temperatures rose back to their usual level, the sweaters, leggings, and scarves disappeared as well.
I was on the hunt to find someone who nailed the fall-to-winter transition look and handled the unstable conditions with ease. Cheyenne's outfit caught my eye, so I stopped to chat with her about the style changes she'd seen across campus over the past week. I introduced myself and she proceeded to tell me she owned the same dress I was wearing. It was fate.
Cheyenne 101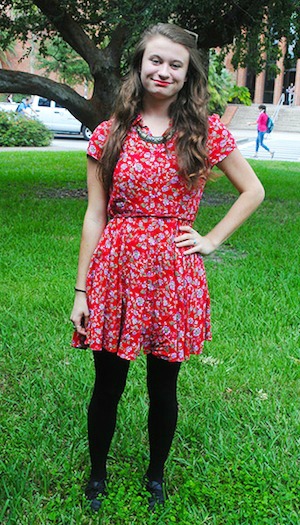 Name: Cheyenne
College: University of Florida
Year: Sophomore
Major: Geology
Let's Talk Fashion
Who or what inspires your style? "I am inspired by the unusual. I like to play around with my style and be a little bit different than most students, I guess."
Where do you like to shop? "I shop at Forever 21, H&M, and I like to go to Goodwill a lot. Believe it or not, the pieces I get the most compliments on in my closet are from thrift stores."
How would you describe your sense of style? "'Hip-chick' is what people have described my style as."
Why did you choose this particular outfit? "I went with this dress because I love the floral pattern and the collar. I love pairing statement necklaces underneath collars. The tights were picked because the weather is getting a little cooler, and I'm a huge fan of the red lip. Plain and simple!"
What are your favorite fashion trends right now? "My favorite trends right now are probably crop tops, hi-low hemlines, and collars! I love collars on shirts, especially statement collars with studs or in contrasting colors."
What fashion advice would you give others? "Wear what you think is fun. Honestly, that's the most important thing. I wear what I think will make me feel great and have a good outlook for my day."
What are your hobbies? "Live music is one of my favorite weekend activities; I'll go see just about any band because I think it's so much fun to experience different kinds of music. I also love going to plays."
Do you have any favorite designers? "I'm not that knowledgeable about designers and brands. I just buy what I like from stores like Forever 21.
If you could raid anyone's closet, who would it be and why? "Probably Lana Del Rey. I just really love her style… I try to emulate her style in some ways. Some of her stuff is too out there for me, but I really love how she is into the florals and everything like that."
Elements of Cheyenne's Outfit
1. Statement Necklace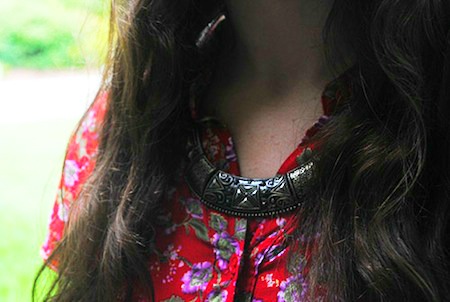 I love Cheyenne's statement necklace from Forever 21. This vintage-look patterned necklace contrasts with the floral print of her dress flawlessly. Wearing a necklace underneath a collar, like Cheyenne did here, can give any look a fashion-forward vibe.
2. Oxford Flats with Opaque Tights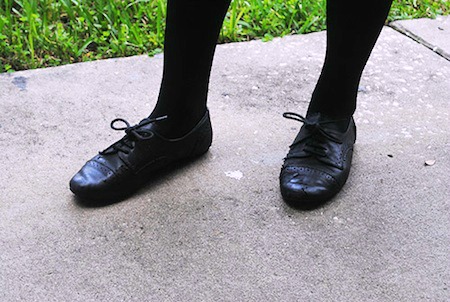 Oxford flats are smart and sassy, especially when paired with tights. Cheyenne rocked her oxfords with opaque black tights to give this transitional outfit an autumn-inspired touch.
3. Funky Jewelry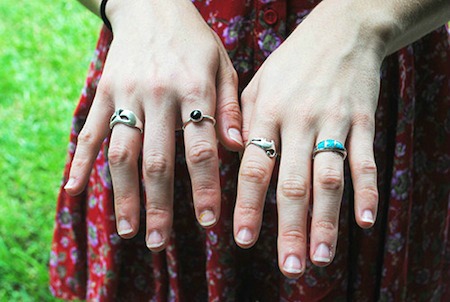 Mixing several different styles of rings can look a little mismatched, but Cheyenne's small rings all look fantastic together. Mixing her jewelry like this makes her outfit more bohemian. We give her a thumbs up for rocking all these funky rings!
What do you think of Cheyenne's look?
Do you love dresses and tights for fall? Do you have any flat oxfords, and if yes, how do you wear them? What's your favorite way to transition your outfits for fall? Leave a comment below and let us know!