The weather during the summer is unpredictable at the University of Florida. It can be sunny and blazing hot one moment, and pouring rain the next. Sportswear, bikinis and rain boots seem to be the fashion staples at the UF campus this semester.
I spotted Alexa in the Reitz Union with her friends, and finally I had stumbled across someone not soaking wet from today's thunderstorm or wearing the predictable shorts-and-t-shirt combo. Alexa had just come from a photo shoot, and she was wearing one of the cutest outfits I'd ever seen on campus.
Alexa 101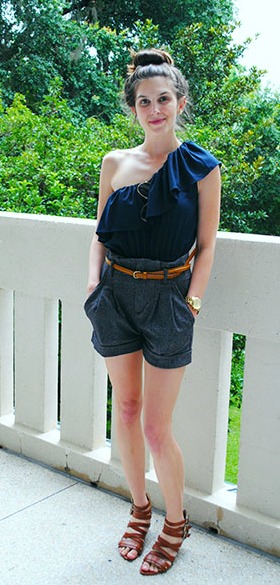 Name: Alexa
College: University of Florida
Year: Senior
Major: Public Relations
Hobby: Watching movies about aliens
Let's Talk Fashion
Who or what inspires your style? "Today – well this isn't really my style at all. Today I'm just trying to learn how to be professional or how to look professional. Normally it's way edgier than this. I'm normally wearing leather and boots. Emmanuelle Alt – the new editor-in-chief of Vogue Paris – I love her. I also take my style from a lot of bloggers."
Where do you like to shop? "Urban Thread [a clothing store near UF] is a godsend."
How would you describe your sense of style? "Usually I would say pretty grunge."
Why did you choose this particular outfit? "We were taking a professional photo for our new PR [public relations] campaigns class."
What are your favorite fashion trends right now? "Skorts are coming back! So skorts and every shoe that has a lace-up."
If you could raid anyone's closet, who would it be and why? "Rihanna, she has the coolest s*** – her or Cara Delevingne."
What fashion advice would you give to other students looking to improve their style? "Just wear whatever makes you comfortable, because you look the best when you feel confident and comfortable."
Elements of Alexa's Outfit
1. Classy Accessories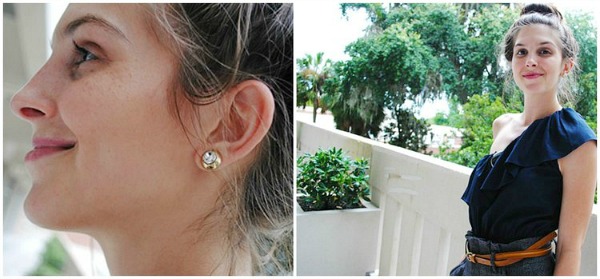 Despite its otherwise-fun vibe, Alexa's outfit included some classic, sophisticated accessories: simple mixed-metal earrings, a masculine Michael Kors watch, and a thin leather belt. These touches add even more to her high-waisted shorts (from Urban Outfitters) and one-shoulder top (from Banana Republic).
2. Strappy Sandals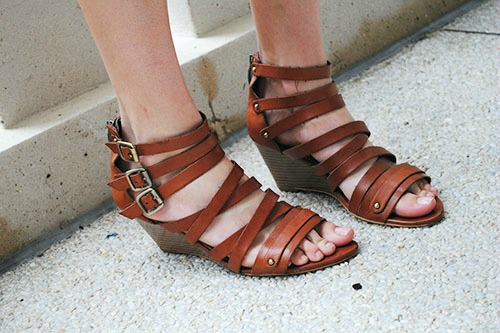 My favorite part of Alexa's outfit? Her shoes! Alexa scored these strappy Sam Edelman sandals at DSW, and they're both practical enough for campus and classy enough for a photoshoot.
What do you think?
What do you think of Alexa's outfit? What would you wear to a photo-shoot? What are you wearing to beat the unpredictable weather on your campus this summer?