Kate, a sophomore at The University of Colorado at Boulder, is outgoing and always rocking her grunge sense of style. She is in some of my Women and Gender Studies classes and her outfit combinations always hit on current trends.
On this sunny day in Boulder, Kate showed some leg with black-wash ripped boyfriend jeans. Although she says she likes to dress "laid-back," her outfits always look stylish and effortlessly cool. Kate rocks everything she wears and I admire her ability to pull off so many different styles!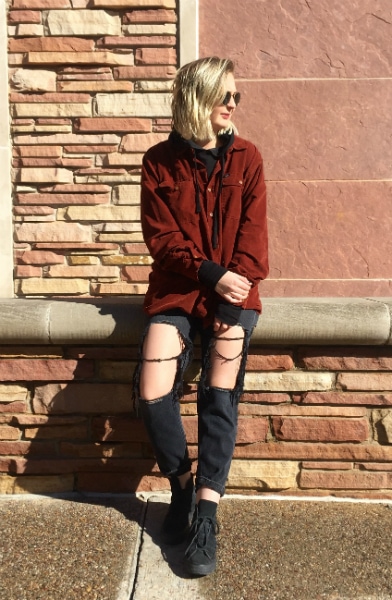 Kate 101
Name: Kate
School: University of Colorado Boulder
Year: Sophomore
Major: English Literature
Minor: Women and Gender Studies/Art History
Let's Talk Fashion
Who or what inspires your style? "I go on Tumblr a lot and get inspiration from there. My brother also inspires me because he dresses really well. I also follow Mimi Elashiry on Instagram and I love what she wears."
Where do you like to shop? "I really like Buffalo Exchange and Urban Outfitters. O-mighty and UNIF are also my favorites."
How would you describe your sense of style? "Grunge-y and laid-back."
Why did you choose this particular outfit? "I like wearing hoodies with flannels. I feel like I wear them all the time since it's cold in the morning and gets warmer through the day. I like to layer."
What fashion advice would you give to other students looking to improve their style? "If you see something that everyone has, don't buy it. You don't want to be wearing [something so trendy]."
What are your favorite trends right now? "Ripped jeans and all black. I really like the sporty look with jeans like all white Nikes or Adidas with high-waisted pants."
Do you have any favorite fashion designers? If so, who? "I really like Marc Jacobs because he can be a little more edgy than others."
What do you do for fun – do you have any unique hobbies or interests? "I read a lot of books since I am a literature major. I really like fiction novels and Sylvia Plath. I also snowboard and love to travel."
If you could raid anyone's closet, who would it be and why? "Probably Mimi Elashiry. I love her style. It's like 70's, laid back, surfer, and just really unique."
Elements of Kate's Outfit
1. Flannel + Hoodie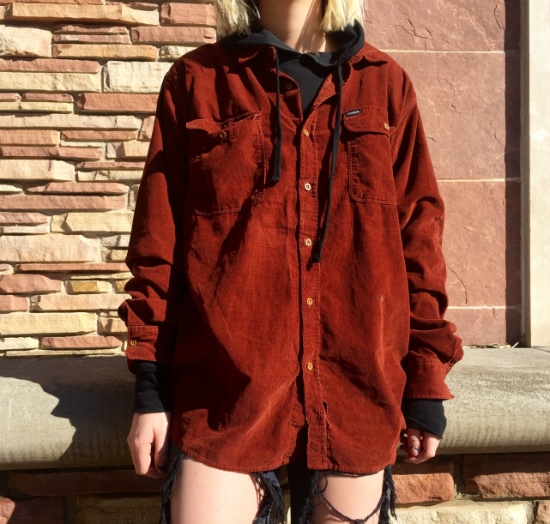 Colorado is notorious for its dramatic changes in its daily weather. To be prepared for any instance, Kate layers a burnt orange corduroy flannel, borrowed from her brother, over a black sweatshirt from Urban Outfitters. With the hood popping out, it is the perfect combination of practical and stylish.
2. Ripped Boyfriend Jeans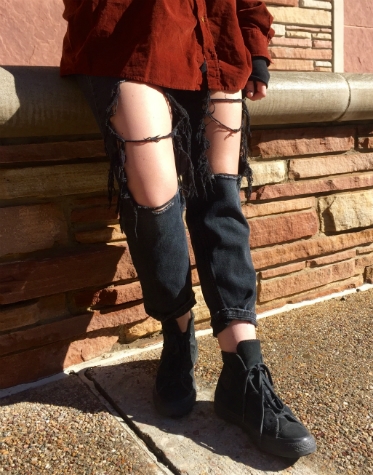 Ripped jeans continue to trend this season. Here, Kate opts for a black wash boyfriend style jean from UNIF. The large cutouts show some leg and fit her grungy wardrobe. Cuffed just above the ankles, they allow her black sneakers from Free People to show while nailing the cropped pant trend.
3. Backpack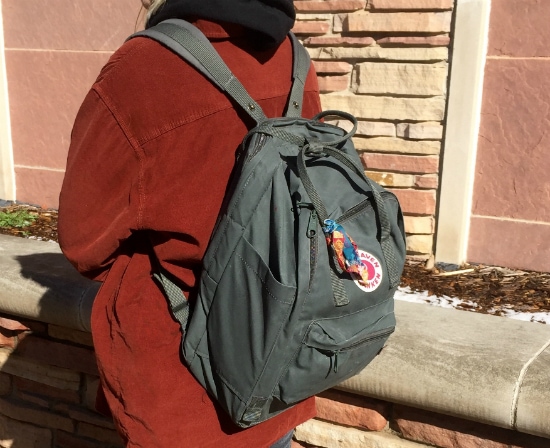 To carry her books around for class, Kate opts for a roomy backpack. The grey color is the perfect addition to the black wash jeans and burnt orange flannel. To top it all off, she adds some Ray-Ban shades for the sunny day.
Corduroy and ripped jeans – what do you think?
Perfect pairing or not your style? Would you wear her orange jacket? Comment below and let us know!