The weather changes here in Santa Cruz have been crazy lately, challenging students to find outfits that are functional for rain and warm sun. Kristin struck the perfect balance one dreary day, keeping her outfit casual and comfortable yet adding swag with cute accessories. Let's meet her.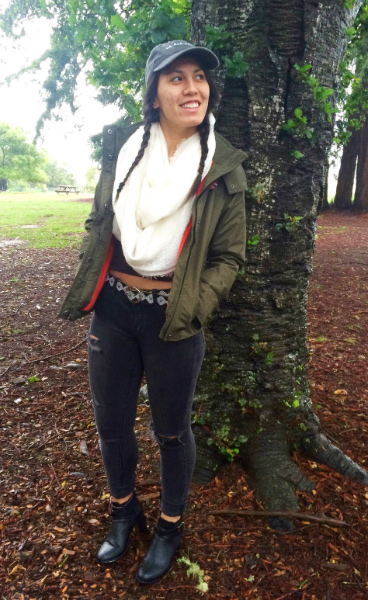 Kristin 101
Name: Kristin
School: University of California, Santa Cruz
Major: Art
Year: Sophomore
Hobbies: Arts & Crafts
Let's Talk Fashion
Who or what inspires your style? "Definitely Free People and Urban Outfitters's catalogs. I like the city street style look mixed with bohemian style."
Where do you like to shop? "Ideally Urban Outfitters when I can. Also Forever 21 [and] Brandy Melville, but I get most of my jeans from American Eagle."
Why did you choose this outfit? "I really like this olive jacket because I'm into darker colors and it goes with everything. Mostly the weather decided my outfit for me, though."
What fashion advice would you give other students looking to improve their style? "Comfort is key. I guess just choose the clothes that you feel good in."
What are your favorite trends? "Maroon and charcoal colors together. I really like earth tones like this olive green, too."
If you could raid anyone's closet, who would it be? "Probably Kendall Jenner. She has a lot of cute and sophisticated basics."
Elements of Kristin's Outfit
1. Gray Baseball Cap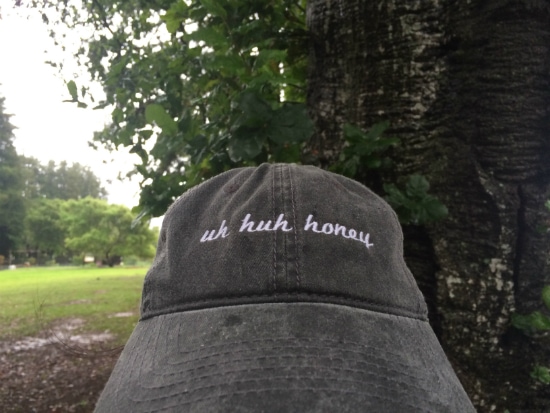 This cap from Brandy Melville is a cute way to stay dry and protected from sporadic weather changes. Not only does it help shield her face from the elements, it also playfully references Kanye West's "Bound 2," one of our favorite tracks.
2. Patterned Belt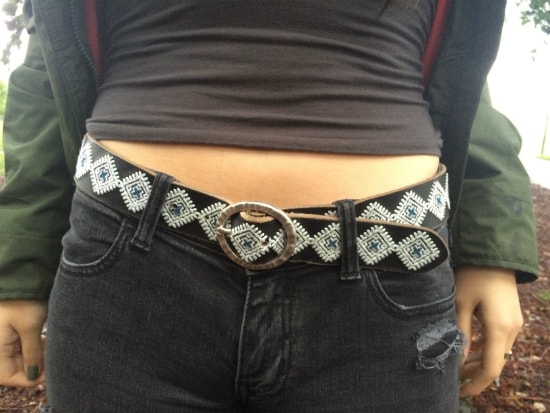 It's easy to see that Kristin's outfit is all about the accessories. This belt from Lucky Brand adds a unique style element to her simple outfit. It's not every day you see funky patterned belts on campus, and this is a good one.
3. Black Ankle Boots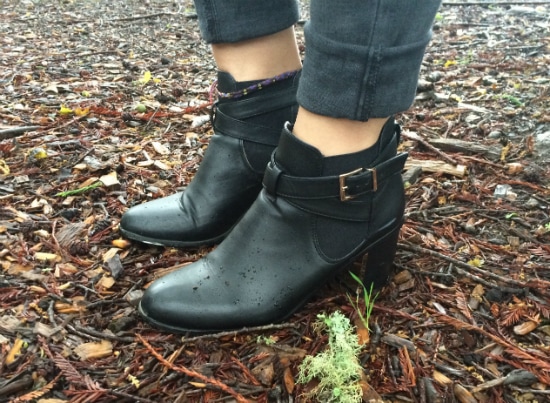 If ankle boots aren't your go-to footwear yet, you need to get on board with this trend! Kristin's black buckled boots are too adorable for words. They elevate her outfit from just casual to put-together enough for class.
4. Gray Jeans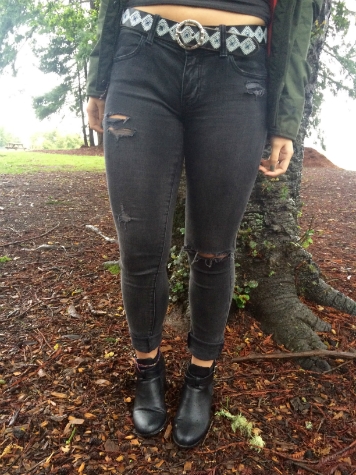 Kristin wears lots of neutral and earth-tone colors, like her matching gray jeans and cap. The rips in the denim give her outfit some edge and keep her look on-trend.
What do you think of Kristin's outfit?
Do you love her funky belt and torn jeans? Would you wear her ankle booties? Comment below and share your thoughts with us!