Kai's effortless mix-and-match style proves there are no rules in fashion. Her bright blue jumpsuit is bold and daring, especially when mixed with the texture and color of her cardigan. She incorporates lots of jewelry and colorful accessories to complete her look. It's fun to see people with exciting, fearless style, like Kai's.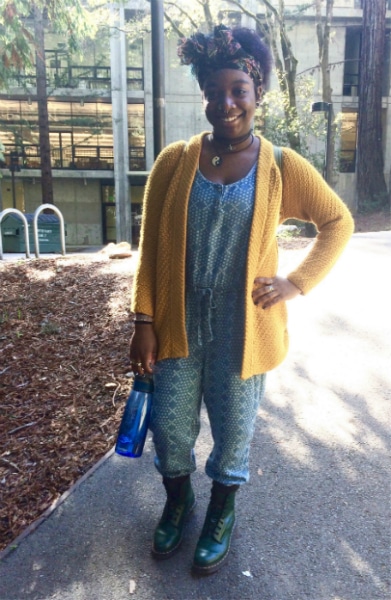 Kai 101
Name: Kai
Major: Literature
Year: Junior
School: University of California, Santa Cruz
Hobbies: Baton twirling and skateboarding
Let's Talk Fashion
Who inspires your style? "I don't really have anyone but if I had to say someone I'd say Willow Smith."
How would you describe your style? "Crazy! I never match. I like mixed patterns and [I] choose whatever I want."
Why did you choose this outfit? "This is actually my first time wearing this jumpsuit, but it was a little cold so I threw on this cardigan and I love these Doc [Marten]s. I wear them all the time."
Where do you like to shop? "One of my favorite stores is Hot Topic and I really like Earthbound [Trading]. They have a lot of bohemian style clothing."
Do you have any advice for students looking to improve their style? "Be creative! Do whatever you want, even if it means piecing things from a bunch of people together; a little grunge, a little hippie, which is what I like to do."
What are your favorite trends? "I really love layering a lot of jewelry."
If you could raid anyone's closet, who would it be? "Can I say Willow Smith again?"
Elements of Kai's Outfit
1. Rings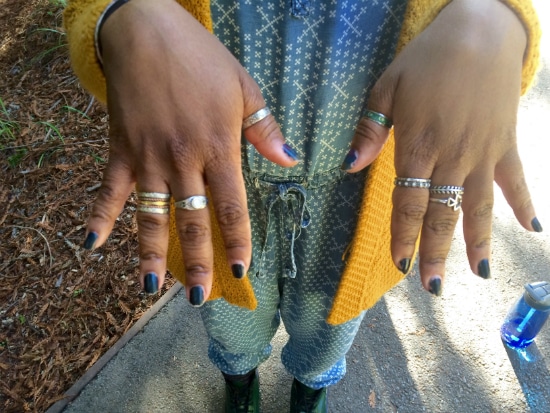 Kai told me she loved layering jewelry, so naturally her outfit consisted of a variety of layered rings and necklaces. Her rings from Tilly's were mostly silver with some pops of gold, copper, and green to match her eclectic and colorful style.
2. Necklaces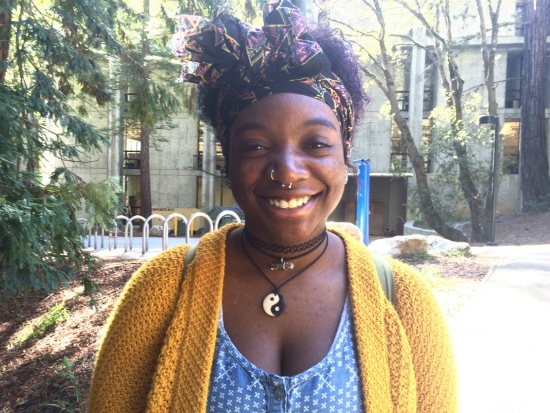 Kai also layered necklaces from Hot Topic to add a grunge vibe to her look. The choker and yin-yang necklace pay homage to the '90s.
3. Green Boots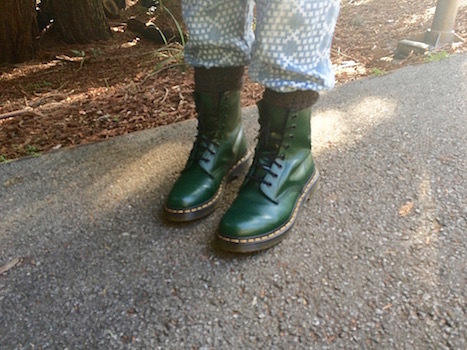 My campus definitely has an obsession with Doc Martens in all types and colors. Kai chose this dark green pair because the color is fun, yet still muted. This way, she can pair her boots with a variety of styles and outfits without clashing. In a way, these green boots are actually a neutral.
What do you think of Kai's look?
Do you love her colorful style? Would you wear her green combat boots? Comment below and share your thoughts with us!