When I saw Yvonne sashaying across campus, I could have sworn she was a supermodel. Yvonne's ability to mix edgy and feminine pieces had me awestruck. This girl nails street style. Upon striking up a conversation, I found out that Yvonne draws inspiration from her African roots, her love of dance, and some unexpected style icons.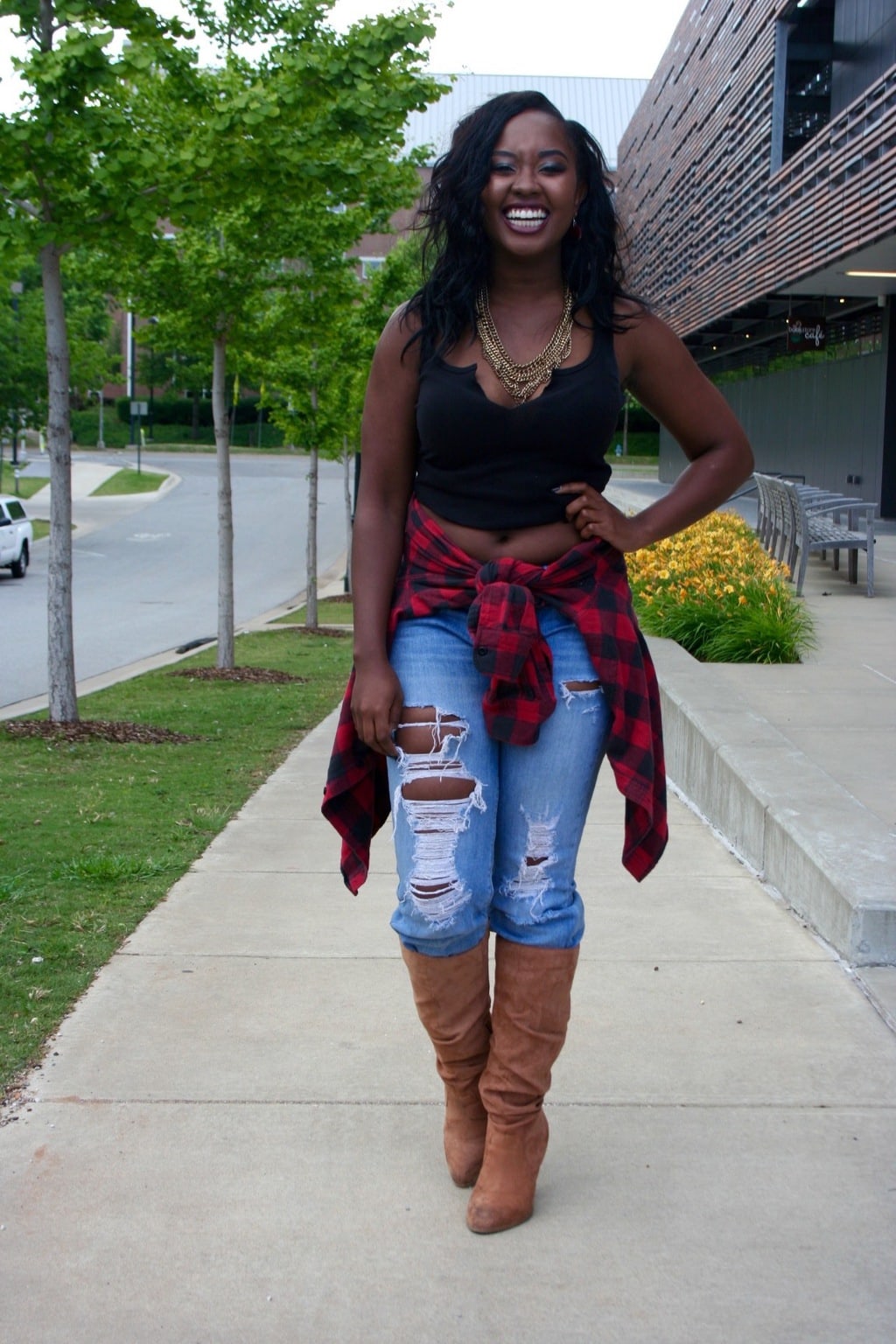 Yvonne 101
Name: Yvonne
Year: Sophomore
Major: Biology Pre-Med
Hometown: Fayetteville, Arkansas
School: University of Arkansas
Let's Talk Fashion
Who or what inspires your style? "Definitely Beyoncé. My nickname is 'Yvonce,' so she's my homie. Also, I was born in Kenya, so I feel like that has some influence."
Where do you like to shop? "My top three stores are Forever 21, Charlotte Russe, Rue 21… and [also] New York and Company!"
How would you describe your sense of style? "I feel like I'm a good mix between a tomboy and a girly girl, but I also dance so that influences my style, too."
Why did you choose this outfit today? "It's a pretty good representation of my style! I have to look for clothes that are the best for both of my personalities and my dancer side."
What advice would you give to college students looking to improve their style? "Find clothes that make you feel the most comfortable. You're always going to exude the most confidence in something you feel good in. Don't try to fit in and wear whatever everyone else is wearing if you don't feel comfortable in it."
What are your favorite trends? "I'm really happy that the baggy '90s look is back. I love baggy jeans, crop tops, and really colorful jackets."
Do you have any favorite designers?
"Right now I really love the Kendall and Kylie collection. I love their swimsuit line also. It's so cute."
What do you do for fun? Do you have any unique hobbies or interests? "Like I said, I'm a dancer, so this summer I'll be in Los Angeles for that. I've been dancing for a long time and I love it so much. I also love hiking. Not many people know that, but I love to hike."
If you could raid anyone's closet who would it be and why? "Kim Kardashian. Hands down. Kim K has so many shoes and so many clothes. Plus, she's married to Kanye so she's got to have some interesting stuff in her closet. Also Rihanna because she's the baddest in the game."
If you had $1000 to spend on one item, what would it be? "On Rihanna's new concert tour she has the amazing new boots that basically come up to her waist. I'm pretty sure they're $4,000 but I really want them."
What's your favorite item in your closet? "Probably my Adidas joggers which is really weird. I got them from Goodwill for $5 in the men's section."
Elements of Yvonne's Outfit
1. Crop Top and Flannel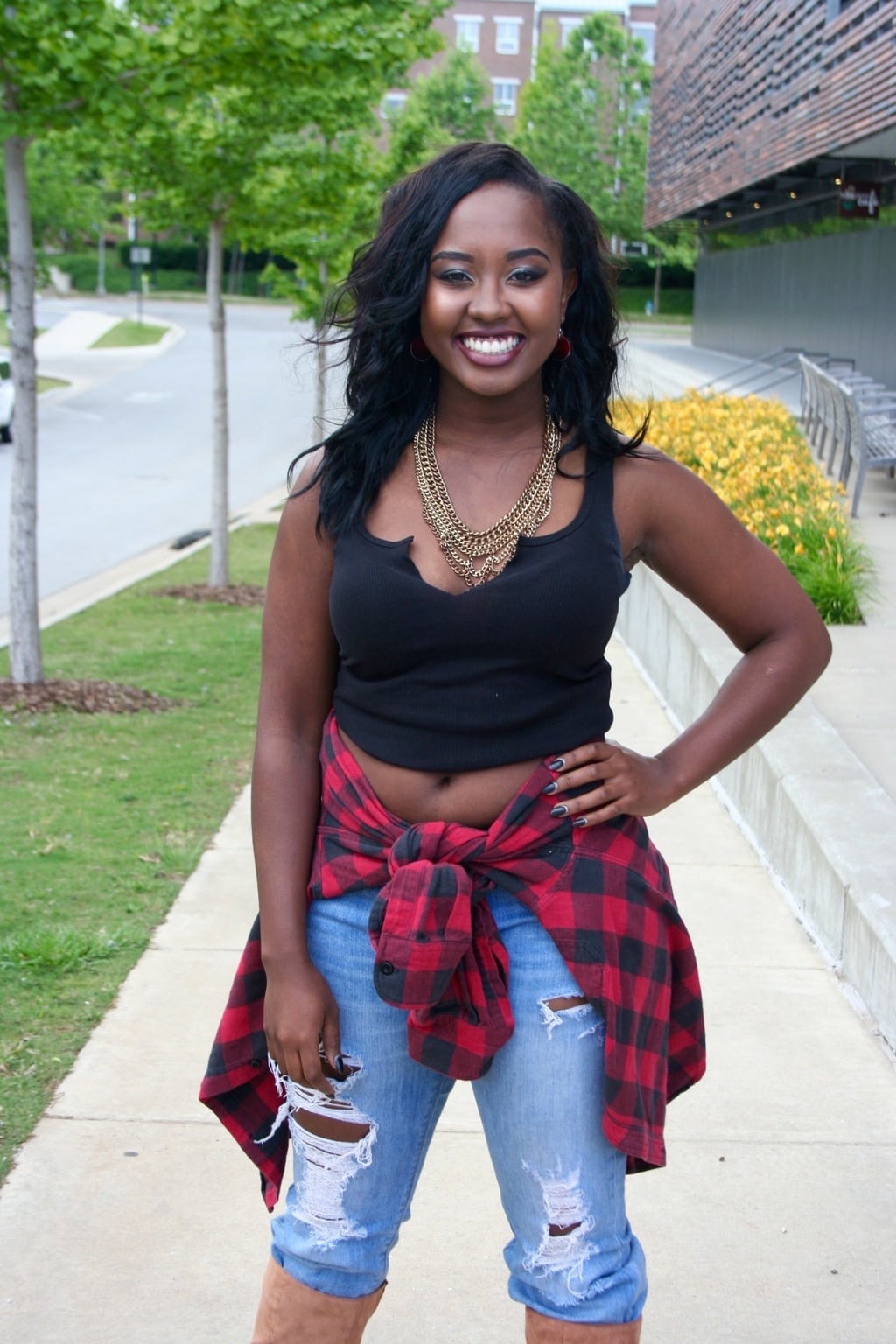 Fayetteville may have chilly spring temps, but don't let that keep you from rocking fall favorites in the warmer weather! Pair a crop top with your favorite thrift store flannel for an edgy-casual vibe like Yvonne.
2. Statement Necklace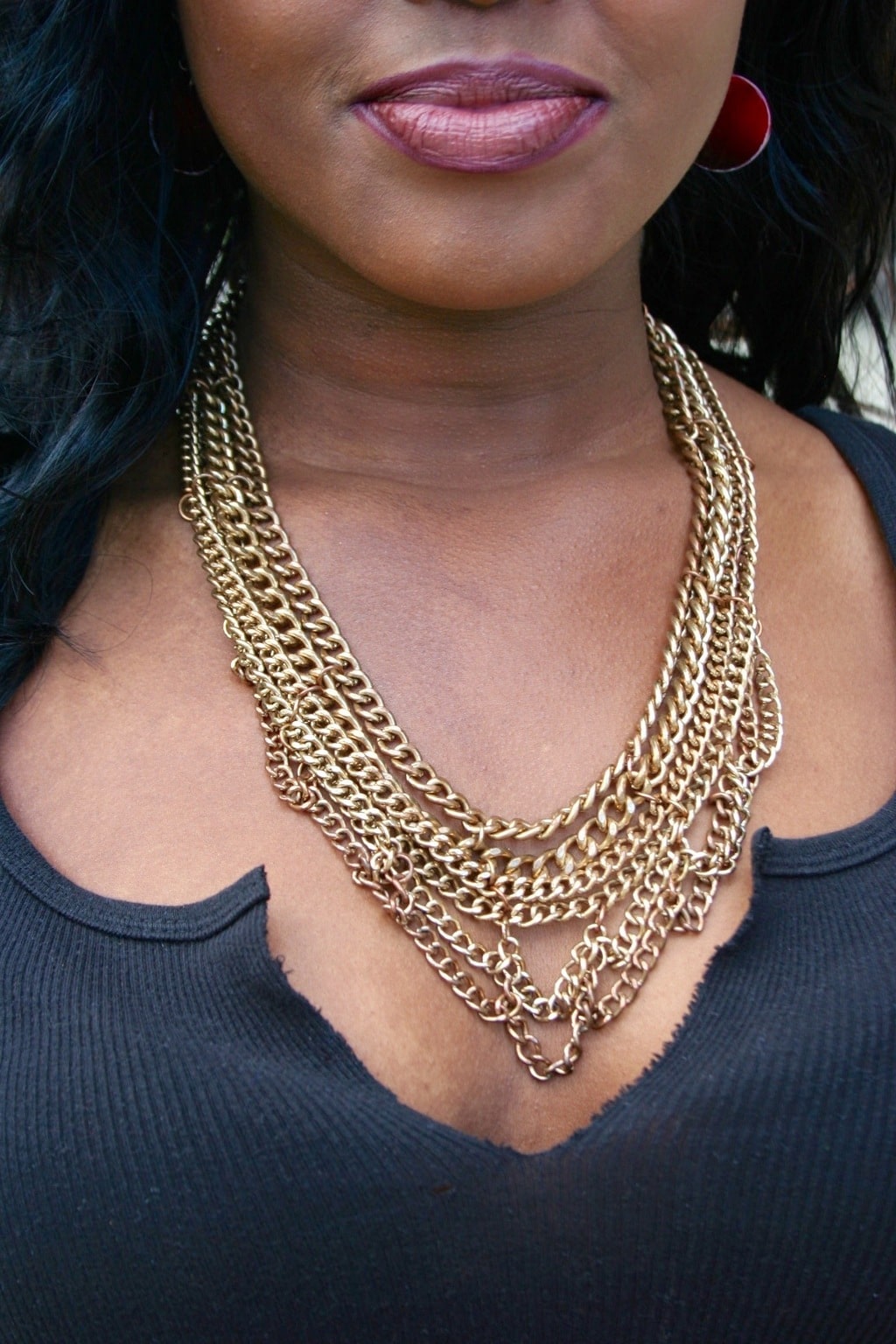 No outfit is complete without confidence and a killer statement accessory. Layer a few dainty necklaces or opt for a major piece like Yvonne's to liven up a simple tee or tank.
3. Shredded Jeans and Funky Boots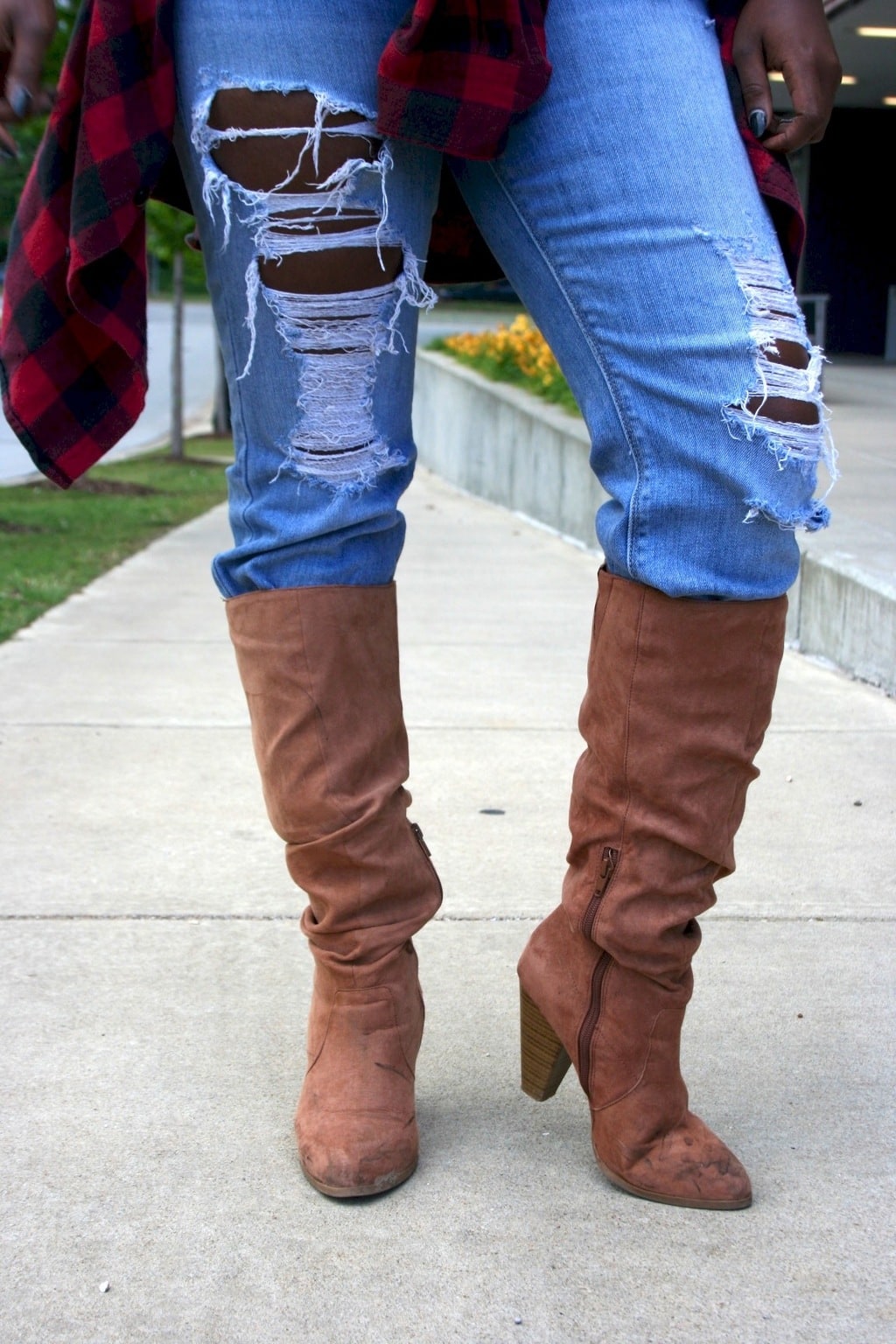 It's no doubt: Yvonne looks like she stepped off Rihanna's tour bus. Her shredded jeans are edgy, but look sleek and cool when tucked into her tan boots.
Do you think Yvonne nailed it?
Have you seen Ri-Ri's waist-high boots and would you wear them? Do you love distressed denim? Comment below and let us know!