Savvy's outfit is perfect for crisp January weather with functional and fashionable layers. Who says cooler weather has to mean putting away your favorite warm weather pieces? Savvy pairs a summer dress with a chambray top, tights, and boots to make it appropriate for the chilly temps. Brilliant, Savvy. Brilliant.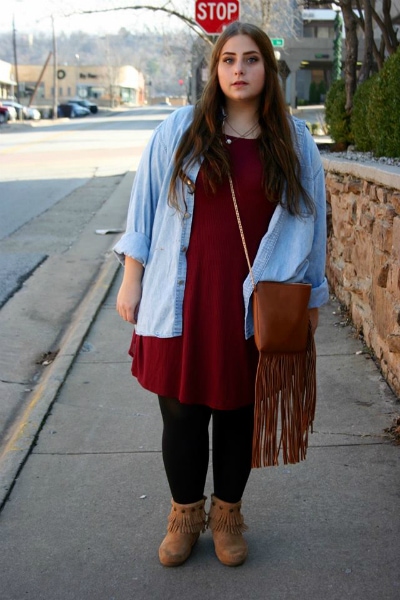 Savvy 101
Name: Savvy
School: University of Arkansas
Year: Freshman
Major: Art
Let's Talk Fashion
Who or what inspires your style? "Everything around me. The internet, definitely. Plus size models like @Barbienox and @mynamesdiana on Instagram. They're really cool."
Where do you like to shop? "Target, Urban Outfitters, and TJ Maxx. I feel like I don't like one certain place; you can find gems anywhere. Oh – and of course I like thrift shops, too."
How would you describe your sense of style? "Fun! I just wear whatever I feel good in. Like, even if I look in the mirror and think 'ehh, this isn't a twelve on the cute scale…' if I feel cute in it, I'm going to wear it. When you feel confident and put that out into the world, other people feel it."
Why did you choose this particular outfit? "Christmas just happened and I got all these new clothes and they are so cute."
What fashion advice would you give to other students looking to improve their style? "Wear what makes you happy and what you feel comfortable in. Work it."
What are your favorite trends right now? "I'm super into booties and tights. Cardigans. I've been really into really big sweater cardigans lately."
If you could raid anyone's closet, whose and why? "Aria from Pretty Little Liars. She has great clothes. She's so cool, she's goals."
What do you do for fun? Do you have any unique hobbies or interests? "I like to paint and hang out with my cats, take pictures. And hooping. Like, hula hooping."
If you could go anywhere in the world to shop, where would you go? "Oh, London, I feel like that's cool. I want to visit my sister in France and shop there."
Elements of Savvy's Outfit
1. Tank Dress + Chambray Shirt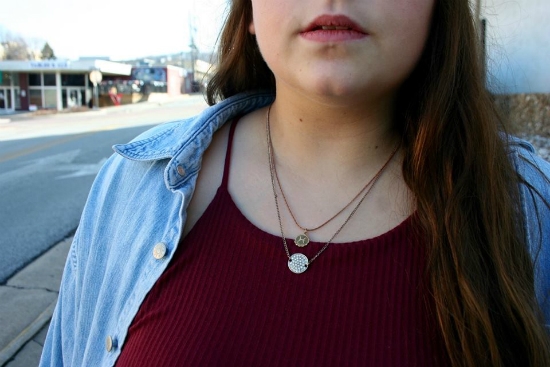 Savvy's Urban Outfitters tank dress paired with a chambray shirt she "borrowed" from her sister reminded me not to pack up my favorite fall pieces just yet. Layering is key for chilly, yet sunny, weather.
2. Layered Necklaces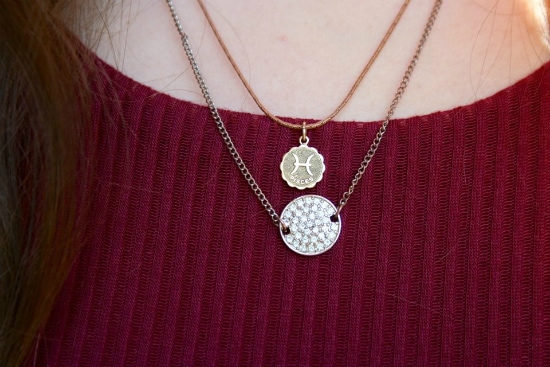 Layering dainty necklaces adds a feminine touch to an outfit without looking fussy. Savvy's pisces necklace from Urban Outfitters and sparkly necklace from Old Navy pair well together over her burgundy ribbed dress.
3. Fringe Booties + Tights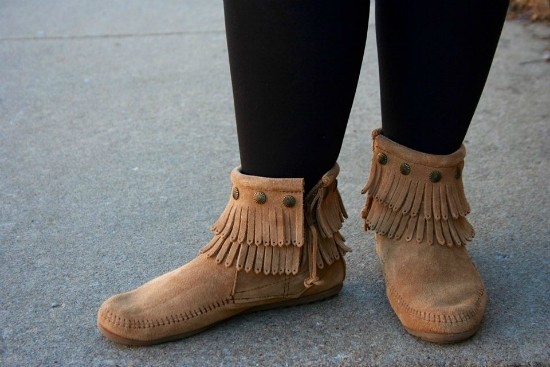 It may be too cold for bare legs on campus, but that doesn't mean short booties are out of the question! Paired with black tights, Savvy's Minnetonka fringe booties are funky and fun, but comfortable enough to wear to class.
What do you think?
Are you loving Savvy's outfit as much as we are? Are you still rocking chambray and summer dresses through the winter? Let us know in a comment!