When I spotted Rachel's bright, cozy sweater in a sea of tired neutrals and sleepy campus "groufits," I was immediately drawn to her style. She looked effortlessly pulled-together, her statement pieces setting her apart from her sweatshirt-clad peers. After interrogating Rachel about her style, I learned that she is a fan of classic pieces with a touch of boldness.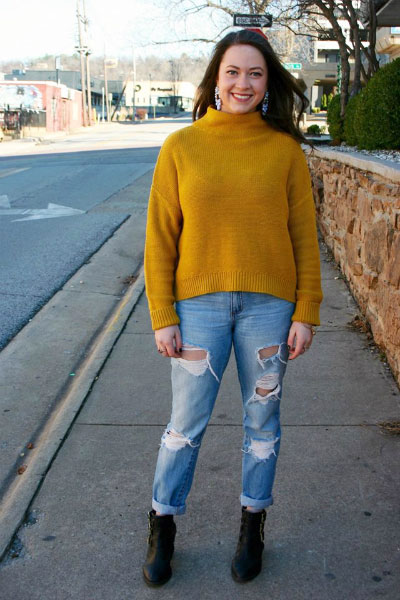 Rachel 101

Name: Rachel
School: University of Arkansas
Year: Freshman
Major: Undecided/Communication
Let's Talk Fashion

Who or what inspires your style?
"The people around me inspire my style. Like, living in a college town, I am exposed to different people and styles every day. My friends are big contributor[s] to how I dress, mainly because I raid their closets a lot."
Where do you like to shop?
"I like to shop wherever I can get a good deal I guess. Forever 21 and the boutiques in Fayetteville are my go-to places, usually."
How would you describe your sense of style?
"I would describe my style as simple but bold. I usually go for really simple things with a bold necklace or a pop of color. And I usually go for bright colors… I guess it's a reflection on my bright personality!"
Why did you choose this outfit? "Honestly I picked this outfit because I never knew I could pull off mustard yellow, but I would say I look pretty good in it, right?! And I love an opportunity to rock my boyfriend jeans."
What fashion advice would you give to other students looking to improve their style?
"The only advice I have is only buy pieces of clothes you can wear with several different outfits. I mean, I'm not the only college kid struggling on a budget but still trying to look fly when I go out."
What are your favorite trends right now? "My favorite trend right now would have to be boyfriend jeans [and] ripped jeans. Before this year I never thought I would spend money to buy already ripped jeans, but here I am finding any chance to wear them."
Do you have favorite fashion designers?
"No, not really. I honestly don't look at fashion designers when I look at clothes, I only notice designers when I comes to shoes… but even then that doesn't usually sway my decision.
"
What do you do for fun – do you have any unique hobbies or interests? "Usually I go for coffee with friends and that's pretty fun! I also love to hike even when it's cold, rewarding myself with a cup of coffee! I think I'm a coffee addict."
If you could raid anyone's closet, who would it be and why?
"Probably Vanessa Hudgens. I'm not really sure why, but I've always followed her through the years ever since high school musical. I follow her on all social media sites. Her style is relaxed yet glamorous, and that's what I like so much."
Elements of Rachel's Outfit

1. Boyfriend Jeans + Black Booties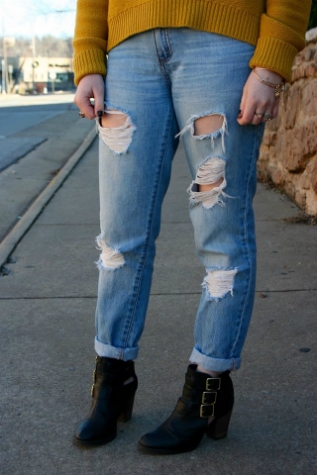 Rachel's boyfriend jeans from Forever 21 are just as comfortable and easy to throw on as her favorite pair of workout leggings, but they make her outfit look much edgier and more put-together. Paired with classic black ankle boots, Rachel looks stylish trudging from class to class.
2. Colorful Sweater + Bold Earrings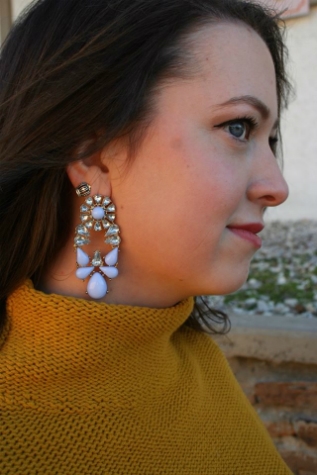 Who says you have to put your sunny hues away when the sun hides out? Rachel's mustard yellow sweater from Old Navy is bold and funky; it's a refreshing take on winter wear that makes her stand out. Her statement earrings from Maude Boutique highlight her features and dress up her casual sweater-and-jeans combo.
3. Piled On Jewelry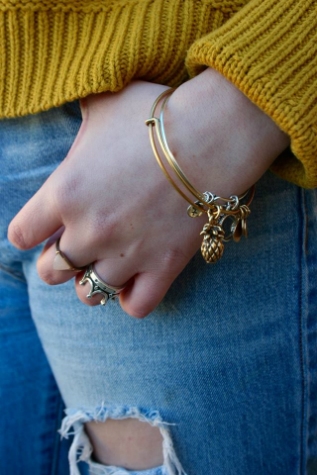 Contributing to the "effortless chic" look, Rachel's Alex and Ani bracelets and bangles add to her ensemble without looking too overdone. Her rings from Francesca's are fun, affordable, and wearable for every day.
Do you ever rock mustard?
What do you think of Rachel's outfit? Would you wear torn up boyfriend jeans? Comment below and let us know what you think!