I've seen Angel around campus more than a few times and she always looks funkier than the time before. Angel's mix of sporty and street has me reaching for my mom's acid wash denim and slipping on a pair of Adidas Superstars. I had to know her secret to being effortlessly edgy.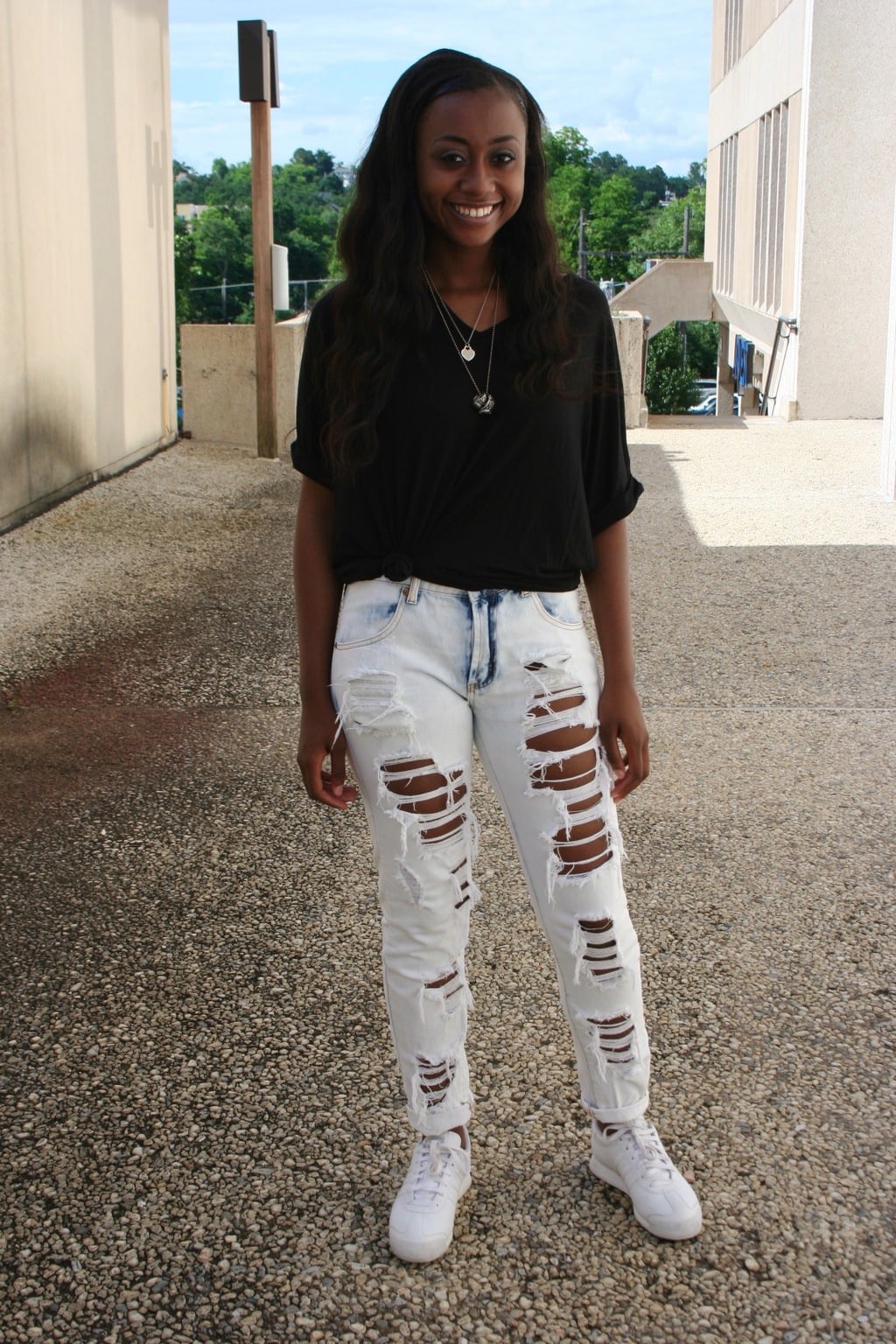 Angel 101
Name: Angel
Year: Junior
Major: Biology Pre-Pharmacy
Hometown: Fayetteville, Arkansas
School: University of Arkansas
Let's Talk Fashion
Who or what inspires your style? "I basically strive be Kerry Washington, whether it's as Olivia Pope or just on a regular day; she slays."
Where do you like to shop? "Boutiques around Fayetteville and the Nike store is my favorite!"
How would you describe your sense of style? "A mix of a wannabe Michelle Obama – without the budget – and maybe Beyoncé on one of my better days. Zendaya if I'm feeling sportier."
Why did you choose this particular outfit? "I'm really in love with these white-wash holey jeans right now. They're super retro which I love. And you can never go wrong with Adidas! I love that the Adidas shoes are super back in style now."
What fashion advice would you give to other students looking to improve their style? "I would tell them to be comfortable first. Then, if you want to add a touch of color, do it with your shoes or accessories."
What are your favorite fashion trends right now? "I definitely like the shell top Adidas. I also really like open-back tops with lace bralettes underneath."
Do you have any unique hobbies or interests? "One thing I like to consider a hobby is going from restaurant to restaurant. I like to eat!"
If you could raid anyone's closet, who would it be and why? "Raven Baxter from That's So Raven. I'd have her design me something."
If you have $1,000 to spend on just one item, what would it be and why? "I go to a lot of events where I have to dress up, so I'd love to have a dress custom designed for me. I love floor-length bodycon dresses, so definitely one of those!"
What's your favorite item in your closet and where did you get it? "My favorite item right now is my white Polo t-shirt from Dillard's. I can wear it with anything – leggings, jeans, [or] sneakers. I love it."
Elements of Angel's Outfit
1. Plain Black Tee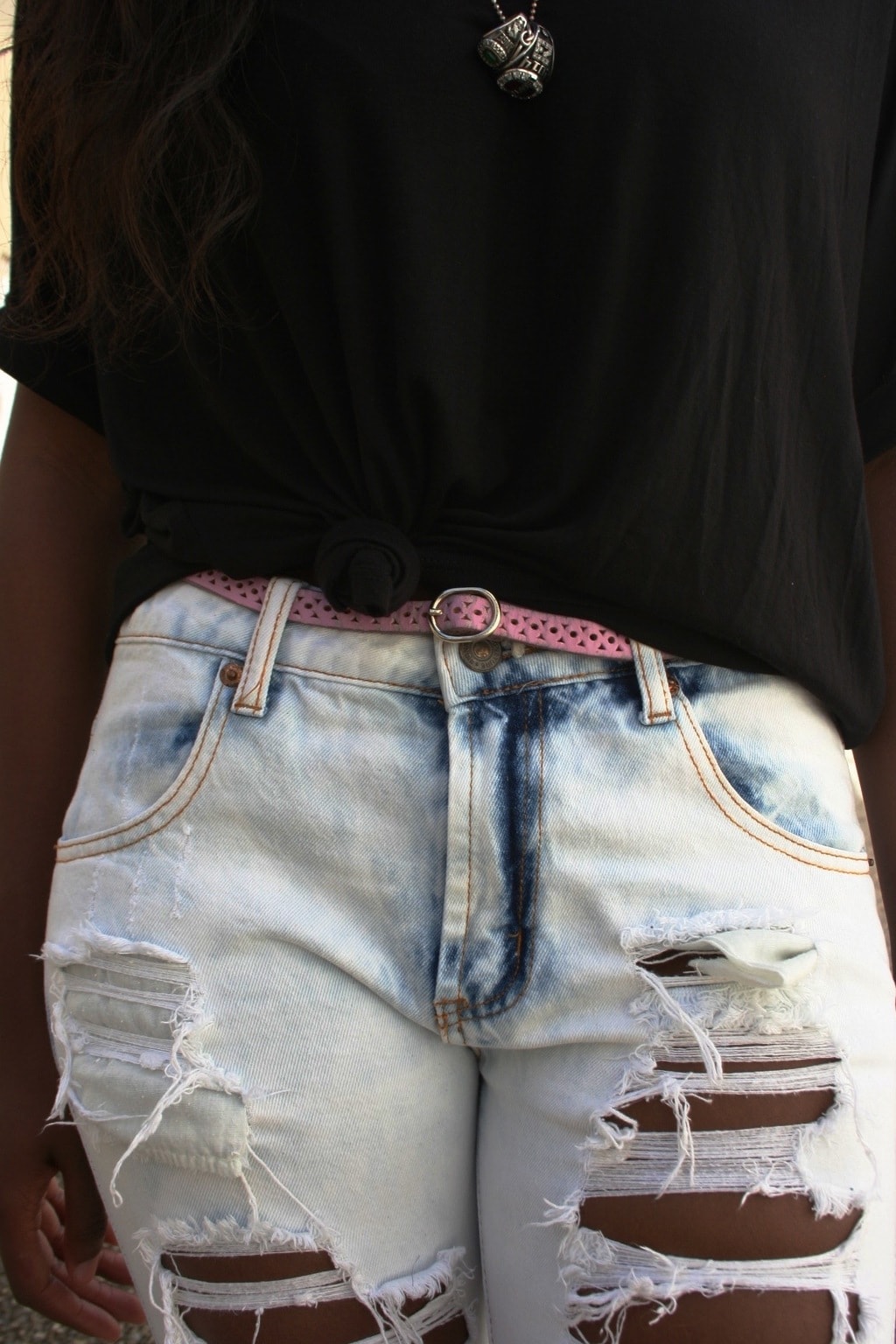 It's impossible to fall into a style rut when you've got the good ol' jeans-and-tee combo to lean on! Take a page from Angel's book and knot your favorite oversized t-shirt to give it more shape and a fresh update.
2. Shredded Jeans and Colorful Accessories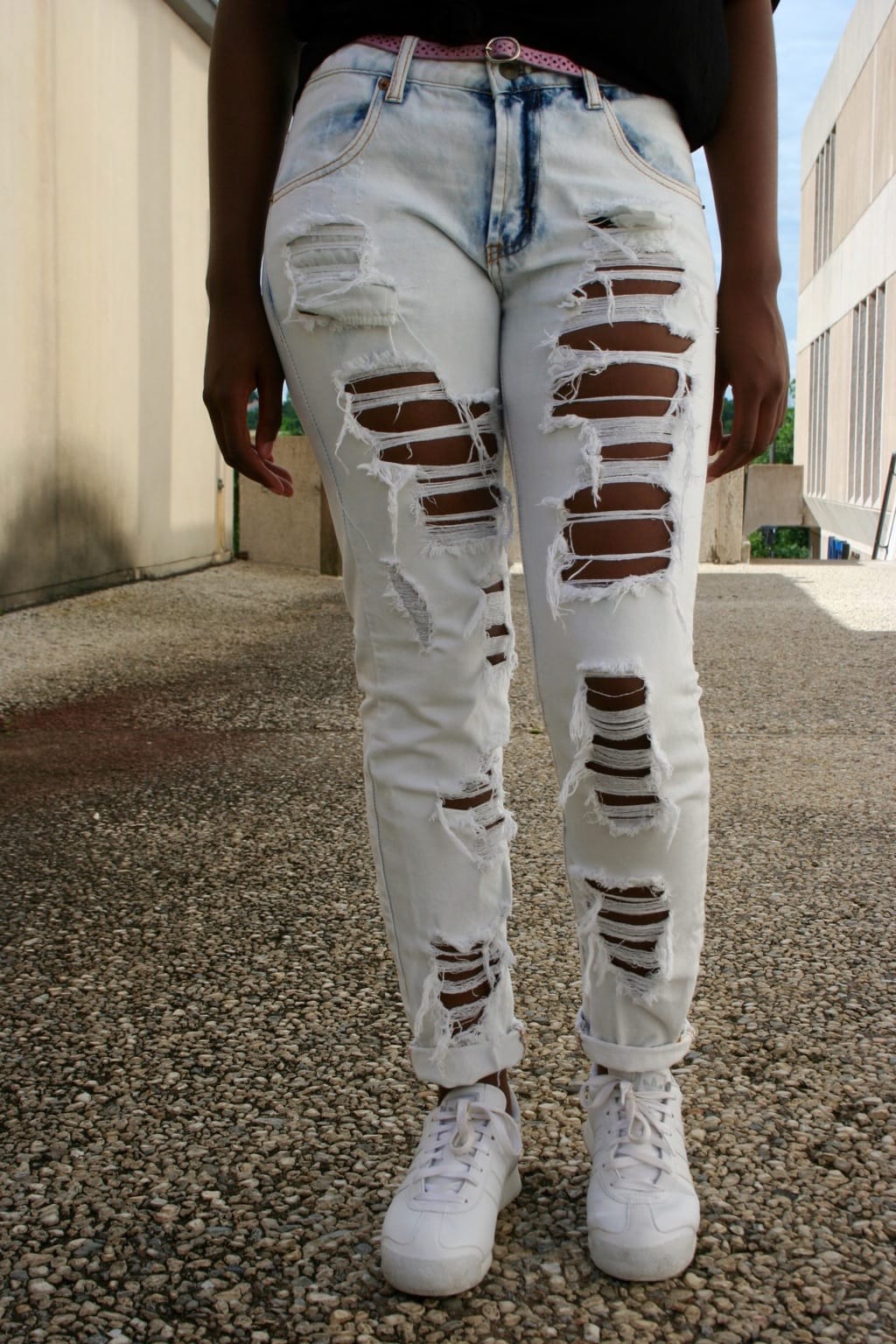 Don't pack up those jeans just because the temps are getting higher – trade in your usual denim shorts for a pair of shredded jeans to keep you looking and feeling cool. Add a bright belt like Angel's to incorporate some summer hues.
3. Retro Sneakers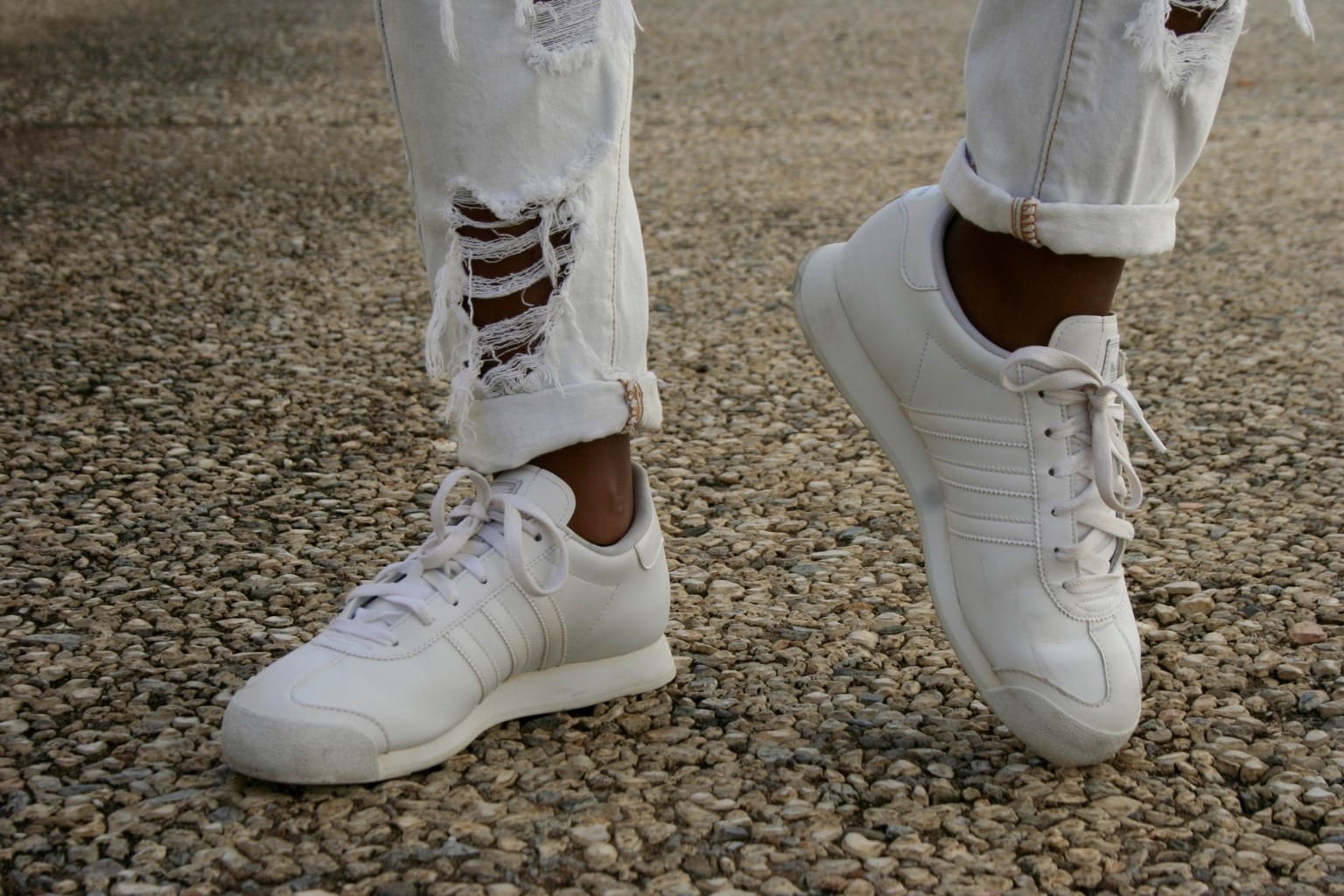 Sneakers aren't just for the gym anymore! Feel free to rock your Adidas, Pumas, or whatever your feet fancy. Throw them on with a pair of cuffed jeans, shorts, or a dress for a low-key, sporty vibe.
Do you like Angel's sporty streetwear?
Would you wear this look? Do you ever rock shredded jeans? Comment below and let us know what you think!