It wasn't until late spring/early summer that us Terps experienced seasonally appropriate weather, and many of us celebrated by wearing our sartorial finest. Upon spotting Taryn, however, I couldn't help but notice how she simply oozed 'cool' while sporting quite the ensemble.
Her laid-back look reflects her personality, and it was a great pleasure to speak to someone brimming with confidence, which is the key to standing out in any outfit. Check out the details of her look – and personal style sense – below!
Taryn 101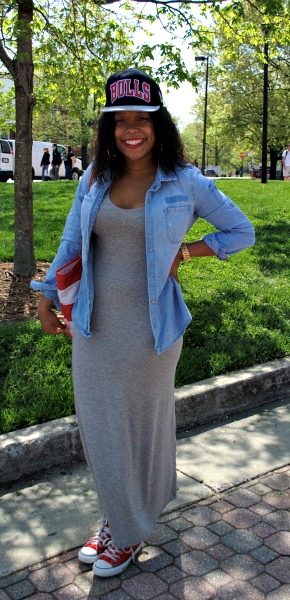 Name: Taryn
College: UCMP
Year: Senior
Major: Communications
Hometown: Bowie, MD
Hobbies: Shopping, dining out
Let's Talk Fashion
Who or what inspires your style? "I like Teyana Taylor, and I love Kim Kardashian. She dresses classy, whereas Teyana Taylor is more tomboy-ish."
Where do you like to shop? "I've been shopping online recently at ASOS and Lulu's. For a quick run I like Zara, or Forever 21 for single pieces. I got this dress there for $8!"
How would you describe your sense of style? "I would say it's conservative most of the time. Otherwise I like accessorizing, wearing tennis shoes, chill jeans, a blouse, pumps, snapbacks… Never too 'much,' generally I dress safe."
Why did you choose this particular outfit? "It's my day off, the weather's nice, and my feet aren't done."
What are your favorite fashion trends right now? "Maxi dresses, big bags, high-waisted shorts with crop tops… anything simple and chill. Destroyed jeans, too."
Do you have any favorite designers? "I'm a bag person, so Louis Vuitton — love. And I like how Michael Kors has affordable everyday and fancy items. Mossimo at Target, too."
If you could raid anyone's closet, who would it be and why? "Kim Kardashian, no doubt. She's the epitome of fashion."
What fashion advice would you give to other students looking to improve their style? "First thing's comfort. You have to own your outfit. You might see nice pieces on other people, but the same pieces might not look how you want them to look on you."
Elements of Taryn's Outfit
1. Pops of Red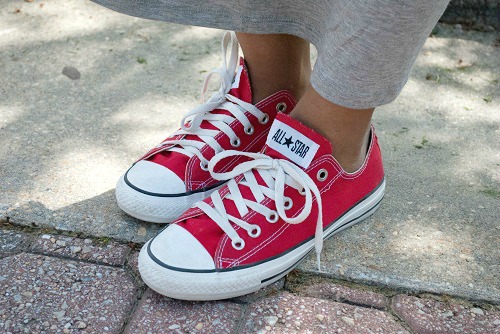 Taryn's matching tote bag, Converse sneakers, baseball cap (brownie points for rocking a hot summer trend), and red lip serve as a prime example of color coordination at its finest. Plus, when juxtaposed with her heather gray maxi and light wash chambray shirt, the red ensemble creates a stylish look that's bound to turn heads.
2. Sporty Accessories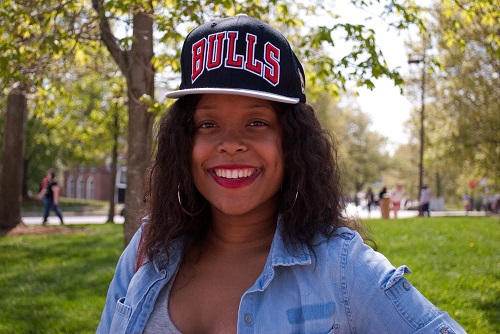 Along with providing an aesthetically-pleasing punch to her outfit, Taryn's trendy topper, as well as her sneaks (pictured above), give her overall look a chill, sporty vibe that's right on-trend for summer.
What do you think?
What do you think of Taryn's outfit? How do you dress on your relaxing days off? How do you mix comfort and chicness? What helps you stay confident? Let us know in the comments!