Summer can be fickle, occasionally taking the day off or taking its sweet time to arrive at all. When that happens, coming up with a fresh outfit free of those newly-purchased summer pieces you have can be a challenge.
Meet Jeff: his fun, unique style is perfect to inspire outfits for those cooler days that don't feel quite like summer – or, if you're planning ahead, would also be great inspiration for the coming fall.
Jeff 101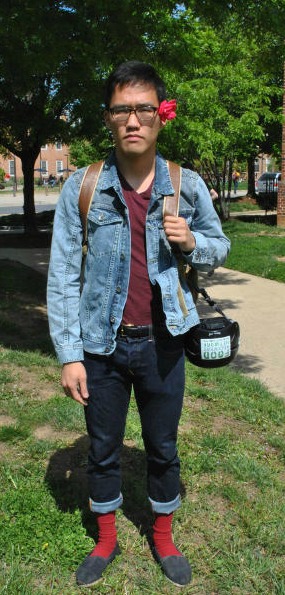 Name: Jeff
School: UMCP
Year: Sophomore
Major: Linguistics, French
Hobbies: Biking and reading
Let's Talk Fashion
Who or what inspires your style? "Mostly my friends – I tend to steal style ideas from people around me. Of course, the style of the times influences me, so the bright colors and fitted clothes that seem to be in this decade have become a part of my wardrobe."
Where do you like to shop? "Online I like to go to ASOS and Uniqlo. I'll check out H&M when they open up their online store. For brick-and-mortar stores, I like going to thrift stores."
How would you describe your sense of style? "Not sure. Unique, maybe?"
Why did you choose this particular outfit? "I wanted to wear my jean jacket [from ASOS], so I based everything around that. I wanted the red to 'pop', so I wore it as an undershirt and socks. The flower I wore because I saw my friend wearing one a few days ago and I'm incorporating that into my wardrobe now. "
What are your favorite fashion trends right now? "Bright colors and fitted clothing."
Do you have any favorite designers? "No, I don't keep up with fashion that much anymore, but I remembered I really liked the Varavatos for Converse a few years ago."
If you could raid anyone's closet, who would it be and why? "Joseph Gordon Levitt: I feel we're about the same size, so I could probably steal his clothing and not have to get it tailored."
What fashion advice would you give to other students looking to improve their style? "Do you! Wear whatever you feel like and understand your clothing is an extension of yourself. I fail at this, but I'd also like to buy more sustainable clothing items."
Elements of Jeff's Outfit
1. Double Denim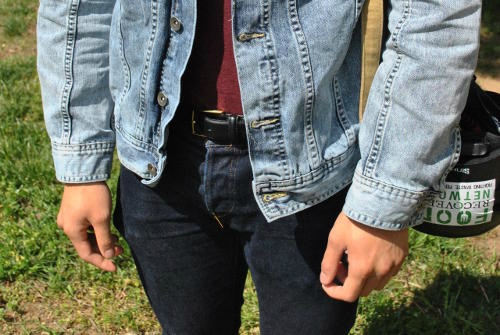 Double denim is a daring look to pull off, but Jeff successfully does so by wearing two different washes of denim with sheer confidence. Also, note the sweet Fair Isle detail of the pocket (visible in the full-body shot), which adds a nice detail to the overall look.
2. Pops of Color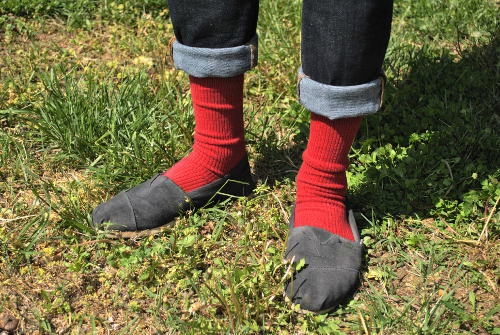 Though only the socks are displayed here, Jeff states that he chose his top and his socks – both shades of red – so that they would both pop against his denim pieces. Also, pairing bright socks with his TOMS is a fresh way to breathe some life into these popular on-campus shoes.
3. Flower Fun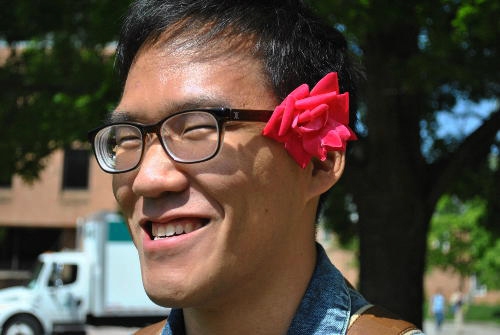 The combination of red and pink provided by this unique choice of accessory is surely notable. Now, it's been said that real men aren't afraid to wear pink, so what's not to love about this free and widely-accessible accessory?
What do you think?
What do you think of Jeff's outfit? Would you wear double denim? How do you exactly "do you," as Jeff says? As always, let us know in the comments below!