Carrie showed up at the perfect time – she appeared just as I was searching for a student that exemplified how to dress well in the cold weather.
I was drawn to her look mainly because of her gorgeous marled cardigan; it's a perfect item that elongates her look. She accessorized this outfit flawlessly as well; this girl is a true student style inspiration.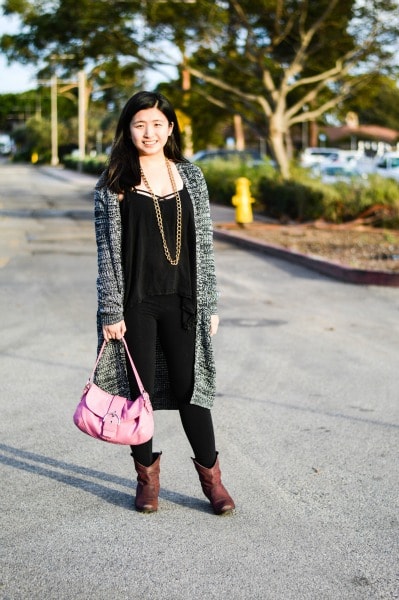 Carrie 101
Name: Carrie
Major: Economics/Accounting
Year: Freshman
School: University of California, Santa Barbara
Let's Talk Fashion
Who or what inspires your style? "I follow many fashion Instagram accounts and try to incorporate pieces I see into my own different outfits."
Where do you like to shop? "Macy's, Forever 21, [and] thrift stores."
How would you describe your sense of style? "I love to wear black because it looks good with anything and it adds a slimming touch. I also like to wear neutral colors because I can add layers of different colors on top to make a pop-out effect."
Why did you choose this particular outfit? "As I said before, I love to wear black. It looks clean and it made my boots, bag, and necklace pop out more."
What fashion advice would you give to other students looking to improve their style? "It's always better to choose what you like. Don't copy others and lose your individuality."
What are your favorite trends right now? "All kinds of boots!"
Do you have any favorite fashion designers? If so, who? "None."
What do you do for fun – do you have any unique hobbies or interests? "I love Zumba, going to the beach, and playing piano."
If you could raid anyone's closet, who would it be and why? "My mom's. She has so much expensive clothing. She even gave me this bag!"
Elements of Carrie's Outfit
1. Pink Purse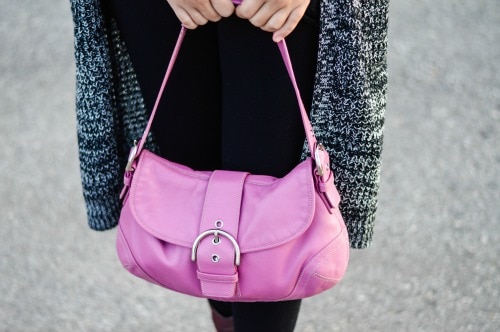 Carrie's largely monochromatic outfit was brightened by her choice of a bright pink bag. It was a great choice that allowed her fun personality to shine through.
2. Distressed Boots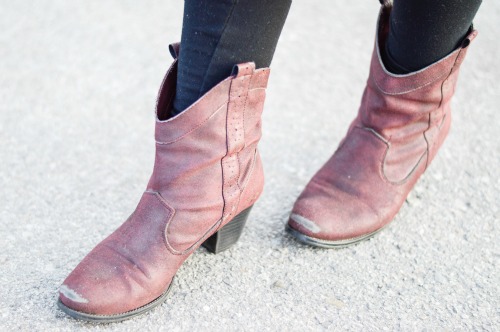 Carrie wears these cowboy booties in a decidedly non-Western way, adding them to her otherwise sleek look. Although a bit tarnished, these add a great accent of mahogany to her dark outfit, perfect for a street style look.
What do you think of Carrie's outfit?
Would you wear her colorful booties? Do you like her stonewashed cardigan? Comment below and share your thoughts with us!