Christine, a sophomore at The University of Colorado at Boulder, is a free spirited girl with a true love of fashion. I spotted her on The Hill, an area dominated by CU Boulder students, on her way home after a long day of classes.
Christine's outfit stood out immediately to me; it was both edgy and stylish. Upon closer examination, I loved how she combined Timberland boots and ripped jeans with aviators and cool hoop earrings. I can definitely relate to her love of all black, but her accessories take her look to the next level.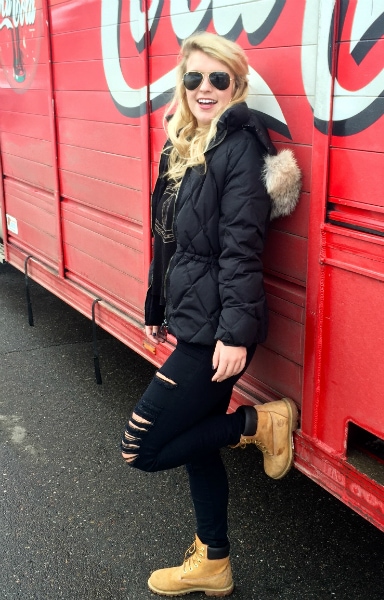 Christine 101
Name: Christine
School: University of Colorado Boulder
Year: Sophomore
Major: Communication
Let's Talk Fashion
Who or what inspires your style? "I dress depending on my mood. If I [want to] feel like a badass, I will dress like a badass."
Where do you like to shop? "I like to shop at Free People, vintage stores, Nordstrom, and American Apparel."
How would you describe your sense of style? "All over the place. Sometimes I dress like a flower princess and sometimes like a biker girl. My style is nothing like my friends'. They dress more to look good and I just dress like how I feel when I wake up in morning."
Why did you choose this particular outfit? "It's chill and comfortable. It's perfect for a day of classes and seeing friends. Throwing on all black is easy to do and makes you instantly look chic."
What fashion advice would you give to other students looking to improve their style? "Try mixing together a bunch of styles and pieces that you like and see if it works. Definitely take risks, too!"
What are your favorite trends right now? "I love choker necklaces and hoop earrings. I'm also obsessed with ripped jeans and anything high-waisted, like pants and shorts."
Do you have any favorite fashion designers? If so, who? "I really like India Hicks. Her style has very beachy vibes and is mixed with classy touches. I love her jewelry and accessories, like her bags and scarves."
What do you do for fun – do you have any unique hobbies or interests? "I like to explore. I love driving with friends to random towns in the mountains and checking out the area. We like eating at restaurants and shopping in the local boutiques."
If you could raid anyone's closet, who would it be and why? "Probably Vanessa Hudgens. She is super boho and dresses really cool. I love her outfits that are both casual and dressy."
Elements of Christine's Outfit
1. Moon Necklace + Hoop Earrings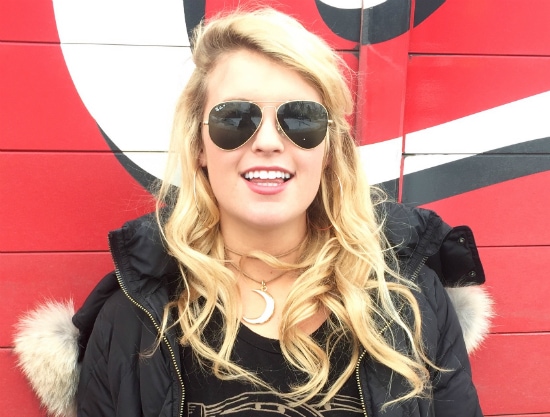 Christine's oversized moon choker is a cool statement piece. Its simple gold shines and matches her cool gold hoop earrings. Both the necklace and earrings add drama and personality to this look.
2. Ripped Black Denim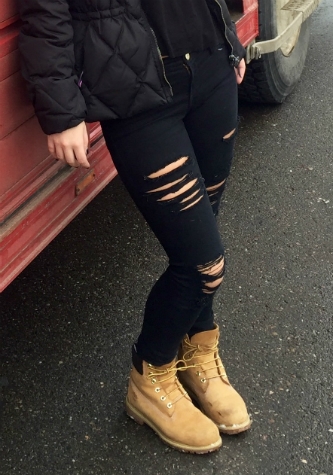 Ripped jeans, which became trendy last year, are more popular than ever and a definite must-have this season. The rips in Christine's jeans add interest and style to her monochromatic look. Some worry about pulling off an all black look, but Christine nails it.
Would you wear Christine's outfit?
Comment below and share your thoughts with us. Would you rock torn up denim and hoop earrings?