I'm so glad I asked Laura about her outfit, because beyond her thoughtfully-pieced-together ensemble, I discovered a playful story behind each component. Laura's outfit is just a small window into her adventurous spirit – a spirit that can inspire us all to keep exploring the nooks and crannies of life.
Laura 101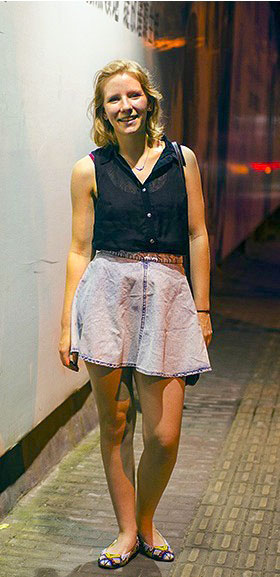 Name: Laura
School: Tufts University
Year: Sophomore
Major: Cognitive & Brain Science
Let's Talk Fashion
Who or what inspires your style? "Tapestries inspire me. I like timeless prints, and – not surprisingly – I love vintage thrift shops."
Where do you like to shop? "Street markets, Goodwill in Davis Square, Zara, Mango, and Gap."
How would you describe your sense of style? "I love floral, lace, and interesting patterns. I'm not a big follower of the bright colors trend and I don't own many plain t-shirts. I tend to buy pieces that catch my eye, which results in having either nothing to wear it with, or not having an occasion to wear it to. I wait for the prefect moment, which comes soon enough. That's my style."
Why did you choose this particular outfit? "Well, my necklace and my bag are staples – I wear them all the time. These shoes from Debenhams are outrageous, and I chose them for their bright colors. I picked this skirt (also from Debenhams) for its shape, and I picked this Free People top to keep my outfit simple and understated to complement the shoes."
What fashion advice would you give to other students looking to improve their style? "Wear things that are comfortable, but every once in a while, pick something outside of your comfort-zone and just own it."
What are your favorite trends right now? "I'm a growing fan of patterned trousers, as well as panel-blocked leggings (pleather or color-blocked). I love animal graphic prints. I like knitwear in general. I'm also a fan of bralettes."
Do you have any favorite fashion designers? If so, who? "Ted Baker and Karen Millen are two British retailers I love."
What do you do for fun – do you have any unique hobbies or interests? "Exploring! Generally I just like to try things on a whim. I really like going to trivia Friday nights at Trident Booksellers. I row women's crew. I like cooking. I like jamming out. Salsa, arts and crafts, reading, camping, internet… oh, and pictures of cats on the internet."
If you could raid anyone's closet, who would it be and why? "I already raid my roommate's closet – all the time!"
Elements of Laura's Outfit
1. Circle Skirt & Purse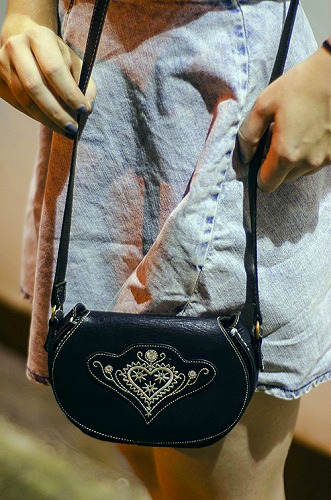 Laura's faded denim skirt adds character and texture to her outfit. It can be dressed up or down with a simple switch in accessories.
The story behind the purse, Laura told me, is that her parents bought it for her as a gift from a traditional German store, and she didn't like it at first. But, over time, she's grown very much attached to it and it is now an indispensable part of her style.
2. Beaded Shoes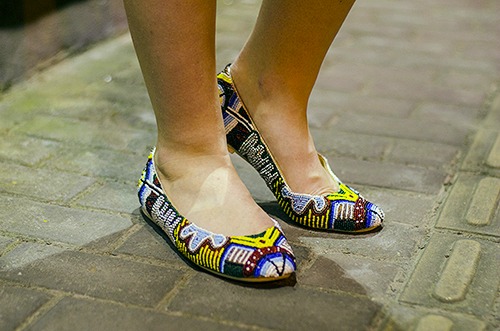 Laura said that she had tried these shoes on as a joke after a long day of shopping and ended up walking out of the store with them. The colorful detail and beaded texture combines to make them the perfect accent for such a solid outfit.
3. Holding Hands Necklace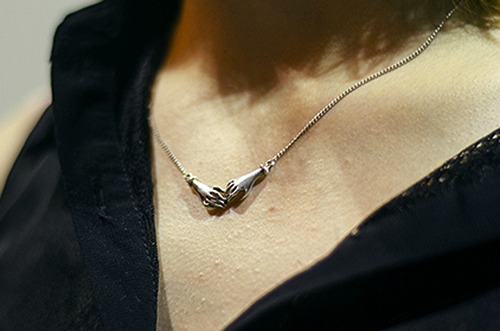 This subtle detail finishes the charming and delightful feel of Laura's outfit. Apparently, she found the necklace mysteriously lying around her house three years ago and since then has worn it daily. This is my personal favorite aspect of Laura's outfit, and I was not disappointed to find that it had its own little quirky story!
Your Thoughts?
Are you loving Laura's outfit as much as we are? Do your favorite pieces have a story connected with them? How much do you love Laura's beaded flats? Leave a comment and let us know.