T-shirts and shorts are the staple uniform for most guys in college (they have it so easy), but I love seeing guys who venture out a little, fashion-wise. For example, Justin wears the most eye-catching tees I've ever seen!
Sporting a great sense of humor and a geeky, yet fun fashion sense, Justin was the perfect choice for this week's Texas A&M street style feature. Read on to find out how he takes these super basic pieces and makes them his own.
Justin 101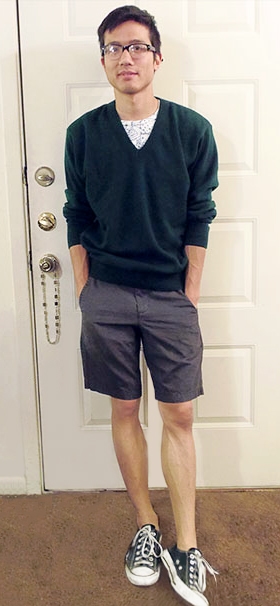 Name: Justin
College: Texas A&M University
Major: Biochemistry and Bioenvironmental Science
Let's Talk Fashion
How would you describe your outfit? "It's pretty basic, I'd say, but in 80-degree Texas weather, a guy does what he can. Just wait until you see my awesome shirt! I got this shirt at Threadless during an awesome sale. I'm also a pretty skinny guy, these shorts are slim fit, which means they're actually a normal fit for me. The sweater is thrifted. Oh, and these old sneakers were mine since high school."
Where do you like to shop? "I usually do a lot of online shopping, so if I see something I like or someone else wearing it, I like to look for it on Amazon or other places. I love thrift shopping, something I picked up from my mom, so I usually like to look through vintage stores, too. Oh, I also love Gap. They have great basic stuff that every guy goes for."
How would you describe your style? "I don't think I have a description for it – maybe modern, refined nerdy? I mean, I have a whole collection of graphic tees that are very cartoon-y. I also love sweaters and button-ups, but I don't consider myself a hipster because I don't do bow-ties. Guys don't have a lot of choice when it comes to 'fun' clothes, so I choose to express my style through my tees."
Where do you look for inspiration? "I'm a cover shopper, so I get inspiration from featured looks online or look-of-the-day sort of things; I especially love T-shirt sites such as shirt.woot.com or Threadless tees. Since I've wanted to get into shirt making myself, I look everywhere for awesome design inspiration."
Do you have any favorite pieces? "I actually have two favorite t-shirts I love from Threadless; one of them is a design of a 'beaker'-shaped Beaker (from the Muppets), and this one I'm wearing that's covered with cats partying!"
Elements of Justin's Style
1. The Graphic Tee Surprise!
Justin's outfit indeed is very basic, consisting of an emerald sweater (great for unpredictable weather in April), with an essential t-shirt underneath. In Justin's case, however, his tee becomes a perfect conversation-starter, thanks to its fun and silly print of partying cats. (He says his favorite cats are the ones making out – see where he's pointing in the photo?)
2. Beat-up Sneakers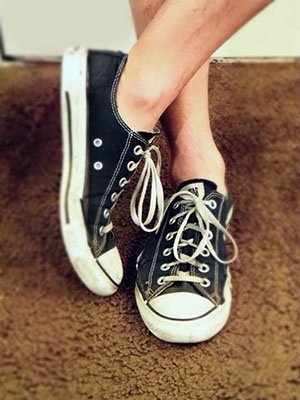 Chucks definitely get better with age! Justin keeps his look casual and true to his refined nerd style by throwing on these classic flat sneakers. Nerdy or not, these timeless shoes are ideal for running around campus in any weather.
3. Square Glasses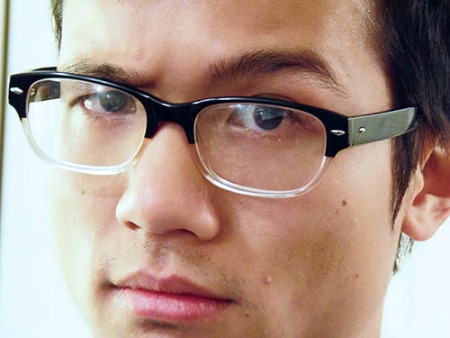 Justin's glasses certainly complete the "geek chic" look with their square, Wayfarer-style frames. Simple, yet bookish glasses, assuming they're needed, are a great way for guys to man-cessorize any outfit.
What do you think?
Do you like Justin's outfit? What kind of graphic tees are you into? Do you have a piece from high school that you still wear now? Let us know in the comments below!