With the end of another school year, that summer break atmosphere has crept over the A&M campus and is making everyone take a collective sigh of relief. Katie here definitely reflects that feeling we all get post-finals with her comfy, yet classy outfit. She looks like she's ready for the start of a jet-setting adventure!
Katie 101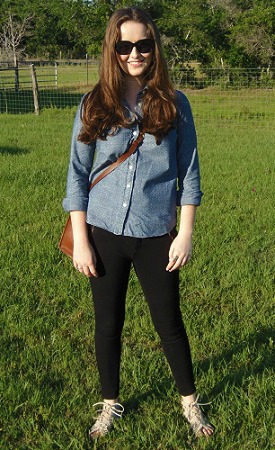 Name: Katie
School: Texas A&M
Major: Biochemistry
Let's Talk Fashion
Where did you get your outfit? "My leggings are from Express and I like them because they're really comfy and can be worn in all the weird weather we've been having. They're thick and opaque enough that they look and wear like pants. The shirt is from J. Crew and is one of the first and few things I've bought from them. Other pieces include my favorite moonstone earrings from Novica.com, sunglasses from Coach, and this leather shoulder bag by the French brand Didier Lamarthe. This is my first investment bag, and I really like it because it fits my iPad and has a vintage look I love."
Why did you choose this outfit? "It's comfy and cute but not high-maintenance. Also, it's perfect for the strange weather we've been getting in Texas lately. This outfit won't make me sweat bullets but also keeps the chill out.
How would you describe your style? "I have a modern and classy style. I love the ladylike look that's a little country club with a throwback to 1920s and '30s silhouettes. My wardrobe favorites include pieces such as A-line skirts, oxford shoes, polka-dot patterns, and art deco-style jewelry, just to name a few."
Where do you like to shop? "J. Crew, Banana Republic, Loft for jewelry, and Express. They're stores that sell pieces that don't necessarily cater to my age range, but I love the classic style, and high-quality staple pieces."
Any favorite trends? "I love the hair trends right now with the loose, natural-looking waves and cool braids – because, then I don't have to do my hair in the morning. I love bright colors for spring and summer too, but not the neon-bright colors."
Any fashion advice to other college students? "Fashion can be wearable, too. T-shirts and sweats are nice, but a good wardrobe is built on versatile basics that fit well and are worth the investment. Yes, investing in fashion sounds silly as a poor college student, but if I'm going to choose between spending my money by gradually hauling tons of clothes that can fall apart in a year or spending the same amount of money on a few choice pieces that will last me long after college, I'd choose the latter."
Elements of Katie's Style
1. Detailed Sandals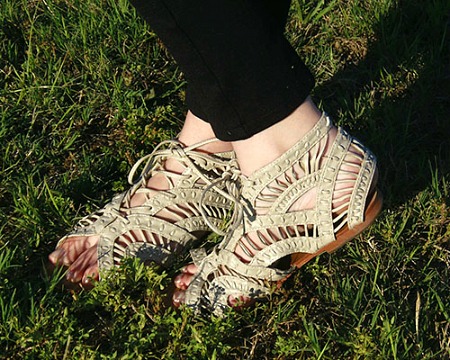 Katie's sandals have a boho vibe and are a standout piece all on their own. The amazing cage-weave design really makes you look down and go, "Whoa! Cool shoes!", yet fits right in with her casual outfit. And, because of their neutral shade, she can definitely wear these sandals with anything this summer.
2. Classic Accessories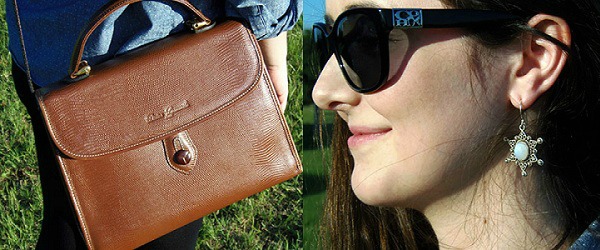 Katie's purse and earrings are great examples of vintage classics that have become modern staples! Her structured purse features an interesting cross between snakeskin and woven textures and has a rich tan color. It's totally something style icons Jackie O. or Audrey Hepburn would have been spotted carrying. Complete with her intricate earrings, Katie's outfit easily looks more put-together than a casual shirt and leggings.
What do you think?
What do you think of Katie's outfit? Do you wear chambray pieces? What do your summer sandals look like? Tell us your thoughts in a comment!