British style and its wearers are so diverse that they can be found all around the globe, and Madrid is no exception to this rule! The gorgeous capital of Spain tends to attract more Americans than British people, so it's pretty easy to spot a fellow UK-dweller when one does appear, simply by their fashion sense!
Having lived in Madrid myself, I was curious to find out how Lottie's punk-inspired, creative style was received among the preppy Spaniards. As my own style preferences resemble the latter, it was fascinating to talk to Lottie. I'm now inspired to be bold and open myself up to mixing unexpected items.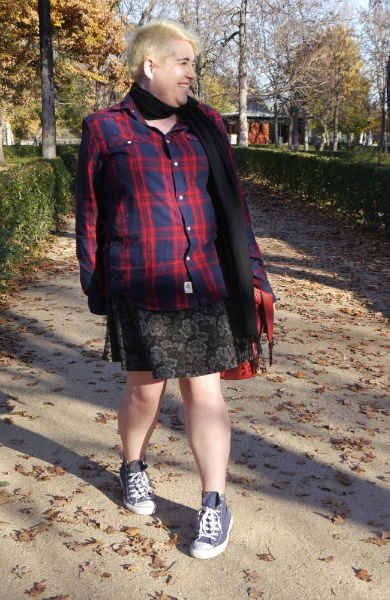 Lottie 101
Name: Lottie
Hometown: Camberley, England
School: Royal Holloway, University of London
Year: Junior
Major: Hispanic Studies
Let's Talk Fashion
How would you describe your style? "I think my style has a bit of a student edge. I like to take a lot inspiration from 1980s trends, so at the moment I've got a classic '80s student-style bag, and I feel like the color scheme and the check print are quite British '80s fashion as well – quite a London look."
What do you like about British style? "I like that it's edgy and unusual but without trying too hard. People in London are great at taking things that are very cheap and mass-produced and making them look interesting and original."
Where do you buy your clothes? "At the moment I'm buying a lot of H&M and ASOS, but also a few little vintage touches, and the occasional bit of McQueen."
How do Spanish people react to your style? "I get a lot of compliments, especially on my hair, from random strangers, which I really like! People also ask where I get my clothes from, which is really sweet. [Young] people here dress in that punk-y, anarchist style too, with lots of red and black."
Who is your style icon? "That's such a difficult question. I think I really liked Effy from Skins; I loved the way she dressed. She had a lot of hard punk-y clothes with some feminine touches."
What does makeup mean to you? "Makeup is very important to me and it all changes according to my mood. At the moment I've got a very monochrome look going on with this gorgeous grey silvery MAC eyeshadow. It goes very well with my blonde hair. When my hair is blue, I'll match my makeup to it with blue eyeliner. I like to use, or not use, color in a way that'll bring out my features."
If you had £1000 to spend on one item only, what would it be and why? "I'd probably buy a pair of shoes – a pair of Louboutins. I love Louboutins. I'm a big fan of that classic look; the red sole gets me every time."
If you could raid anyone's wardrobe, whose would it be? "I'd be quite tempted to go for Sherlock Holmes, with his gorgeous coats. I'd love the traditional Victorian look."
If you could shop for clothes anywhere in the world, where would you go and why? "I would go to the shop owned by Vivienne Westwood in the '70s and '80s. It was a gorgeous punk shop with tons of T-shirts, and she owned it with Malcolm McClaren. It was so of-its-time, not something you could recreate now. It fit in with the zeitgeist, the politics and the mood of the country – almost a historical monument to fashion."
What do you think needs to change in the fashion industry? "There needs to be more interesting plus-size clothes. I'm so sick of having to wear black all the time. I want big bold prints and glitter! I'd also like to see more gender-neutral stuff. I'm wearing a men's shirt at the moment and I think it looks really cute. I like to mix men's and women's clothes, and it would be nice to be able to do that without that binary, like if you could go into a shop and there were just clothes, rather than men's and women's."
Elements of Lottie's Outfit
1. Cool Hair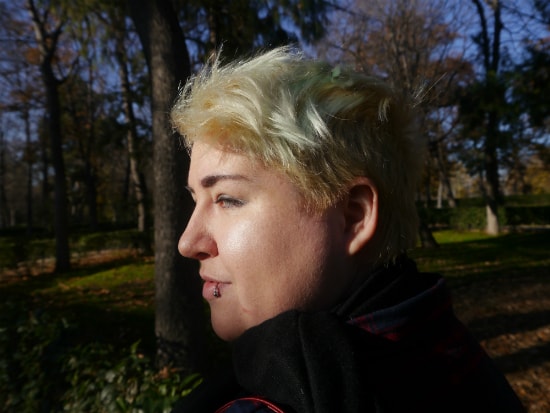 Lottie's bright blonde hair with a touch of blue screams fun and unconventional, and ensures a show-stopping photo from every angle.
We need to break down the assumption that short hair is exclusive to any one gender or personality type; as Lottie shows, there's so much that can be done with an exciting style like this, such as having one side shorter than the other.
2. Clashing Prints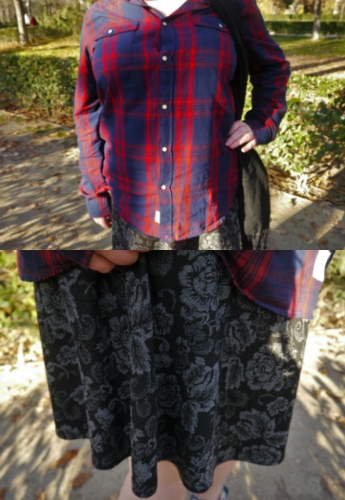 The combination of the red and blue shirt with the beautiful embroidery on the dark skirt is totally unexpected, yet Lottie pulls it off with confidence. By not tucking in the shirt, the long-line silhouette of the outfit is undisturbed, meaning the pieces flow into each other despite their contrasting prints. If you're not quite brave enough to try something like this, ease into it gently by adding a printed scarf to a top with a different pattern – rules are made to be broken!
3. Red Bag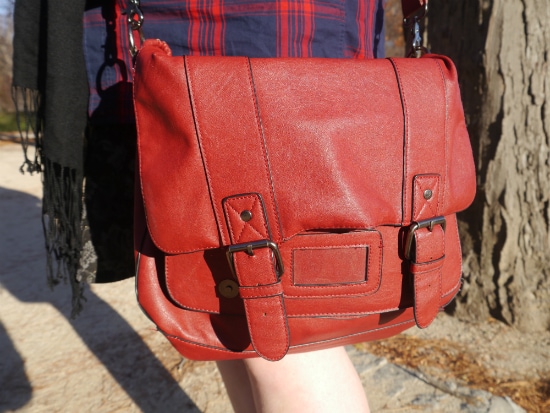 Lottie's choice of bag demonstrates a keen fashion acumen: it's practical, classic, and the bright red ties into the similar color found in the print of Lottie's shirt. This essential carryall is a college student must-have.
Are you inspired by Lottie's look?
What do you think about the concept of mixing men's and women's pieces for an androgynous look? Do you love Lottie's British style? Comment below and let us know!