Denim everything is always a hot trend for summer but this season it seems to have hit a boiling point, with head-to-toe denim looks showing up everywhere.
Emily admits that she doesn't usually like the whole denim-on-denim look, also known as the Canadian Tuxedo, but she made an exception for this outfit and decided to step outside her comfort zone. We applaud her for being fashionably daring!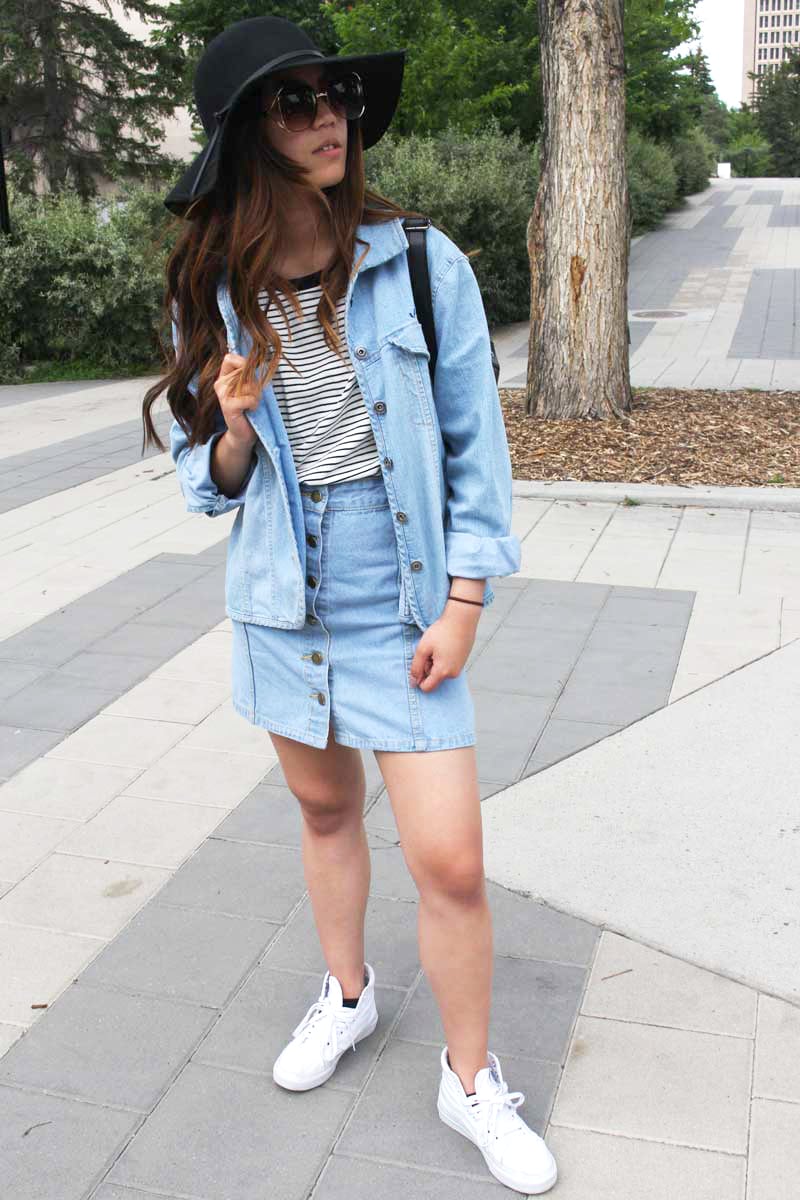 Emily 101
Name: Emily
School: St. Mary's University
Year: Third Year
Major: Psychology
Let's Talk Fashion
Who or what inspires your style? "I get a lot of inspiration from watching YouTube, like outfit of the week or haul videos. I also find style inspiration from my friends, since a lot of us share similar taste in clothing."
How would you describe your sense of style? "I would say it's a bit of everything. I definitely make use of my basics like jeans and basic shirts, and style [these pieces according] to how I want my look to go that day. I like wearing sporty outfits, but I love floral prints, so I guess it's a toss up between [athletic and girly]."
When did you start getting into fashion? "I've always been interested in fashion, but it wasn't until University when I really started to build up my collection of clothes and started to invest in key pieces and really find my style."
What are your favorite trends right now? "I just love how a lot of trends are making their way back nowadays. I love when people create vintage looks."
If you could raid anyone's closet, who would it be and why? "Jenn Im from ClothesEncounters on YouTube. She has the most interesting collection of clothes and has so much variety in her closet. You could do so many things with her clothes."
Why did you choose this particular outfit? "Because of the rain I haven't really had the chance to wear my denim skirt, so I thought 'why not now while it's nice?'"
Where do you like to shop? "I love Romwe, but their sizing is a bit of a gamble on there. But I like Forever 21, H&M, Zara, Urban Behavior, Sirens, and Topshop."
What do you do for fun – do you have any unique hobbies or interests? "I love theatre and acting, but I don't usually have that much down time. So when I do, I'm usually out doing what I love most which is spending time with those I care about. Cheesy, I know."
What fashion advice would you give to other students looking to improve their style? "Find staple pieces to add to your closet that can be used for multiple looks, like basic tees and jeans. And invest in good statement pieces like a leather jacket or a good pair of shoes. Overall just wear whatever makes you feel confident, because clothes are a great way to express yourself."
Elements of Emily's Outfit
1. Denim on Denim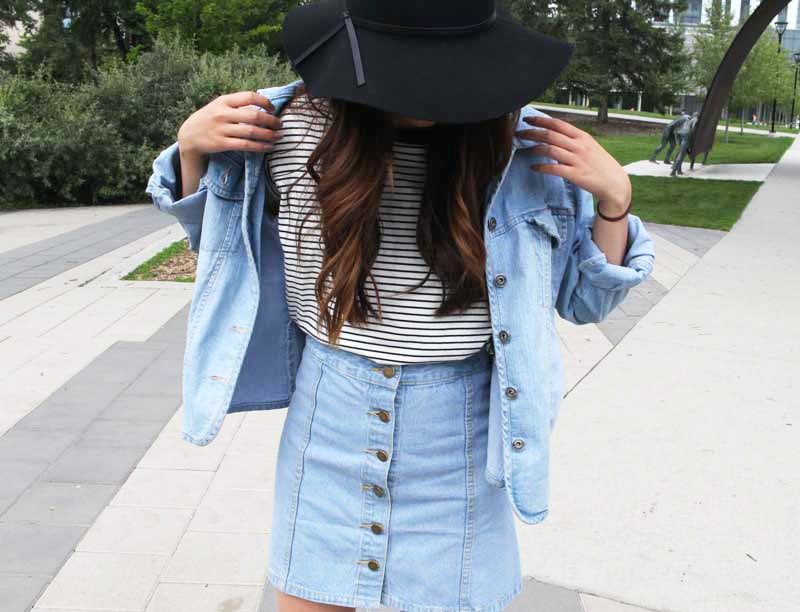 The aforementioned "Canadian Tuxedo" look is becoming increasingly popular and people are starting to experiment with their key denim pieces. Emily isn't usually a fan of the style, especially when the denim matches, but she made an exception and nailed it! I love how fresh and modern the combo looks on her.
2. Floppy Hat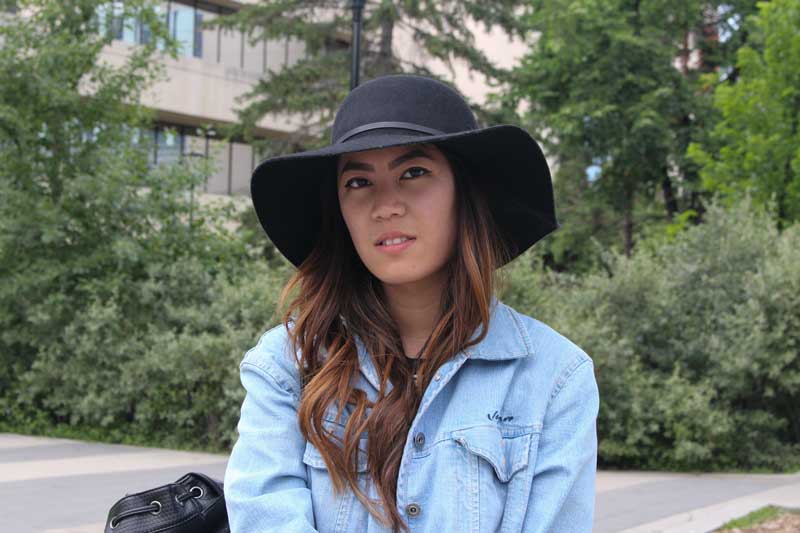 Emily received this hat as a birthday gift and she has been wearing it nonstop. Keeping yourself protected from the sun during the summer is SO important. It certainly doesn't hurt when the hat looks amazing with your outfit!
3. Striped Shirt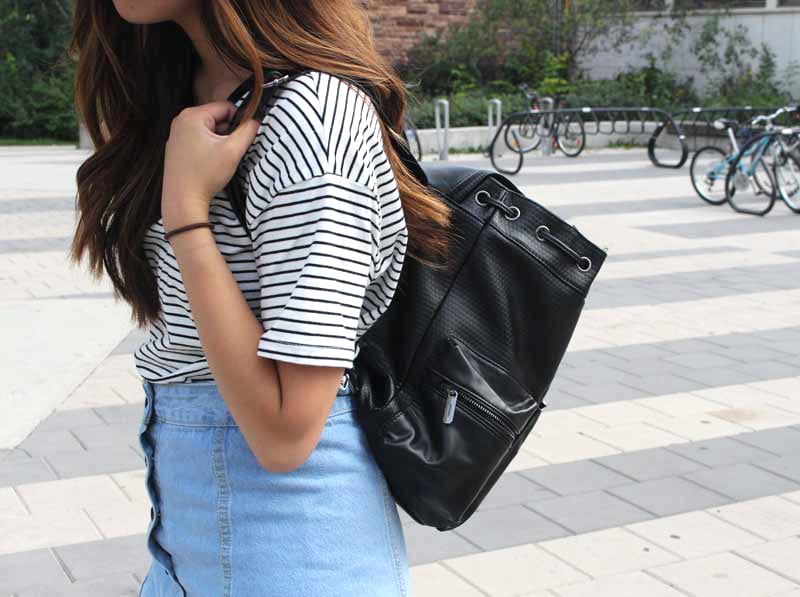 Stripes and basic t-shirts are essential pieces in every girl's closet. I love anything striped, particularly Emily's slouchy-cool tee.
What do you think of Emily's look?
Denim on denim, yea or nay? Would you wear her outfit? Comment below and share your thoughts with us!