Here in Northern California, the "winter" weather hasn't quite hit yet. (Not that it ever really does!) I have known Gabi since we were little girls going to kindergarten together. While our styles have drastically changed over the years, and different universities have geographically separated us, we remain close and love getting together to talk fashion when I'm back home.
Since she's on her school's soccer team, Gabi is often rocking her workout clothes when I run into her. But today, Gabi was looking dressed up for a day of classes and meetings, followed by a night out. Gabi's dress is perfect for a Nor-Cal winter and is just conservative enough to wear to class.
Gabrielle 101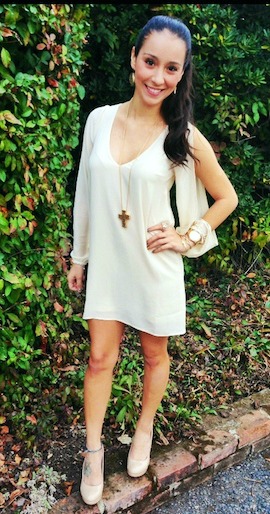 Name: Gabrielle
College: Sonoma State University
Year: Junior
Hometown: Cloverdale, California
Major: Communications with a minor in Public Relations
Age: 21
Hobbies/Interests: Playing soccer for school and hanging out with girlfriends
Let's Talk Fashion
Who or what inspires your style? "I love to check out Pinterest for new trends and to stay up-to-date! It also helps me to find new ways to use the pieces I already own, [by using] them in new ways and [working] with what I own. I think, 'Oh, I have this. I can create that look!'"
Where do you like to shop? "Recently, I have become obsessed with Tobi. Being in school and [playing] soccer all the time, I get so busy, so I have gotten really into shopping online. I also find that few people around me know the site, so no one else has my stuff, which makes me happy! I also like Forever 21 and Urban [Outfitters]."
How would you describe your sense of style? "I like to be different! I like to be unique and stand out, so I love trying new trends. I also like to make a statement and try new pieces that not everyone else would."
Why did you choose this particular outfit? "I am going away for my 21st birthday soon, and wanted to try out something I can wear for a fancier look around to classes, [but] will also work in a few weeks on my birthday trip for going out at night!"
What fashion advice would you give other college students? "Accessorize as much as possible. It always boosts your outfit if you have a pretty necklace or a few bangles."
What are your favorite trends? "I have been really into the the whole crazy printed pant trend this year. I also love leather leggings and flannels paired with a beanie. Perfect for when I don't want to do my hair!"
Who are your favorite fashion designers? "I am not super into spending a lot on my clothes to be honest, but I do love Rachel Zoe's California-inspired maxi dresses!"
What do you do for fun? "I play soccer for my school, so that keeps me very busy!"
If you could raid anyone's closet who would it be and why? "All the girls from Pretty Little Liars. I love their hair and makeup ideas, as well as their outfits."
Elements of Gabrielle's Outfit
1. Neutral Dress with Open Sleeves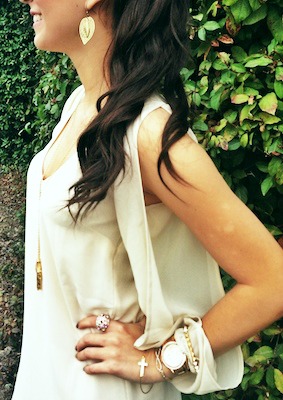 Gabi's Tobi dress is the perfect choice for a day-to-night look. Open sleeves are becoming increasingly popular and more acceptable on campuses, especially when worn with tights or boots. Its muted cream shade works for any season, and pairs perfectly with her gold accessories and loosely-curled ponytail.
2. Mix-and-Match Gold Jewelry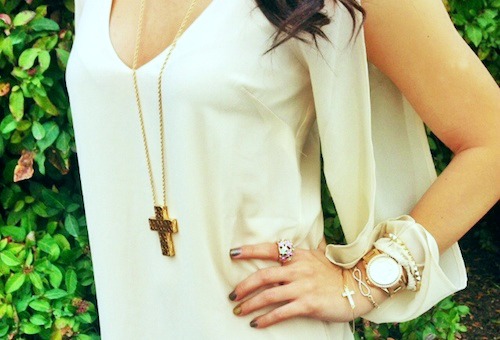 Gabi certainly loves her accessories! The tiny diamonds on the outside of her Fossil watch perfectly match the ones on her infinity and cross bracelets from Forever 21. Opting for a gold watch with this dress keeps things sophisticated, but also adds a practical element that's ideal for a busy day on campus.
To dress the look up even more, Gabi paired her gold jewelry with a trendy long cross necklace, which matches that F21 cross bracelet. However, because her necklace is a darker shade of gold, it makes for a dynamic look that isn't too matchy-matchy.
3. Sleek Pony and Natural Beauty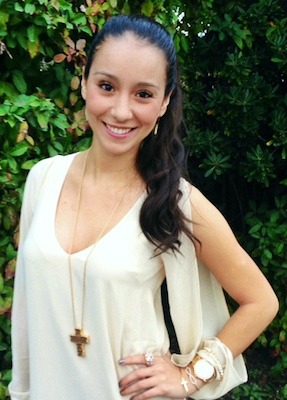 One of the first things I noticed about Gabi was her perfectly slicked-back and sleek ponytail. I have been loving this hair trend, and am inspired by the way added some loose curls to her 'do. This hairstyle adds a chic touch to her ensemble, since it showcases her cut-out sleeves and funky jewelry.
Gabi's makeup is very fresh. She didn't go overboard with her beauty routine, which is ideal for class. Besides, if she goes out and night and wants to amp it up a bit, she can always add some eyeliner or apply a bold lip color.
What do you think of Gabi's outfit?
Do you mix and match your jewelry? Would you wear Gabi's slashed-sleeves dress? Do you have a go-to class-to-night-out look? Let us know your thoughts by leaving a comment below!