Rebecca and I have been seeing a lot of each other lately! We share two classes this semester and recently worked together on a group project. The more we spent time together, the more I fell in love with her style. Her outfits always looked comfortable, yet thoughtful and elegant.
This particular look was a personal favorite of mine because Rebecca jazzed up an all-black ensemble with her unique accessories.
Rebecca 101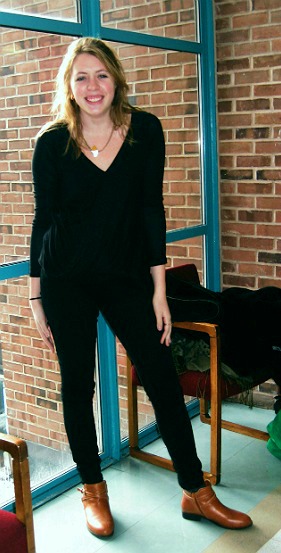 Name: Rebecca
School: Skidmore College
Year: Junior
Major: Sociology
Hometown: Mt. Kisco, New York
Let's Talk Fashion
Who or what inspires your style? "I'm really inspired by the color black. I also really take other people's perceptions of my outfit into consideration. If someone tells me 'hey, you could really pull that off,' then I start thinking that I could, and that informs my own style."
Where do you like to shop? "My mom's closet. I also like Urban Outfitters and thrift shops."
How would you describe your sense of style? "Comfortable. I never wake up in the morning and not think about what I'm going to wear, though, so my style is definitely intentional. Recently, I've been trying to emulate 1960s mainstream culture, [so it's] somewhat mod."
Why did you choose this outfit? "Well, we're about to go into finals, so I was going for comfort and simplicity. I just got these shoes and pants, so I couldn't pass up an opportunity to wear them. Because I'm wearing black on black, I tried to add some funky accessories, which is why I'm wearing these earrings that I love."
What fashion advice would you give to other students looking to improve their style? "Wear what looks good on you, not what is necessarily cool. Make sure you're wearing things that suit you."
What are your favorite trends right now? "I'm really into hats and I also like high-waisted things."
If you could raid anyone's closet, who would it be and why? "Blake Lively; I don't love her, but her style is amazing."
Elements of Rebecca's Outfit
1. Booties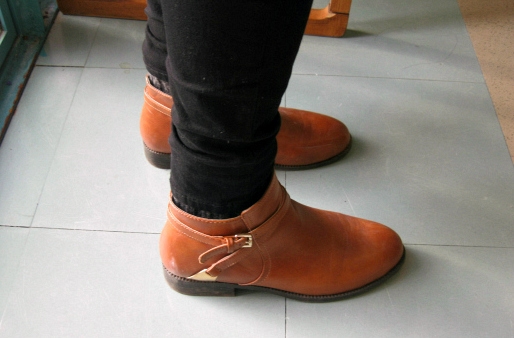 These caramel-colored booties from Urban Outfitters are a comfortable way to class up any outfit, and this pair has a chic, menswear-inspired vibe that is very trendy this season.
The best part? They work year-round! Flat booties are fantastic for walking to class in cold weather, but you can also rock them with a sundresses in the summertime.
2. Geometric Necklace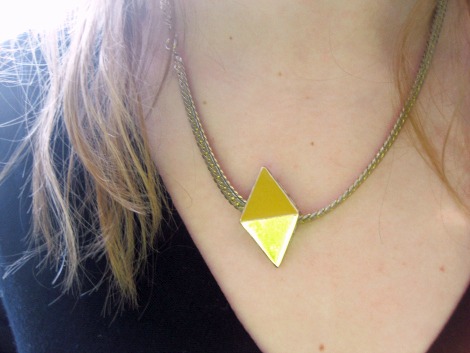 Rebecca's necklace (a pendant she found at a shop in Nashville) is cool and edgy, but still fits perfectly with her casual and comfortable style. It's a statement necklace that isn't too over-the-top, since the geometric design is simple yet bold.
3. Colorful Earrings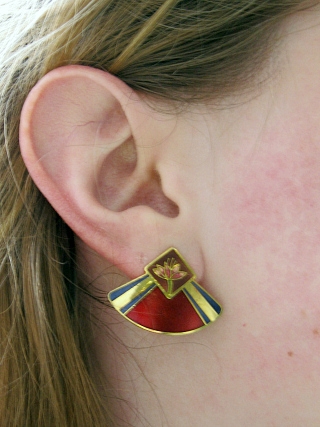 Though these earrings aren't huge, their graphic style and fun colors brighten Rebecca's monochrome outfit. She purchased these earrings from a boutique in Saratoga Springs, so in addition to adding a vintage vibe to Rebecca's ensemble, these earrings are also helping to support a local business.
What do you think of Rebecca's monochromatic look?
Do you love the gold accessories she paired with her outfit? Do you ever don all-black looks? Are you a fan of flat booties? Let us know your thoughts by leaving us a comment below!