I've had a few classes with Hannah over the past year and a half, and her style never fails to catch my eye. This year, in addition to her always fabulous fashion sense, Hannah's vibrant hair drew my attention immediately.
When I saw her wearing this adorable skirt and sweater, I knew I had to ask her where she got them. The cold that has recently set in the Northeast makes dressing up difficult, but her outfit nailed it. The entire look was cute, comfortable, and perfectly selected for the chilly weather.
Hannah 101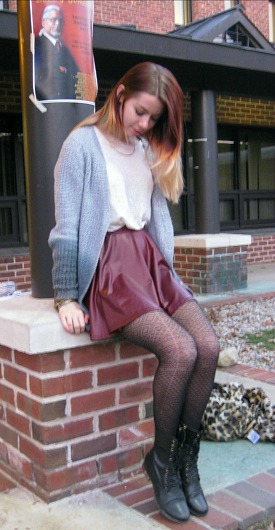 Name: Hannah
Year: Sophomore
Major: Sociology and English
Hometown: New Haven, CT
School: Skidmore College
Let's Talk Fashion
Who or what inspires your style? "I am really inspired by '90s grunge fashion – like Courtney Love and the old Beverly Hills 90210. I also love how well-dressed people are in cities. I always try to emulate big city style."
Where do you like to shop? "My favorites are Forever 21, Urban Outfitters, Tobi, Target, and Nasty Gal. Some people are intimidated by thrift stores, but I always find the best things at them. You have to be in the right mood to dig, but I get the most compliments on things I find in secondhand shops."
How would you describe your sense of style? "If I had to put a phrase on it, I would go with feminine grunge. I like to mix hard and soft materials, like leather, plaid, and ripped tights with cozy sweaters and dainty jewelry."
Why did you choose this particular outfit? "It's warm and has plenty of room for layers. I chose this skirt because it's flirty and unexpected, since it's red and leather. And I wear combat boots with absolutely everything."
What fashion advice would you give to other students looking to improve their style? "Center outfits around one item you love or are comfortable in. I wear a lot of white t-shirts because the focal point of my outfit is a jacket or patterned jeans."
What are your favorite trends right now? "I'm really into '90s throwbacks – acid wash, denim-on-denim, and everything high-waisted."
What do you do for fun? "I sing in an a cappella group a few times a week, and I also really like to do creative writing."
If you could raid anyone's closet, who would it be and why? "I absolutely adore the girl behind the blog Le Happy. She has the most rad sense of style. I would definitely raid her closet. She's my current hair inspiration and her wardrobe is awesome."
Elements of Hannah's Outfit
1. Arm Candy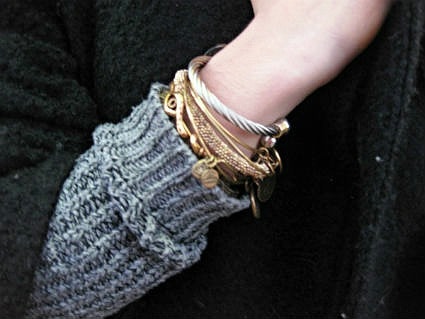 Hannah's bracelets (some from Alex and Ani, and some from boutiques) add a dose of femininity to her grunge-inspired ensemble. Stackable arm candy is a fantastic way to accessorize a tough-girl look. Hannah opted for a mix of silver, gold, and rose gold bracelets for an eclectic effect.
2. Mirror-Heeled Boots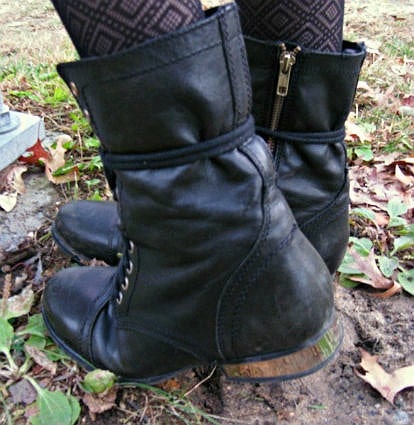 These Steve Madden combat boots should be a required purchase for college girls – they pair well with everything from jeans and dresses to skirts and shorts. Hannah's version has a mirrored heel, which adds some extra flair to these grunge classics and makes them stand out even more.
3. Ombré Sweater & Hair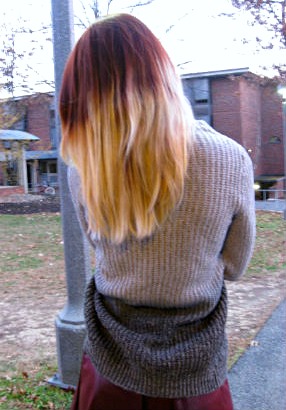 This gray ombré sweater from Shop Civilized complements Hannah's equally-as-cool ombré hair. Ombré is super trendy, and this girl pulls off the dramatic double ombré look like no one else. After talking to Hannah and getting a feel for who she is as a person, I would expect nothing but cool outfits with touches like these from her.
What do you think of Hannah's city girl outfit?
Do you like the way she's paired her ombre sweater with her ombre hair? Her go-to shoes are combat boots. What are your favorite footwear choices for cold weather? Do you love Hannah's red leather skirt? Let us know by dropping us a line below in the comments section.