In this day and age, fashion has no rules. If you feel like taking two different styles and mixing them together, that is completely fine! SCAD student Megan, for example, has taken that idea and made it the crux of her style philosophy. Read on to find out more about Megan's trendy style.
Megan 101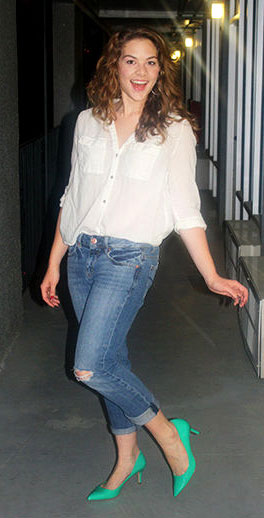 Name: Megan Sparks
College: Savannah College of Art
Year: Freshman
Major: Fashion
Let's Talk Fashion
Who or what inspires your style? "Contrast! I love wearing things that don't immediately go together, or items that enhance each other [in unexpected ways]. I am also inspired by Leandra Medine, culture, and ballet!"
Why did you choose this particular outfit? "It was comfortable and different."
What fashion advice would you give to other students looking to improve their style? "Take risks – even if you don't go out, put pieces you don't expect together. It might just work! Buy unexpected things, too! [Don't just stick with what you usually buy.]"
What are you favorite trends right now? "I'm really into the sheer metallic trend. I'm obsessed with it!"
Do you have any favorite designers? "Alice Temperly, Nina Ricci, Michelle Smith, Ann Valerie Hash."
What do you like to do for fun? "Lately, I really like to watch old VHS tapes. Mostly, I love to meet new people – I'm a social butterfly."
If you could raid anyone's closet, who would it be and why? "Ulyana Sergeenko's closet. She's a Russian designer and street style blogger, and I am always inspired by the Russian culture and style."
Elements of Megan's Outfit
1. Mint Heels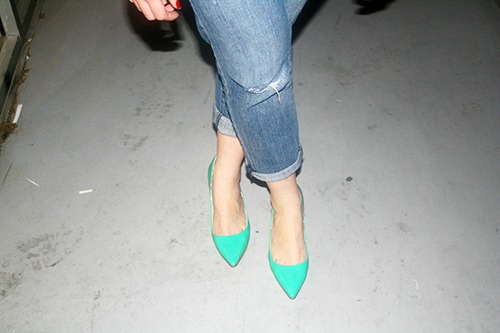 While Megan's white button-up and boyfriend jeans are trendy and stylish, her shoes are the true focus of her look. Her mint-colored pumps are perfect for the spring season, as this hue is just about everywhere.
Megan expertly cuffed her jeans at the bottom, in order to show off her shoes even more. Not to mention, the heels dress the outfit up a notch, adding into her classic style with a trendy twist.
2. Simple Jewelry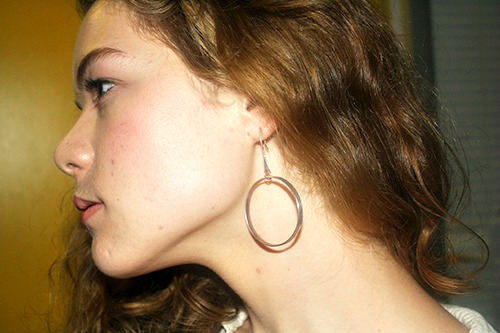 Megan kept her jewelry light and delicate, choosing simple hoop earrings. This way, her jewelry acts as an accent to the look and allows her outfit to do all of the talking.
What do you think?
How do you like Megan's outfit? Are you obsessed with her shoes? How do you dress up a casual outfit? Let us know in the comments below!