One of the great things about being at school is seeing everyone's distinct and personal styles. Seeing an amazing outfit on campus is always a highlight of my day. Recently, I was fortunate enough to step outside of my dorm and see Kayla wearing a stunning and edgy ensemble. Naturally, I asked to take her photograph and ask her a few questions about her own personal style. Read on to find out more!
Kayla 101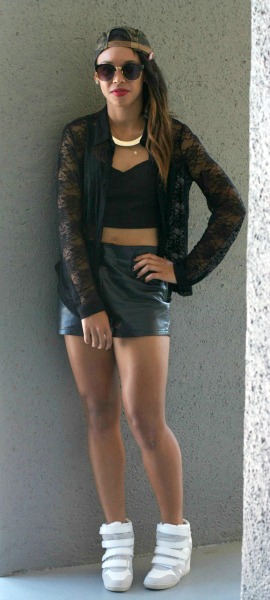 Name: Kayla Willis
College: Savannah College of Art
Year: Freshman
Major: Fashion
Let's Talk Fashion
Who or what inspires your style? "Rihanna inspires my style the most, I love her street style/tomboy look. I'm also into other street style blogs that are out there, LookBook is another use of inspiration."
Where do you like to shop? "I love online shopping the most, NastyGal.com, TopShop.com, Etsy.com, Amazon/Ebay. I also love Urban Outfitters, Forever 21, and Zara."
How would you describe your own sense of style? "I would describe my style as street style all the way."
Why did you choose this particular outfit? "I chose this outfit because I had just recently gotten the sneaker wedges and wanted to find an outfit to go along with it. I love my camo hat and my leather shorts, and I always love wearing crop tops, so I experimented for a while, finally coming across the outfit as seen in the photos. Wearing the lace shirt unbuttoned was a random idea that just so happened to work out."
What are your favorite trends right now? "My favorite trends are envelope skirts and all-white looks. I definitely plan on buying an envelope skirt from Zara ASAP!"
Do you have any favorite designers? "My favorite designers are Alexander Wang and Celine. I like the edginess of their designs – I could see myself wearing almost all of the clothing they make."
Do you have any fashion advice for other students looking to improve their style? "My fashion advice would be to look on blogs. LookBook.nu is really helpful – tons of people post a bunch of looks on there; it's great for inspiration. Also experimenting helps, have fun with it! You shouldn't ever take fashion too seriously – it's all about expressing yourself. If you have the confidence to work an outfit, go for it!"
What do you do for fun? Do you have any unique hobbies or interests? "I love styling; that's what I want to do as a career. I also love shopping, of course. I play for the SCAD Woman's Soccer team. I also recently started a blog which is called Thrilling Fashion."
If you could raid anyone's closet, who would it be and why? "Rihanna's closet 100%! She's my style icon I would kill to be able to raid her closet!"
Elements of Kayla's Outfit
1. Statement Necklace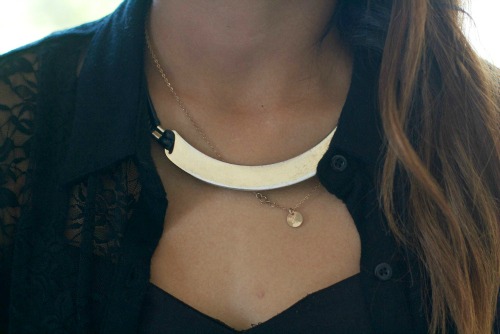 What struck me most about Kayla's style was the overall edginess of her outfit. Her style really does remind me of Rihanna's fashion aesthetic, however she puts her own spin on it, therefore making it her own. Kayla's statement necklace was the perfect addition to her ensemble, drawing attention to the details of her edgy style.
2. Retro Sunglasses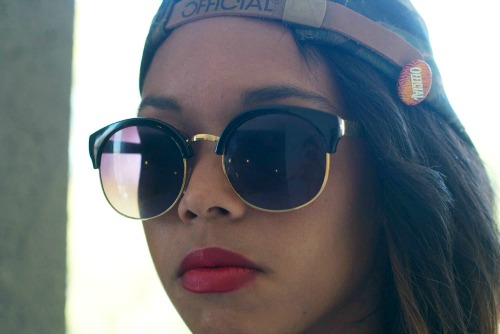 Kayla chose a pair of retro sunglasses that gave a cool, vintage-chic vibe to the outfit. In addition, rounded sunglasses are super-trendy this season.
3. Wedge Sneakers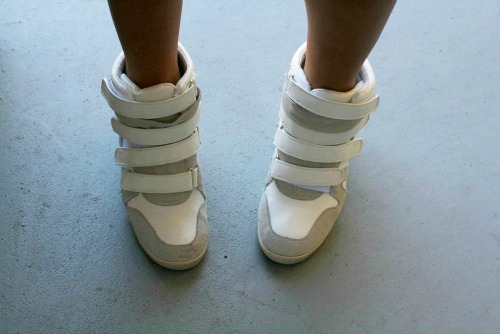 Kayla's white wedge sneakers really pop against her monochromatic outfit. While Isabel Marant wedge sneakers may not be in everyone's budget, there are plenty of inexpensive alternatives! For example, Kayla grabbed these at Urban Outfitters, keeping her on cue with a college budget.
What do you think?
How do you like Kayla's outfit? Did you check out her awesome blog? How cool are those wedge sneakers? How do you incorporate edgy pieces into your wardrobe? Let us know in the comments below!