Tale is a Norwegian beauty who loves fashion and dance. We share a few classes together and I've always been drawn to her positivity, clear focus, and incredibly effortless sense of style. Tale always has a smile on her face and takes the time to ask how you're doing, even if she's had a bad day herself.
When it comes to fashion, she has a true gift for putting together beautiful ensembles. Even though her cool-weather outfits typically consist of layers of tights, sweaters, jackets, and hats, she somehow is always able to show off her shape. We could all learn some layering lessons from Tale.
Tale 101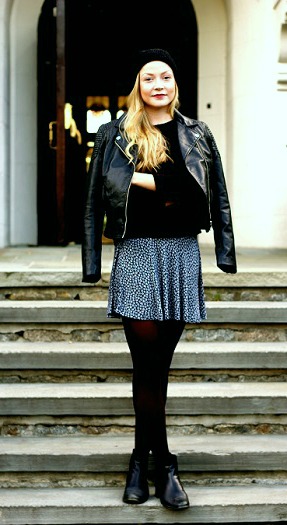 Name: Tale
School: Sarah Lawrence
Year: Freshman
Focus: Dance
Let's Talk Fashion
Who or what inspires your style? "I'm very inspired by the styles of my close friends and random girls who I see on the street. In terms of celebrities, I always love Miranda Kerr's street style. She looks so effortlessly put-together!"
Where do you like to shop? "The usuals! H&M, Brandy Melville, and Zara are great and really reasonably priced."
How would you describe your style? "My style is very classic and simple, but I like to think it's youthful and fun at the same time."
Why did you chose this particular outfit? "I've been trying to wear lots of fall colors – like my burgundy tights – but I also love black. And I'm always layering my favorite sweaters over dresses for the colder months."
What fashion advice would you give to other students looking to improve their style? "Even though we're young and we're in college, always look appropriate! It's very important to me to appear classy. Also, be aware of your body type and understand what works best for your shape."
What are your favorite trends right now? "I love long car coats and beanies! I'm a huge fan of hats in general… I wear lots of felt hats throughout the winter."
Favorite fashion designers? "My favorites are Acne and The Row. Both are very polished, city-girl chic designers."
What do you do for fun/hobbies? "I love to just sit in cafes and people watch. It's so inspiring! You never know what you'll see or overhear. I also do a lot of dancing, movie-watching, and eating out with my friends."
If you could raid anyone's closet, who would it be and why? "I would love to raid Miranda Kerr's closet because I'm obsessed with her bag collection! She is always classic but with a bit of edge."
Elements of Tale's Outfit
1. Leather Moto Jacket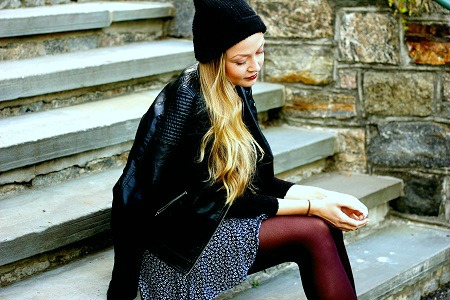 A black cropped moto jacket adds the perfect amount of toughness to Tale's floral skirt. Not only is it a very fashionable piece, it is also incredibly functional for these cold 40 degree days!
2. Black Beanie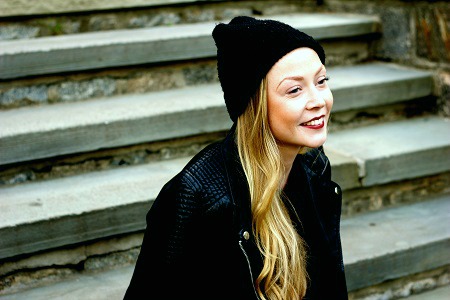 Tale channels the beanie trend (thank you, Cara Delevingne!) and keeps her head warm at the same time. Choosing a black hat is a great contrast against her beautiful blonde hair. Plus, beanies are ideal for those lazy hair days.
3. Maroon Tights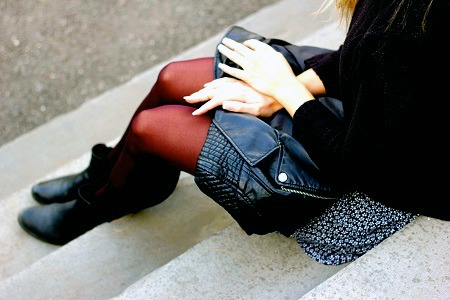 Instead of reaching for 50-Denier tights in a neutral shade, Tale took her outfit to another level by opting for a color. These burgundy tights could not be more perfect for winter, and, when paired with ankle booties, they make her legs look incredibly long.
What do you think of Tale's city-girl look?
Do you think her outfit is perfect for cool winter days? Do you love her moto-jacket and floral skirt pairing as much as we do? Are you a fan of ankle booties? Leave us a comment below and let's discuss it!