Nikki is a fun-loving LA girl who loves to pile on her favorite leather pieces, spend time with friends, and make art. Peeking into her wardrobe made me incredibly jealous of her "cool girl" vibe – her closet was filled with leather leggings, tall boots, and silk blouses galore. Nikki is definitely one of the best-dressed girls at Sarah Lawrence!
Nikki 101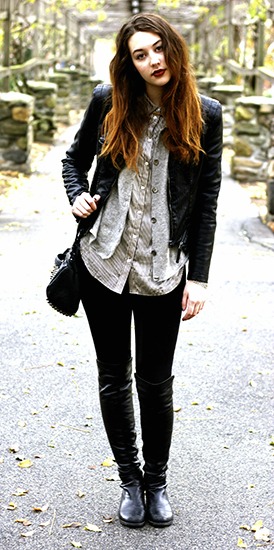 Name: Nikki
School: Sarah Lawrence College
Year: Freshman
Focus: Art
Let's Talk Fashion
Who or what inspires your style? "I'm from LA, so I'm always inspired by summer – although I do tend to dress pretty dark for fall [and] winter."
Where do you like to shop? "Paige, Aqua, Rag & Bone, and Theory."
How would you describe your style? "Definitely edgy, but still young and cute."
Why did you choose this particular outfit? "I chose this outfit because I love leather! I thought this combination of the leather boots and jacket and the shiny silk top would work nicely together."
What fashion advice would you give to other students looking to improve their style? "I'd tell students not to be concerned with what others are wearing, but to express who they are as individuals through their own sense [of] style."
What are your favorite trends right now? "Hmm, not sure if I have any favorites right now. But I'll always love leather."
Favorite fashion designers? "My favorite designers are Celine, Hermes, Herve Ledger and Helmut Lang."
What do you do for fun/hobbies? "I love to play with my cats, go out with friends, and go hiking and scuba diving when I can! I'm also an artist, so I love to paint and take photos."
If you could raid anyone's closet, who would it be and why? "I would totally raid Blake Lively's closet. She has such great style!"
Elements of Nikki's Outfit
1. Black Leather Jacket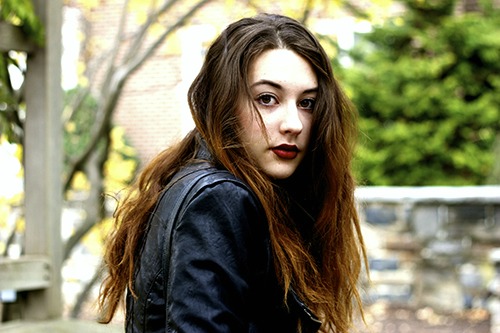 This leather jacket dresses down Nikki's pretty silk top, which makes her outfit more laid-back and appropriate for class. She loves to throw her leather jacket over blouses, t-shirts, and dresses – it's an easy yet stylish way to amp up any outfit.
2. Leather Over-the-Knee Boots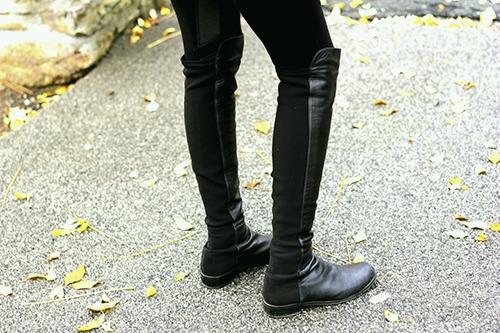 Nikki struts around campus in her beautiful Stuart Weitzman over-the-knee boots. Not only do these classic boots keep her warm, but the contrasting material on the backside is extremely flattering. These boots fit her like a glove!
3. Studded Purse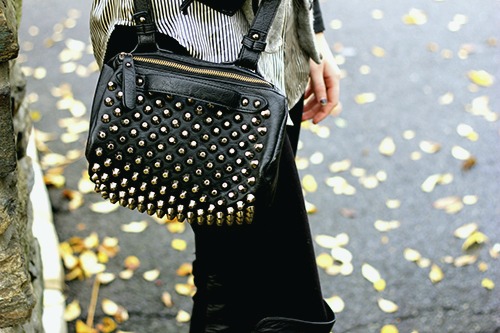 This studded purse, from Free People, is the epitome of "downtown edge" – Nikki looks like she belongs in SoHo when she rocks this carry-all. Not only is this bag characterized by its studded detail, but it also has unique straps and zippers. Although it has an edgy vibe, this purse would be a very versatile piece to have in your closet.
What do you think of Nikki's outfit?
Do you love her well-dressed grunge look? Are you as obsessed with her boots as we are? What have you been wearing over this winter break? Let us know by leaving us a comment below!