Coming back to RISD this fall, I found myself enveloped in a fashion paradise. Art school provides a perfect environment for people to experiment with their wardrobes. I've seen boys in booty shorts, girls in boyfriend shirts with stockings, and even people dressed up in Harry-Potter-esque robes. Every single day, I see clothes worn in a new way.
Today, as I was finishing lunch, I saw Sofia leaving the library to go back to her dorm. Her fun, trendy outfit caught my eye, and I knew I had to interview her for a Looks on Campus feature to share her bold style with the world.
Sofia 101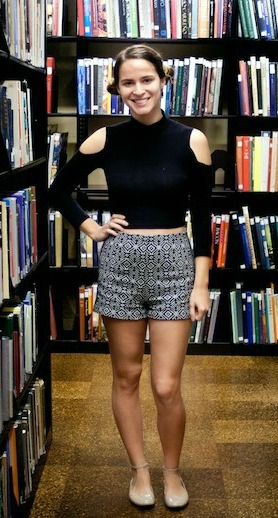 Name: Sofia
School: Rhode Island School of Design
Year: Sophomore
Major: Apparel Design
Let's Talk Fashion
Who or what inspires your style? "I like playing with asymmetry and unique cuts. I like a lot of Alexander Wang and Iris van Herpen, both of which are very textile-driven. I definitely like [Alexander] McQueen the most; I look to his work as a source of inspiration, but his clothes are really high-end and not affordable, so I don't wear his pieces."
Where do you like to shop? "I like to shop at H&M and Forever 21. Places you can find trendy outfits for every occasion at a reasonable price."
How would you describe your sense of style? "I try to find interesting pieces with unique cuts and patterns."
What fashion advice would you give others? "Dressing is about finding your own style instead of imitating a certain type of beauty. I wouldn't recommend any particular style to anyone. Just be yourself!"
What are your favorite trends? "I really like ombré and color gradations. Bead work and textile oriented pieces are great too; it's all about the texture and the handwork that goes into clothes."
If you could raid anyone's closet, who would it be, and why? "That's a toss-up between Twiggy and Isabella Blow!"
Elements of Sofia's Outfit
1. Shirt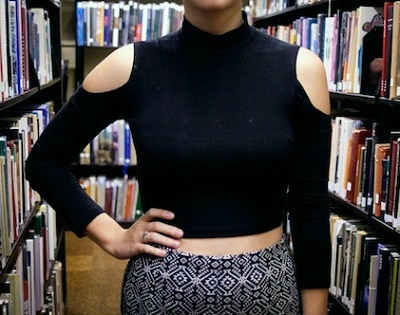 Sofia's shirt has a fun, trendy cut that shows just the right amount of skin. A perfect choice for transitioning from summer weather to fall weather, her shirt has that popular cropped length, along with edgy shoulder cutouts and a subtle turtleneck style. Sofia bought this funky number online at Nasty Gal.
2. Shorts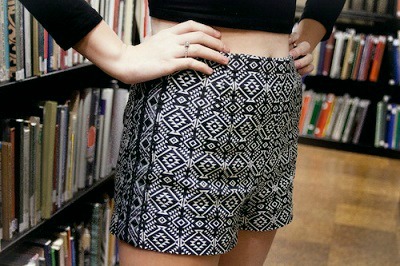 Sofia's shorts from Urban Outfitters are high-waisted, which adds a fashion-forward flair to her outfit. The bold pattern on her shorts are also a nice contrast to her black shirt.
3. Shoes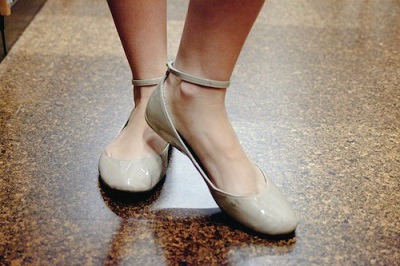 Neutral flats are always a stylish pick, and they're especially fab for creating an illusion of ultra-long legs without having to wearing heels. These Steve Madden ankle strap flats are a sophisticated complement to Sofia's chic outfit.
4. Earrings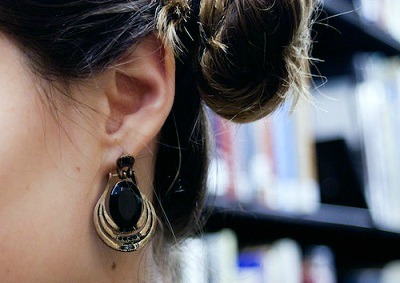 Sofia got her earrings at a local Indian store near Brown University. This accent is a subtle, but act as the fitting final touch to her complete outfit.
What do you think of Sofia's look?
Do you love her unique fall outfit as much as we do? How do you feel about her patterned high waisted shorts? Do you have any tips for wearing crop tops? Leave us a comment with your thoughts below!