Even though temperatures are still cold in certain parts of the country, Jen proves there is no need to have the winter blues. Her bold and bright style contradicts the frozen landscape of RISD. She couldn't look cuter and I couldn't be more inspired by Jen's unique sense of style.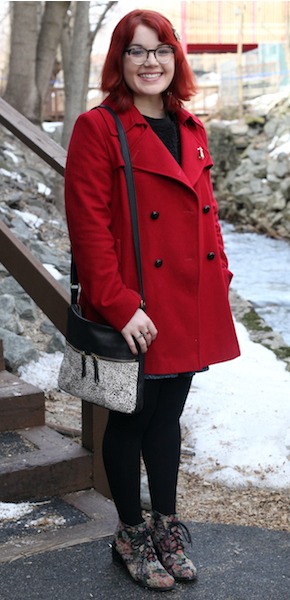 Name: Jen
Focus: Printmaking
Year: Sophomore
Hometown: Ringwood, NJ
Let's Talk Fashion
What inspired your outfit for today? "I just like colorful things. Today I felt like being comfy, so I wore a dress I wear pretty much all the time, but I layer sweaters over it. I also have jewelry that I got from my grandmother and mother. I just re-did my hair because it was getting a little faded. I like to keep things bright."
What inspires your style? "I like using a lot of prints. What I'll do is I'll have something that is a very strong graphic print and then mix it with a black sweater or something. I guess I could also say that some of my inspiration comes from 'scene' looks.
My main inspiration probably comes from the RISD environment. When I was in high school I didn't push my style as much. But now that I'm here I'm just inspired by the people around me. I'll see another RISD student pushing their style and my friend and I will turn to each other and say, 'Wow, those shoes are amazing.'"
How is RISD style different than anywhere else? "I think there's a sense of… not necessarily fearlessness, but kind of like voyeurism. The RISD kids kind of bounce off of other RISD kids for style inspiration, but add their own twist to the look. There's not really set trends, other than maybe Dr. Martens. [They] are pretty popular."
Favorite trend? "Really ugly sweaters. Really bold sweaters."
Favorite places to shop? "I like Urban Outfitters, and then Savers is great for sweaters this time of year. I have a bunch of sweaters from Etsy and everyone asks me where I get them. When I tell them Etsy, they're like, 'Ahhh, I should have known!'"
Do you have any cool hobbies? "I run a comic blog called 'JISD,' and it's based on everyday activities at RISD because my school is kind of a weird community. I like making them because they're very relevant to art students and college students. I haven't updated them recently, but I update my other blogs with comics."
What advice would you give to students looking to improve their sense of style? "I regularly shop the sales rack, so my biggest style advice would be to work hard and find good pieces that you like. If I try something on, I have to love the piece before I take it home. I can't be unsure about it; I have to be absolutely in love."
Elements of Jen's Outfit
1. Colorful Layers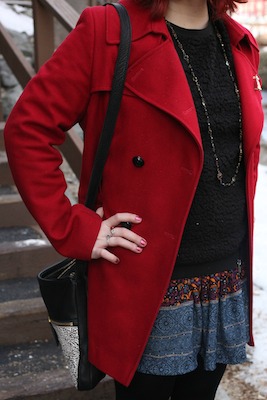 During winter, it seems like wardrobes get darker and outfits get duller. Jen goes against the grain by wearing a statement-making red coat, then pairing it with a bold printed dress and textured sweater. There's no need to kiss your favorite summer dress goodbye – just wear it with a comfy sweater and tights like Jen did.
2. Print-Blocked Purse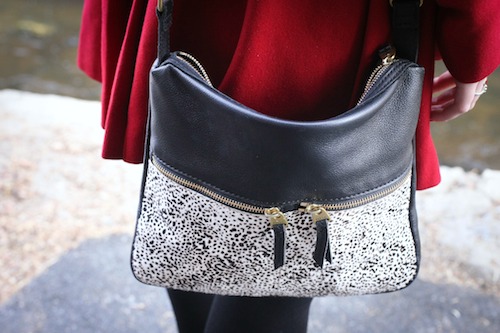 Forget color-blocking – this look is all about print-blocking! Jen's Fossil purse adds a sophisticated touch to her ensemble, and it's the ideal size for carrying all the essentials. The black-and-white pattern looks especially dynamic when paired with Jen's red peacoat.
3. Floral Booties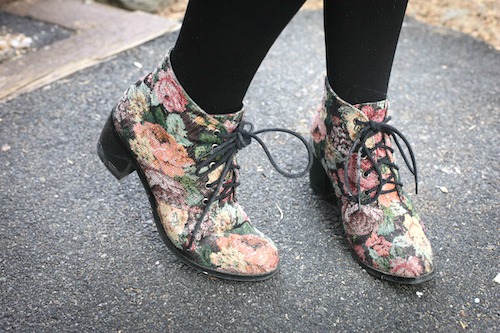 These super unique floral boots from DSW really tie Jen's look together. The heels add height, but these shoes are still casual and comfortable enough to wear on campus.
4. Animal Details
Jen's accessory choices prove she isn't afraid to show off her youthful, pet-loving side. She created the dog hairpin with a toy dog she got from Shades Plus and purchased her rings from the Renaissance festival and the Museum of Natural History. These fun and quirky touches truly make this outfit one of a kind.
What do you think of Jen's bold winter style?
Are you crazy about her pet accessories and cozy layers? Do you love Jen's shoes as much as we do? Have you been rocking bold colors this winter? Let us know in the comment section!