I met Celine as I was walking through our campus quad. The quad is always a great place
to meet people, and with classes starting back up, it was the place to be.
Celine was nice enough to
stop and chat with me during her break. The two of us talked about our excitement for the
upcoming fall weather – we can't wait to wear sweaters and booties again!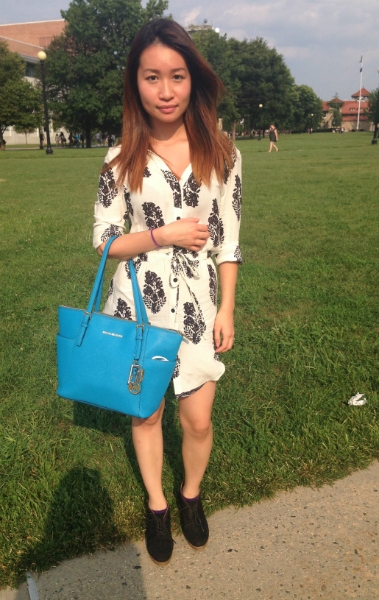 Celine 101
Name: Celine
Major: Finance

School: Queens College
Hometown: Brooklyn, NY
Let's Talk Fashion
Who or what inspires your style?
"Kate Middleton. I love how classy and reserved her style is. She manages to keep up with most
trends but remains modest."
Where do you like to shop? "Usually online at stores like H&M or ASOS. I love how they always balance their clothing by
being casual and relaxed, but trendy at the same time."
How would you describe your sense of style? "I love looking preppy but I also need to be comfortable. If I don't feel comfortable in an
outfit, I automatically won't feel as confident."
Why did you choose this particular outfit?
"This is my first day of school outfit. It's cute and stylish but the fabric is thin so it's perfect for
the hot weather."
What are your favorite trends right now?
"Crops tops, short dresses, and jean jackets."
What do you do for fun? "I really like sports. I like to workout at the gym and do things outdoors. I just went ziplining the other day in the Poconos."
If you could raid anyone's closet who would it be and why? "Kate Middleton for sure! She's so
feminine and casual but everything she wears is so expensive."
What are your favorite colors to wear? "I love red and pastels or black and white because you can't go wrong
with those colors. My favorite thing to wear is simple colored clothing with a bright accessory."
Elements of Celine's Outfit
1. Patterned Romper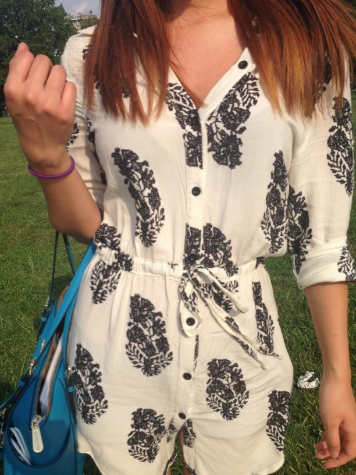 Celine's printed romper is what initially drew me to her. It is very trendy and stylish, but also casual enough for class. Rompers have been very popular this summer and this polished one is the perfect pick for Celine's Kate-Middleton-inspired style.
2. Blue Bag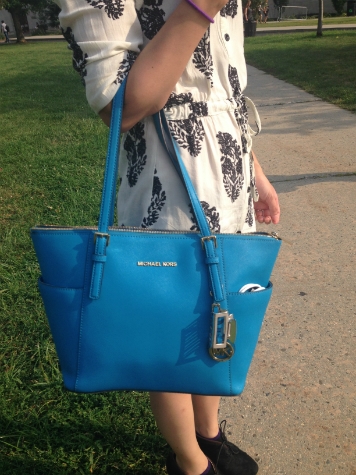 The bright colored bag Celine was carrying made for a great balance with the simple colors in her outfit. This practical sized bag is the perfect choice to carry all the essentials for a day of classes.
What do you think of rompers?
Do you wear them? What do you think of Celine's look? Comment below!