I spotted Abby as she was on her way out of the library. It was 10AM and she was leaving for class, but she
was beyond friendly and excited to talk about something besides schoolwork. I really enjoyed
talking to Abby and learning more about her personal style.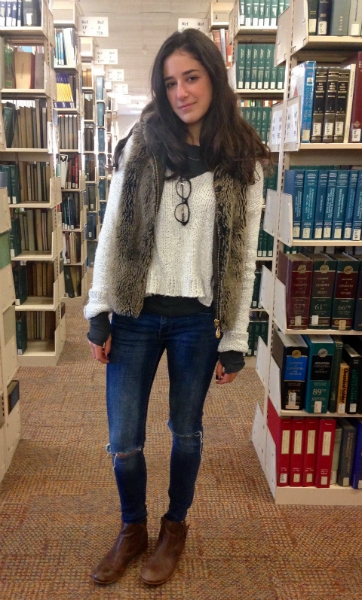 Abby 101
Name: Abby
Major: Undecided
School: CUNY Queens College
Hometown:
Teaneck, NJ
Let's Talk Fashion

Where are you heading? "About to go to math."
Who or what inspires your style? "I love Man Repeller. I think she has a really great sense of humor and has really wacky style. She literally prides herself on not caring what other people think and what she can or can't pull
off
."
Where do you like to shop? "Zara, Free People, Club Monaco, and I have a lot from Brandy
Melville because I used to work there in high school."
How would you describe your sense of style? "I really like layering; I think it definitely adds to an outfit. I just genuinely love getting dressed in the morning… it's what gets me out of bed! I had a really strict dress code in high school, so I love
the freedom that college has given me to dress how I actually want to
."
Why did you choose this particular outfit? "I usually pick out one thing I'm in the mood to wear and then I just base my outfit around that.
Today I really wanted to wear my vest because it's so cute and comfortable and I can't really
wear it under a jacket in the winter
."
What are your favorite trends right now? "Definitely fringe and I've always been into studs. I studded my own Converse and wanted to put some on my backpack
."
What do you do for fun? "I don't have one thing that I do for fun really. I like reading articles, like from Refinery 29 or the
Apple News app. I also really like playing volleyball."
If you could raid anyone's closet who would it be and why? "Something Navy. She's a blogger and has a really big Instagram following. I love all her clothes. Also so many other fashion people on Instagram like Man Repeller and Song of Style. I also
follow Rodarte, an expensive clothing brand that I just think is really cool."
What are your favorite colors to wear? "I wear a ton of navy and black."
Elements of Abby's Outfit
1. Furry Vest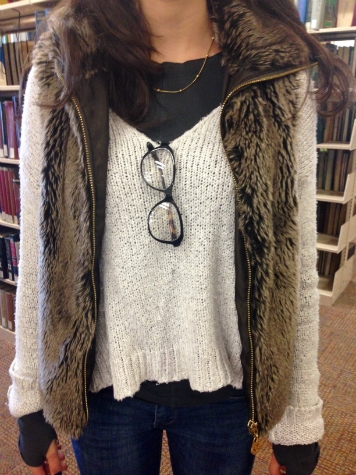 Abby immediately stood out thanks to her awesome faux fur vest. I'm a firm believer that every girl should have statement pieces like a cool vest or jacket that can be worn for years with simple basics.
Abby did a really great job layering in her look – she matched her vest's gray undertone with her long sleeve shirt, while her off-white sweater made for a warm addition that pulled
the outfit together
.
2. Glasses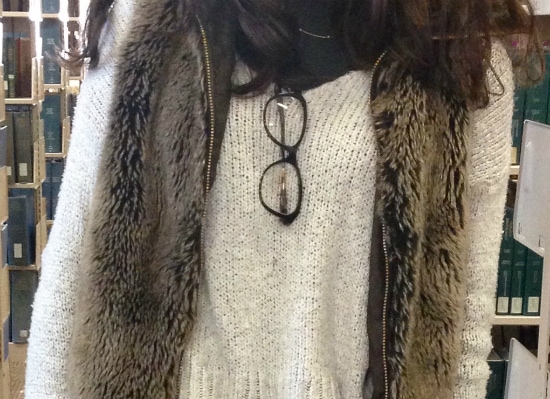 I loved Abby's cat-eyed glasses. I thought they were really bold and a funky shape you wouldn't see on every girl on campus.
3. Booties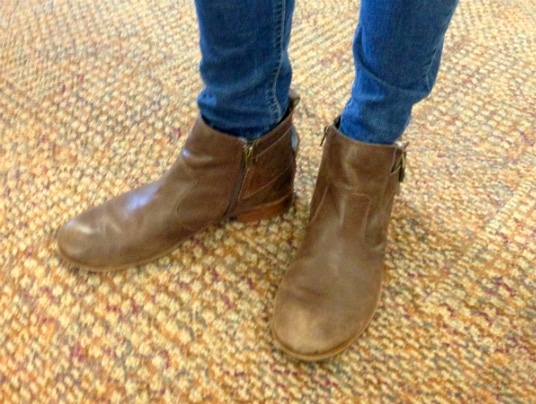 How cool are these worn-in ankle booties? They're perfect for class, comfortable enough for her to walk over two miles a day in, and a really pretty rich brown that would pair well with almost any outfit.
What do you think of Abby's style?
Do you love furry vests? Would you wear her cat-eye glasses? Comment below and share your thoughts with us!