New Yorkers are known to run around in questionable footwear. Because the city is built on mass transit and walking, people frequently wear formal wear with their most comfortable shoes, then switch them out upon arrival at their destination.
Sure enough, when I met Amber, she had an adorable outfit on that was accessorized with her go-to Princeton flip-flops. Her glowing smile and darling outfit was a welcome sight in the laundromat, so I stopped to chat with her about her outfit and she put on her adorable wedge sandals – which she was planning to wear out – for our photoshoot.
Amber 101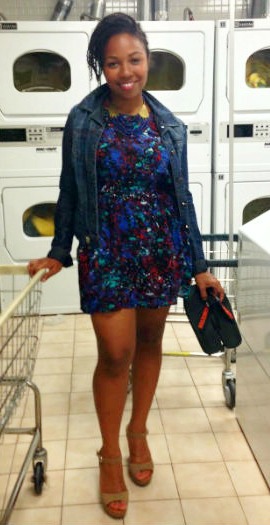 Name: Amber
Age: 21
Year: Senior
School: Princeton University
Major: Sociology
Hometown: Nashville, TN
Let's Talk Fashion
Who or what inspires your style? "My style changes a lot, depending on who I want to be on that particular day. But in general, I love Solange Knowles's style. I love bright colors, interesting prints, and the use of African fabrics. She does an wonderful job at that!"
Where do you like to shop? "For me, the best shopping experience should feel like a treasure hunt, which is why I'm no stranger to thrift stores around town. I love TJ Maxx and street sales. Many of my favorite pieces are handmade in Tanzania and Ghana. I purchased them while studying abroad."
Where is each piece of your outfit from? "I got this dress from Forever 21 many years ago when I was still in high school! The denim jacket is from TJ Maxx in Nashville. These Dolce Vita sandals are actually from a thrift store. They were brand new when I took them home!"
Why did you choose this particular outfit today? "I love this dress because of all the colors and the shape. You can never go wrong with a fit-and-flare silhouette. People say 'never waste the waist!' This denim jacket is nicely fitted; the clean-cut shape easily transitions me from work to a girl's night out. I always believe in 'go big or go home' when it comes to jewelry. This necklace is one of my favorites and complements the blues in the print on my dress."
What advice would you give college students out there who are looking to improve their style? "Don't be afraid to experiment with your style. Once you're out of college, you wont be able to just wear whatever you want. So many situations will require you to look a certain way and you don't get to be whoever you want to be a lot of the times. So while you can, live it up!"
What's your favorite trend right now? "I'm so happy that forest green is making a comeback. It's always been one of my favorite colors. I've been eyeing on this pair of Frye boots in the most beautiful shade of forest green. That's where my pocket cash will go to next month!"
If someone gave you $1,000 and you could invest all the money on one piece, what would you add to your wardrobe? "No doubt, lingerie. A pretty bustier makes a girl feel 100 times better, because it's the first thing you put on in the morning, it carries you through different places all day, and at night after you take off everything else, a nice lingerie piece could always remind you 'hey girl, you looked hot today!'"
If you could raid anyone's closet, who would that person be and why? "This is probably going to make me sound like a crazy person, but if Zooey Deschanel and Rihanna had a baby, I'd totally steal her style! I love the ladylike-ness of Zooey's style as well as how badass Rihanna looks. Even if she's buying groceries, she's got it going on."
Elements of Amber's Outfit
1. Necklace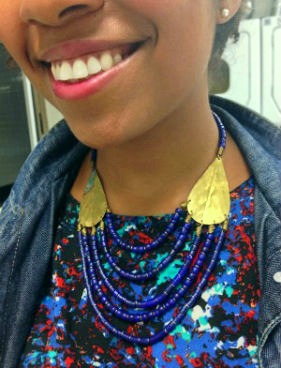 Amber got this amazing one-of-a-kind necklace from her trip to Tanzania. Now, not everyone can just go on a trip to Tanzania on a whim, but paying more attention to similar jewelry at your thrift stores and street fairs is key. You never know what unique items will turn up!
2. Shoes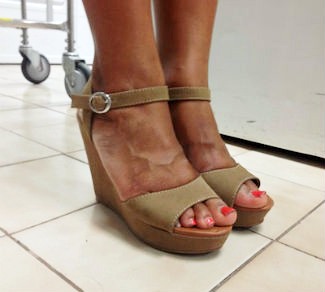 Wedge sandals are must-haves, since they're not only work and school-appropriate, but they are great for events too. A neutral-colored pair like Amber's will elongate your legs and can be paired with just about anything in your closet.
What do you think of Amber's look?
Do you love her printed dress with a denim jacket? Would you wear her thrifted wedge sandals? What do you think about her bold statement necklace? Leave a comment below and let us know what you think!