The second semester is in full swing here at Pratt Institute, and despite freezing temperatures, ice-covered streets, and bountiful snow days, some students continue to dress to the nines. Mila is one of them – a true cold-weather fashion inspiration! After spotting her in many of my classes this semester and last, I've come to admire her brightly-colored hair and edgy, cool-girl style.
Mila 101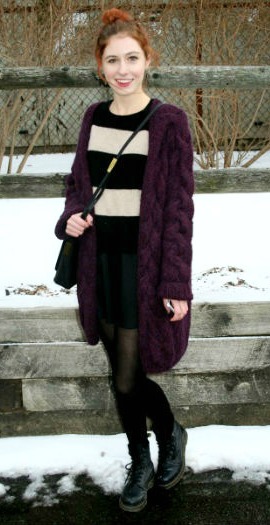 Name: Mila
School: Pratt Institute
Year: Freshman
Major: Fashion Design
Let's Talk Fashion
Who or what inspires your style? "I'm mostly inspired by what I see other people wearing on the street, either in San Francisco, where I'm from, or in New York."
Where do you like to shop? "I like to shop at a lot of different places. H&M is where I buy most of my clothes. I really like Urban Outfitters, some vintage, Nordstrom, [and] Gap."
How would you describe your sense of style? "Lots of black happens. It's kind of eclectic. I really like sweaters and plaid, which also happens a lot. It's like a mix of girly and tomboy-ish."
Why did you choose this particular outfit? "I wasn't thinking at all, I just threw on, like, three sweaters because it's freezing out!"
What fashion advice would you give to other students looking to improve their style? "Just do what you want; that's probably what everyone says, but…"
What are your favorite fashion trends right now? "I saw women's kilts on ASOS or Topshop and thought that was really cool. I see a lot of plaid going around and that always happens around this time of year. Also, motorcycle pants with the cool details on the knees."
Do you have any favorite fashion designers? If so, who? "I'm in fashion design, so I'm interested in a lot of different designers but I have an obsession with Gaultier because of what he designed for Madonna and his strange obsession with corsets. All the detail he puts into his work is crazy amazing."
What do you do for fun- do you have any unique hobbies or interests? "I enjoy fashion, obviously. I also like doing photography for fun, nothing professional."
If you could raid anyone's closet, who would it be and why? "Madonna, especially her style in Desperately Seeking Susan. She's awesome."
Elements of Mila's Outfit
1. Structured Bag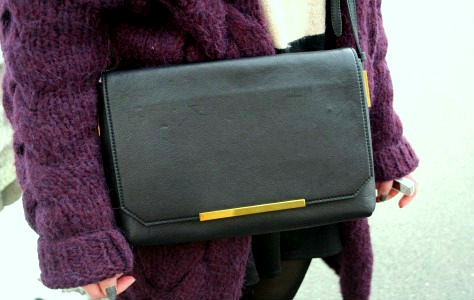 Mila's gifted J.Crew bag was the perfect present, since a classic bag like this is an essential for any fashionista. The black leather and gold metal details complement almost any outfit, and Mila professed that she carries this bag constantly.
2. Graphic Earrings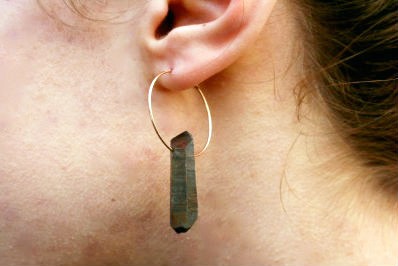 Small details, like earrings, can often be overlooked or forgotten, but when a great pair of earrings takes an outfit to another level, it's hard not to notice them! Mila's unique pair combines classic hoops with geometric stones, and adds a boho-glam element to her look.
3. Doc Martens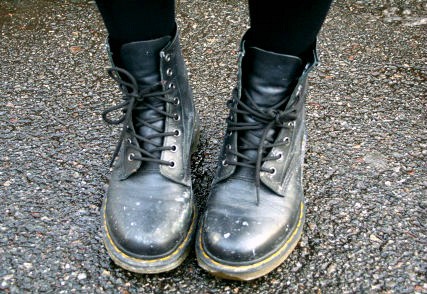 Doc Martens are the ultimate cool-girl shoe, and pairing them with a skirt instead of jeans really makes them stand out. These worn-in Docs are a fantastic way to dress down any outfit and make it class-appropriate.
What do you think of Mila's look?
Would you wear her purple sweater or Doc Martens? How have you been staying fashionable in the polar vortex? Leave us a comment below to let us know what you think!