I saw Marina wearing this cute ensemble during our shared Pathology II class. It was one of those awkward days, when it's neither cold nor hot. The rain and the tight schedule didn't keep us from posing and taking pictures outside before my next class began. Here are the results!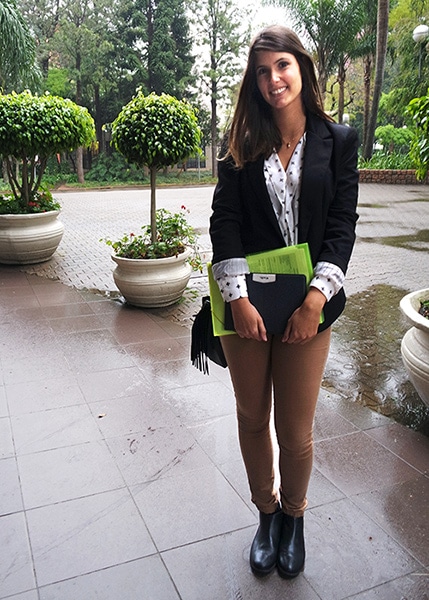 Marina 101
Name: Marina
School: Pontifícia Universidade Católica do Rio Grande do Sul
Major: Medicine
Semester: Fourth
Let's Talk Fashion
Who or what inspires ­­your style? "There was a time in my life where I was crazy about fashion blogs. I used to follow Garotas Estupidas [by the Brazilian blogger Camila Coutinho], The Blonde Salad, Man Repeller, and a bunch of others. Nowadays, I don't really have the time to follow anything or anyone, but I love Chiara Farragni's [The Blonde Salad] style."
How would you describe your sense of style? "I can't think of a specific style definition. During the week, I grab whatever's jumping at me from the closet and, for a night out, anything as long as it's paired with a dark lipstick!"
Where do you like to shop? "Forever 21, Espaço Fashion [Brazilian], Dress To, and Ali Express."
What are your favorite trends right now? "I guess it's not really much of a current trend, but dark lipsticks!"
Elements of Marina's Outfit
1. Printed Blouse + Blazer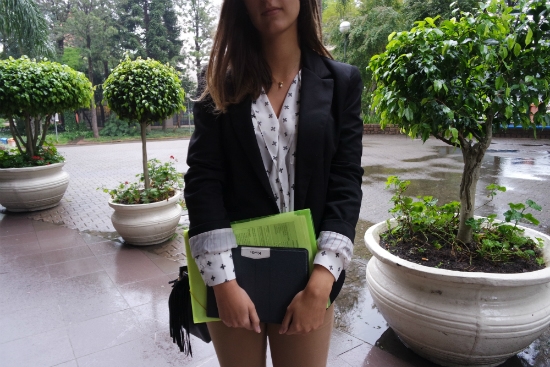 Marina's outfit reminded me a lot of Spencer's style from Pretty Little Liars. This blouse and blazer combo is very polished and, best of all, easy to style!
Scared of looking too boring? Do like Marina does and go with a printed blouse – hers, from Zara, has little black crosses that match her blazer and accessories. Another nice touch is folding your blazer's sleeves and letting your shirt's cuff peek out from underneath.
2. Black Leather Fringe Bag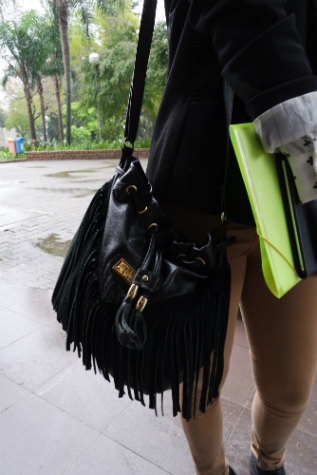 Marina's bag incorporates two current trends, bucket bags and fringe. She scored this cutie at an outlet in a small town in southern Brazil, called Igrejinha. (The city is known for its leather factories.) Besides being super stylish, this bag's size is ideal; it's neither too big nor too small.
Carrying a nice shoulder bag instead of a backpack is a great option for those who, like Marina, use mostly PDFs and avoid the weight (and size) of printed books! I know that e-books aren't an option for everyone, but if you don't carry full-size books, take advantage and earn some style points.
3. Black Ankle Boots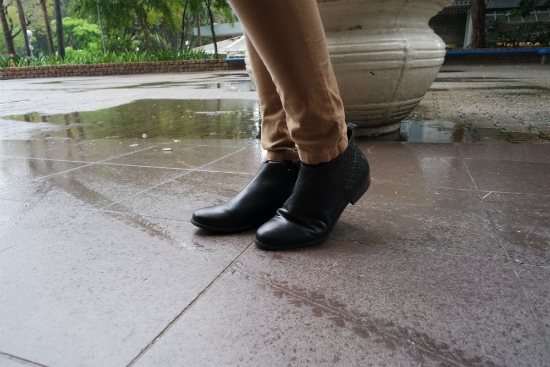 To grace her feet, Marina went with a pair of good ol' black ankle boots. I already consider these a closet essential – especially for us college gals. Besides being super cute, these shoes are ultra comfy. If you want something that'll look great with anything, go basic: black never goes out of style!
What do you think of Marina's style?
Do you also love blazers and ankle boots? Comment below and let us know what you think!