I was walking by the Communications building on campus when I saw
Caroline talking to some friends. I immediately fell in love with the color
palette she chose for her outfit and had to feature her for my latest CF article.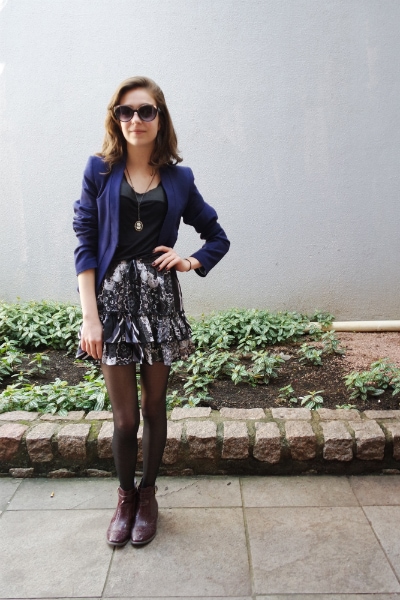 Caroline 101

Name: Caroline
School:
Pontifícia Universidade Católica do Rio Grande do Sul
Major: Journalism
Semester:
Fourth
Let's Talk Fashion

How would you describe your sense of style? "I like being
comfortable while having classic references."
Who or what inspires your style? "I'd say everything classic. I
appreciate things that have always been beautiful and will continue [to be]
that way."
Where do you like to shop? "I'm not sure I have a favorite store,
but lately, whenever I can, I go to Daniel Cassin [Uruguayan] because I
know I'll always find something I like there."
What you do for fun – do you have any unique hobbies or interests? "I like literature, cinema, and music."
Elements of Caroline's Outfit

1. Purple Blazer + Cameo Necklace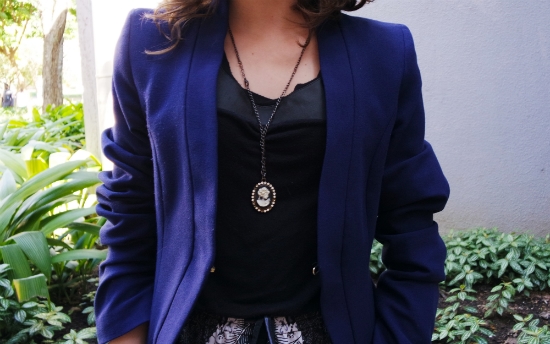 Caroline's bluish-purple blazer made her stand out from the crowd in a great way. I fell
in love with the color at first glimpse, and everybody knows I already love blazers in general.
For me, a well-fitting blazer is an absolute closet essential and, although one in black goes with
everything, a more colorful choice can change your whole look. Caroline accessorized her
black top with a cameo necklace, which gave her outfit a classic touch.
2. Printed Ruffled Skirt

Caroline was wearing a gorgeous printed skirt she bought at Bo.Bo, a Brazilian store known for its bohemian chic clothes. The colors on the skirt paired perfectly with her
blazer and top, and the ruffles brought some playfulness to an otherwise serious
outfit.
3. Burgundy Ankle Boots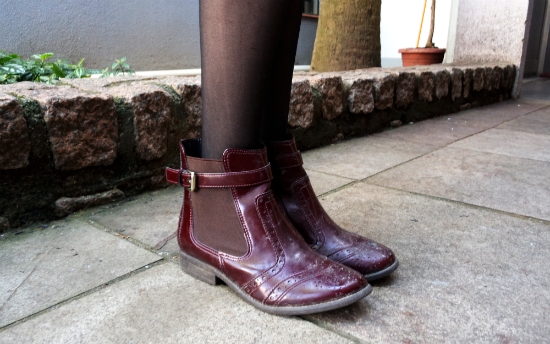 If you haven't jumped on the ankle boot bandwagon yet, what are you waiting for?
I adore how Caroline brought color to her look
not only with a bold blazer, but also with her killer burgundy shoes. Deep shades of red have been everywhere lately and they scream fall. Even though it's technically spring down here, Porto Alegre's
crazy climate means it's every season, every day. Which, thankfully, means we get to wear our ankle boots.
What do you think of Caroline's style?

What are your favorite ways to add pops of color to your look?
Comment below and let us know!