As I was enjoying the nice weather in Village Park, I spotted Kayla's bold, bright lip color and cute floral patterned strapless top. After I stopped her to ask about her outfit, we chatted about her love of lip color, her style inspirations, and more!
Kayla 101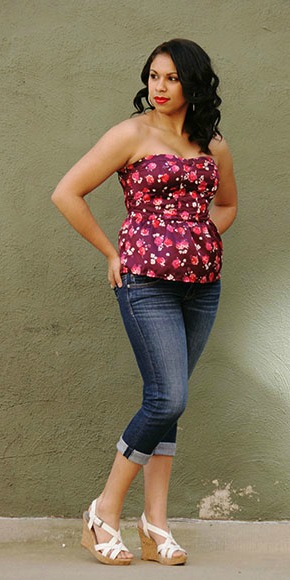 Name: Kayla
College: Point Park University
Year: Freshman
Major: Multimedia
Hometown: Vinefield, New Jersey
Let's Talk Fashion
Who or what inspires your style? "When asked what inspires my style, I would have to go with what I'm feeling… my moods. My appearance often varies depending on the day. I also have a wide range of tastes. I know what I like and when I find something that catches my attention, I must have it."
How would you describe your sense of style? "Most of the time my style is pretty feminine, but it's also unique and truly shows my personality. I like items that have pizzazz, and I love using accessories to add some finishing touches. With my complexion, I tend to wear pieces in bright, contrasting colors."
Why did you choose this particular outfit? "As cliché as this sounds, I enjoy wearing red lipstick for the way it looks and how it makes me feel. It's bold and shows confidence. When looking through my wardrobe, I searched for a way to incorporate my lipstick. The strapless top that I chose had a floral print that went well with the red color scheme. The weather is beginning to get warm, and in this outfit I can be comfortable, but also appropriate for the season. To slightly dress it up, I added a pair of my favorite wedges, which are cute and easy to walk in."
What fashion advice would you give to other students looking to improve their style? "It's important to think about how you are representing yourself. Try mixing and matching outfits until you find something that you like [not just what's trendy]. Also, think outside the box and find inspiration. With one outfit, you can give others a closer look at your personality and who you are."
What are your favorite trends right now? "I love high-waisted shorts/skirts, they are great for emphasizing the smallest part of your waist. Printed pants are fun and are simple to match with a solid top."
Do you have any favorite fashion designers? If so, who? "My favorite designer without a doubt is Betsey Johnson. I find myself excited by her work and the pieces she produces. Her collections tend to be girly, just screaming pink and glitter, two of my favorite things!"
What do you do for fun – do you have any unique hobbies or interests? "In my spare time, I find myself grabbing my camera and exploring the world around me. I've also played softball for 13 years and just recently decided to pick up cheerleading at my university."
If you could raid anyone's closet, who would it be and why? "If I could raid anyone's closet it would be MTV's very own Nicole Polizzi, a.k.a. Snooki. I love the clothes she wears and the numerous amounts of fabulous shoes that she owns. I definitely wouldn't mind borrowing a pair off of her."
Elements of Kayla's Outfit
1. Bold Colors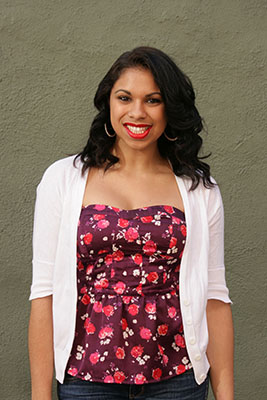 A floral, strapless top is ideal for spring weather. The bold colors of Kayla's top really make it stand out and the sweetheart neckline creates a youthful, feminine shape. Kayla paired her top with a simple a white cardigan, a fab choice for breezy days! Also, her bold, bright red lipstick is the perfect complement to her patterned top, creating a fun, seasonal look.
2. Strappy Wedge Heels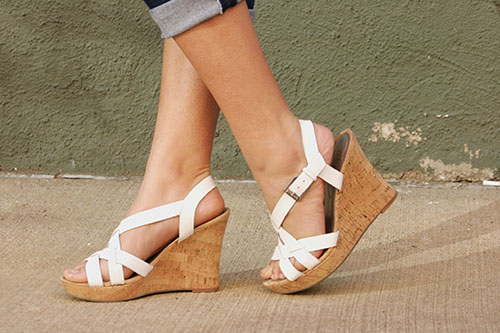 Kayla's amazing wedges are absolutely perfect for spring. Not only are wedges are super comfy, but the neutral color means they can go with a number of outfits. Wedges like these are a timeless summer staple.
What Do You Think?
How do you like Kayla's outfit? Are you rocking the bold lip trend for the summer? Would wedges become a summer staple or you? Let us know in a comment below!